It's Coeliac Awareness Week here in New Zealand! Lots of you already know that I'm a coeliac and I'm five years into my gluten free journey. This year I'm super honoured to announce that I'm Coeliac New Zealand's Food Ambassador for 2019! This June I'm helping raise awareness about coeliac disease and help fellow coeliacs love their gluten free lives. 
That brings me to today's blog. 
What better way to celebrate my ambassadorship than with brunch! I love brunch… it's kinda like a cross between breakfast and lunch, which means you can pretty much get away with any sort of food. It can be sweet, it can be savoury, it can be a mishmash of the two.
My brunch events tend to kinda be hodgepodge affairs depending on my mood. Sometimes they are one dish wonders like crepes, blueberry French toast, or sausage casseroles, other times they are feel good potlucks where everyone brings their best-loved brunch dish, and most often they consist of quick and easy finger licking titbits that I've pulled together at the last minute (cos let's face it I'm often not that organised!).
Before we dive into the round up here's some things you need to know. To help support Coeliac New Zealand do their amazing work, I've included some of their awesome sponsors in this post. For complete transparency, I want you to know that I haven't been paid by these sponsors and my ambassadorship is unpaid. Also if you are just on the low FODMAP diet then you don't have to eat strictly gluten free – find out more info here.
Okay so now we've got the formalities out of the way let's crack into this last minute gluten free & low FODMAP brunch recipe round up!
Gluten Free & Low FODMAP Brunch Recipes
Finger Licking Sharing Plates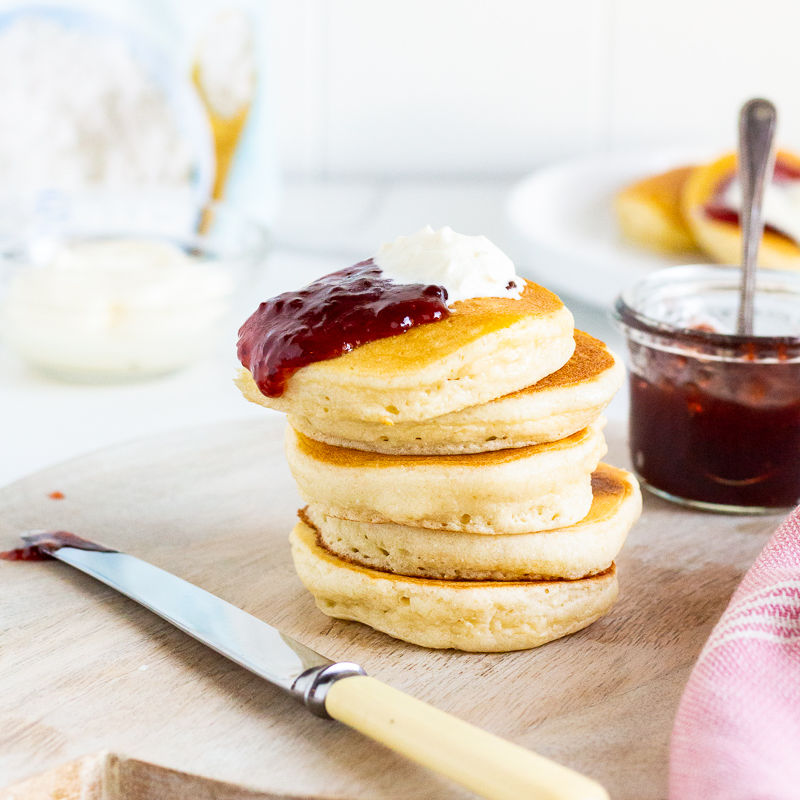 Pikelets with Jam & Cream
Mini pancakes aka pikelets topped with strawberry jam and a little dollop of cream. Heaven. I love gathering around the table and sharing these with friends. It's ridiculously easy to make pikelets using pantry staples. Here's what you need for the batter:  1 & 1/4 cup Countdown Free From Gluten Free Plain flour, 3 tsp GF baking powder, 2 tbsp white sugar, 3/4 cup of milk (low FODMAP as needed), 1 egg, and 3/4 tsp vanilla essence. Whisk the dry ingredients together, mix through the wet ingredients, then cook like little pancakes.
FODMAP note: Whipped cream is low FODMAP in 1/2 cup serves.
Salmon & Cream Cheese On GF Blinis
You can't really go wrong with cream cheese and salmon! Blinis are little pancakes that are served cold just make sure you make them with gluten free flour. Alternatively, you could make crostini using gluten free bread cut into little circles, brushed with garlic oil & butter and then baked until crunchy. Top with cream cheese, smoked salmon and then garnish with capers or fresh herbs (we love dill or fennel).
FODMAP note: Cream cheese is low FODMAP in two tablespoon serves so just watch your portion size if you have issues with lactose.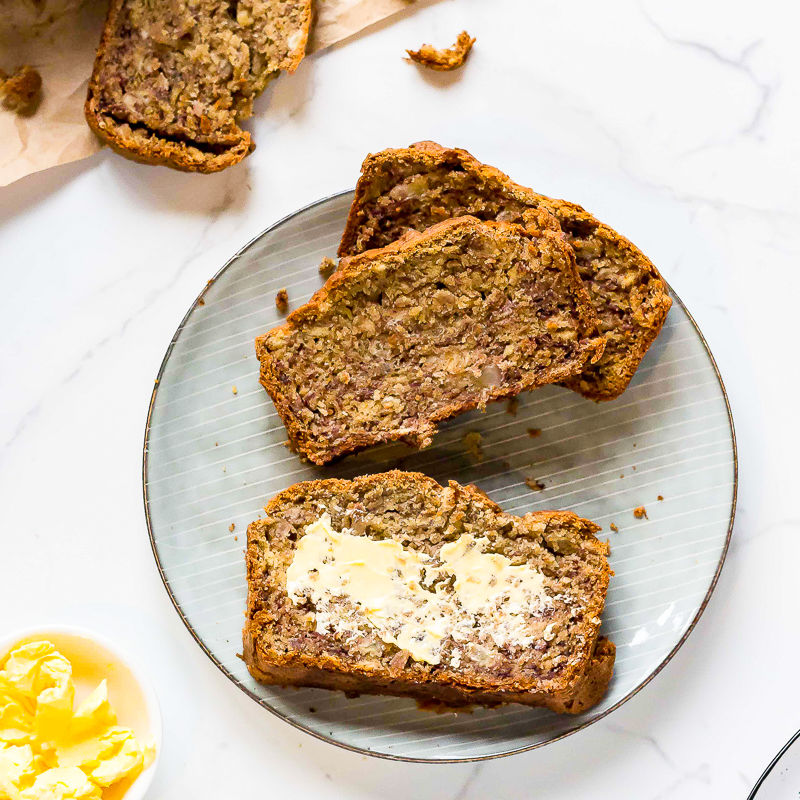 Gluten Free Banana Bread
For me, banana bread is definitely an any time of day food. It doesn't get any better than fluffy slices of warm banana bread smothered in butter. If you are feeling lazy then grab a packet of Bakels Gluten Free Banana Bread Mix or you can make my low FODMAP Banana Bread. Bonus is that any leftover baking can be popped into the freezer and enjoyed at a later date.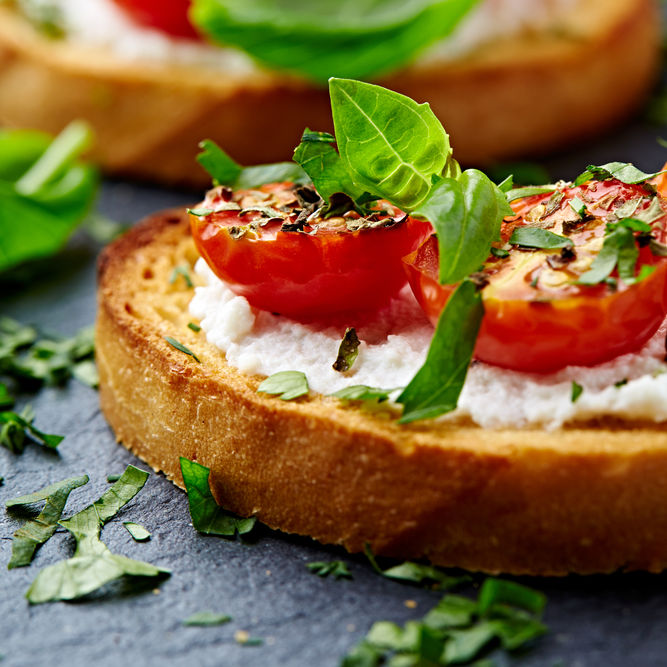 Gluten Free Crostini with Basil & Cherry Tomatoes
Crunchy bread + Ricotta + Cherry Tomatoes + Basil. Oh so fresh and tasty… and takes about ten minutes to whip up. I toast my gluten free bread in the oven after I've brushed it with butter. I tend to add a drizzle of garlic infused oil and a sprinkle of dried chives to the ricotta. Then spread it on the toasted bread and top with sliced cherry tomatoes and basil. A tasty plate to share!
FODMAP note: Ricotta is low FODMAP in 2 tablespoon serves. Also check the Monash University FODMAP Diet app for low FODMAP serving size information on cherry tomatoes.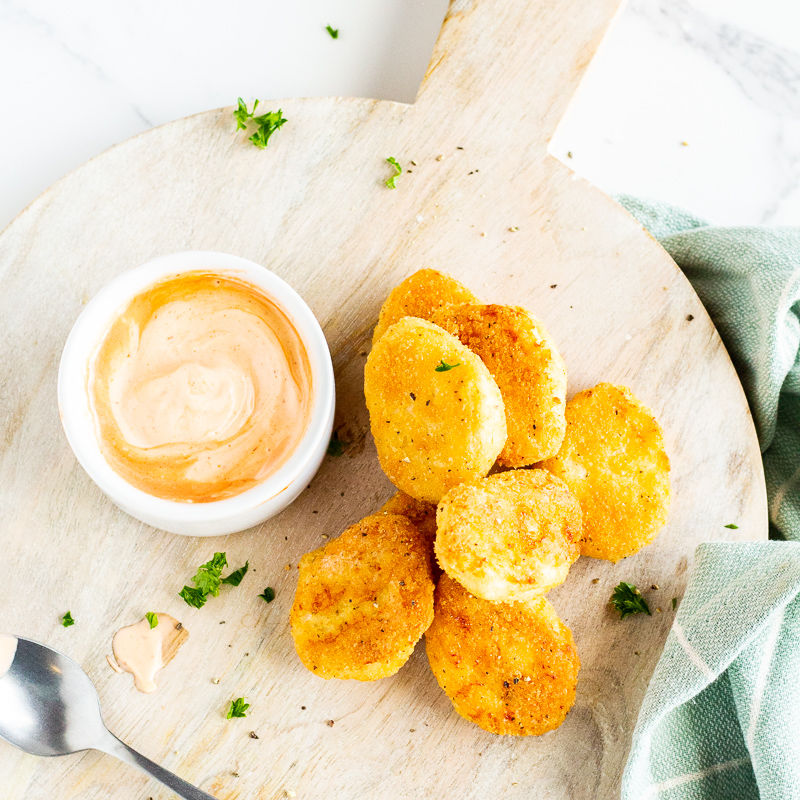 Gluten Free Chicken Nuggets with Dipping Sauce
Really there is a five-year-old trapped in all of us and my five-year-old self LOVES to eat chicken nuggets! They are always a hit and if you are short on time you can grab them straight out of the packet. We used Inghams Gluten Free Chicken Nuggets, however, if you are new to the low FODMAP diet you'll need to grab a brand that doesn't contain onion or garlic powder until you've tested fructans.
Cook the nuggets until golden then serve with a dipping sauce. I made a low FODMAP spiced sriracha sauce: 1/4 cup mayonnaise, 2 tsp lemon juice, 1 1/2 tsp of gluten free sriracha sauce. Mix until well combined. This sauce feeds about six people.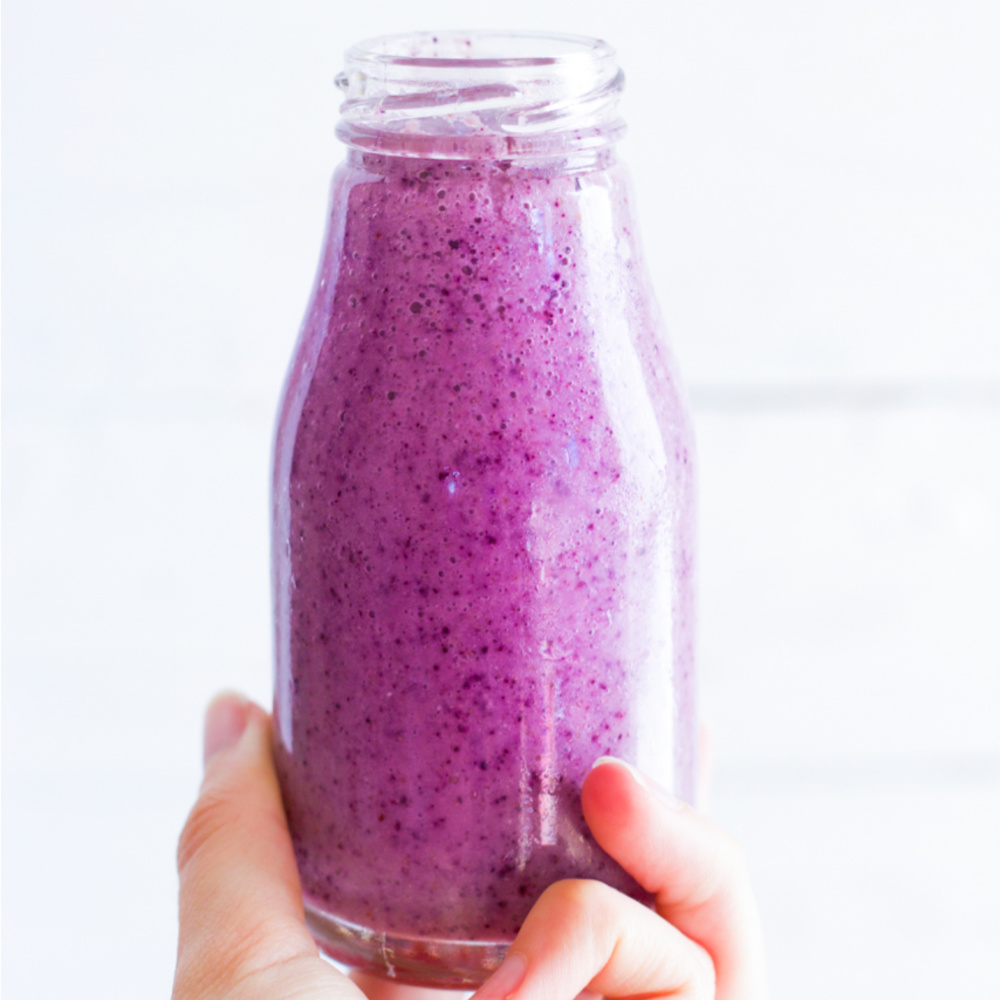 Make A Batch of Blueberry Smoothies
Nourish your guests with a breakfast smoothie packed full of antioxidents. I love how blueberry smoothies are vibrantly coloured and oh so tasty. Save time by prepping the ingredients in advance and have them sitting in the freezer. Then just add your milk of choice and blend! You can also save your budget by using frozen blueberries instead of fresh.
Get the recipe: Low FODMAP Blueberry Smoothie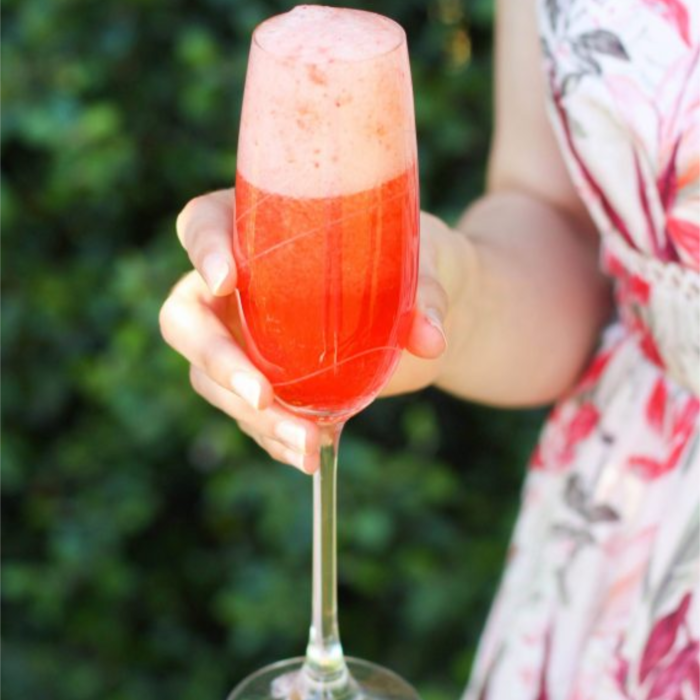 Strawberry Mimosas
Turn your brunch into a champagne breakfast with this gorgeous number! My strawberry mimosas are a lovely light drink to celebrate with and are loved by my girlfriends!
Get the recipe: Low FODMAP Strawberry Mimosas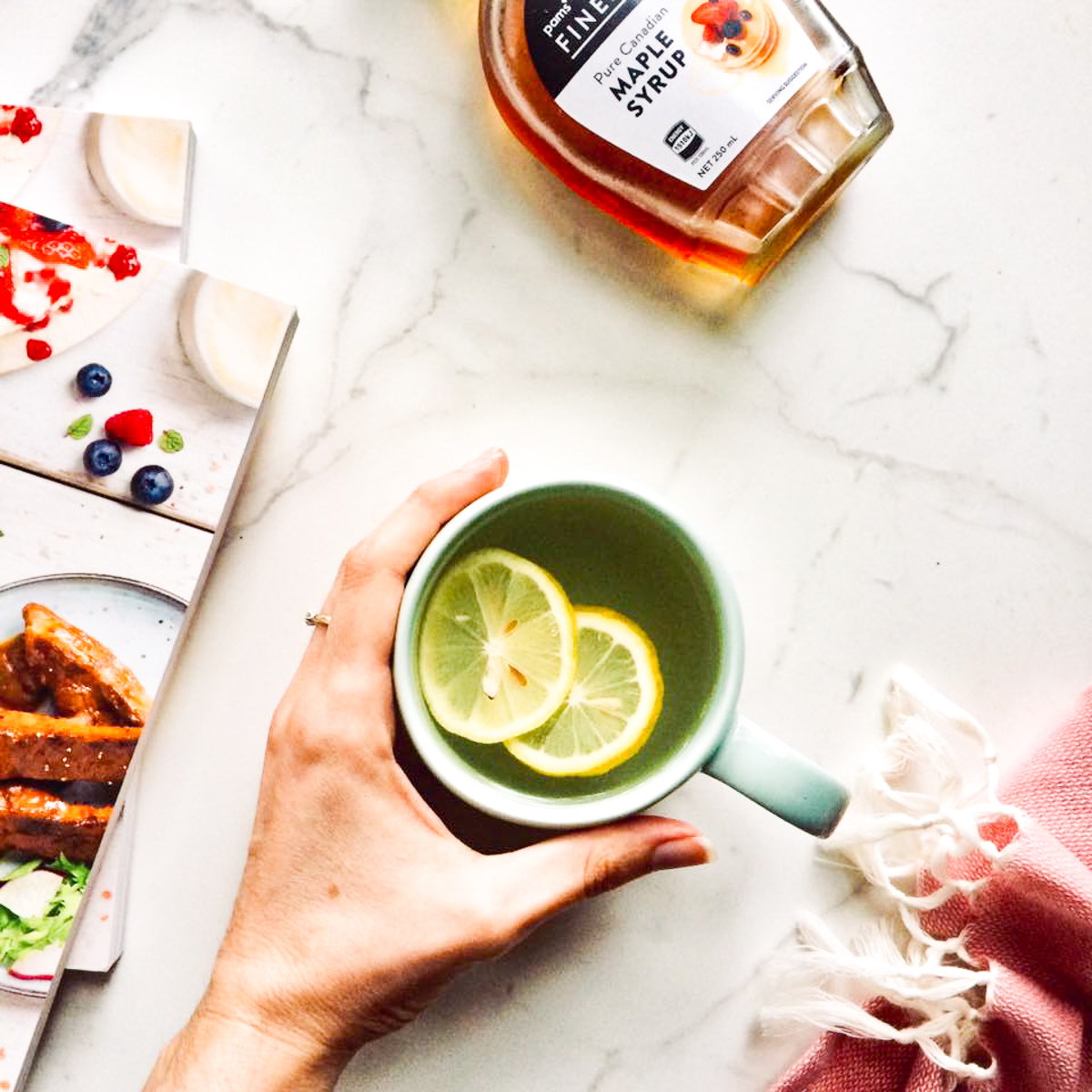 Lemon Ginger Maple Tea
There is something so comforting about wrapping your hands around a hot cup of tea while chit-chatting to your friends. My low FODMAP and gluten-free go-to is my soothing lemon ginger maple drink. You can make the syrup in advance to save time on the day. Just store the syrup in the fridge so you can have delicious hot drinks on tap!
Get the recipe: Lemon Ginger Maple Drink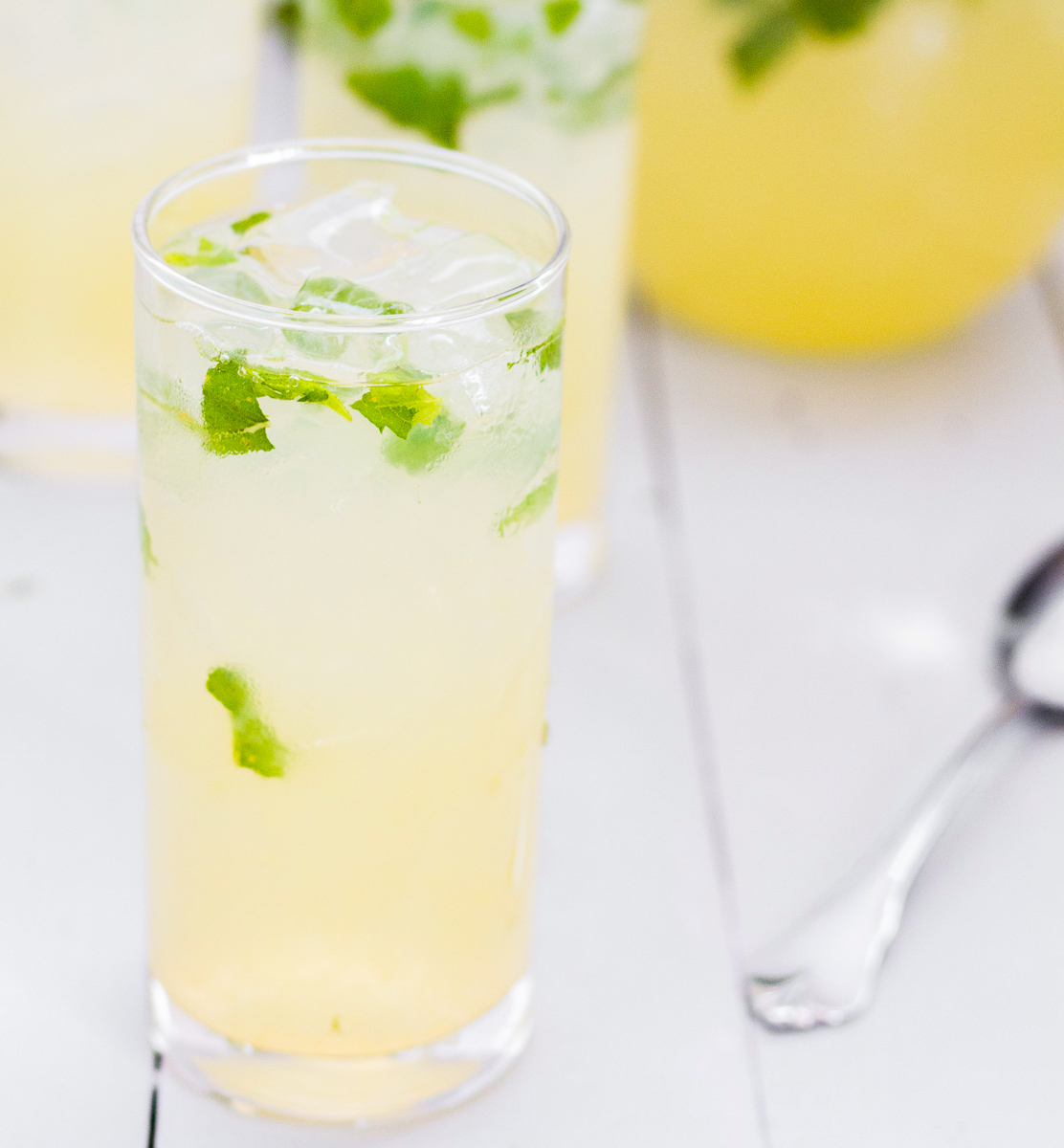 Homemade Mint Lemonade
This drink tops my brunch beverage list! Homemade lemonade is like a cool kid at a party, it keeps everyone happy and feeling good. I love how this lemonade is tart but also sweet and has magical hints of mint. 
Get the recipe: Homemade Mint Lemonade
Avoiding Cross-Contamination
If you are a coeliac then avoiding cross-contamination is a big deal! Even one crumb of gluten can start doing damage so it's important that cross-contamination is avoided during food prep, cooking and food storage. If you are just on the low FODMAP diet then you don't need to worry about cross contamination.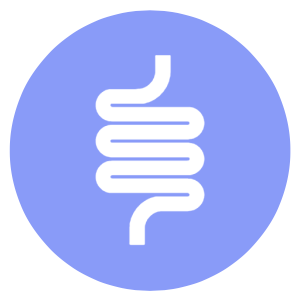 Are you ready to take control of your gut symptoms?
No thanks, my gut is perfect.
Quick tips for avoiding gluten contamination:
Wash all prep surfaces, pots, pans, plates and chopping boards in hot soapy water before cooking
Make sure all ingredients are gluten free.
Check you haven't contaminated products before you use them. For example, sugar is gluten free but can become contaminated if you use the same cup to measure out wheat flour or oats, then used it again to scoop out sugar without washing it in between. If in doubt always open a new packet.
When toasting bread use a dedicated gluten free toaster or toast it on a tray in the oven.
Don't prep gluten-containing foods and gluten free foods at the same time.
Store your gluten free foods in separate containers in the fridge.
Final Thoughts
After writing about so many drool-worthy recipes I'm now hungry! Just because you are gluten free or low FODMAP doesn't mean you need to miss out on sharing brunch with your friends or family. So get organised, invite your friends over and get cooking!
PS if you need more recipes don't forget we have an amazing Recipe Club that has over 850+ low FODMAP and gluten free options.