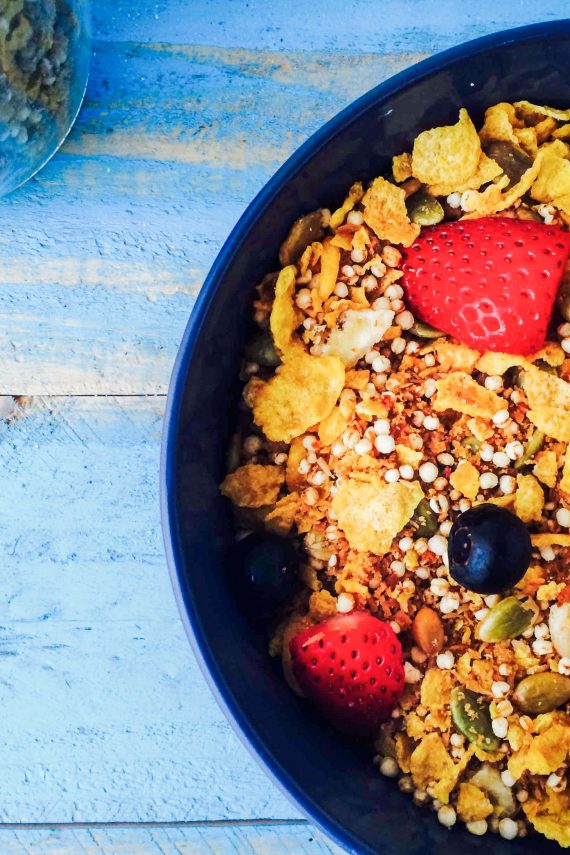 Ingredients
Imperial Units

|

Metric Units
Servings:
(1 cup per serve)
Low FODMAP Muesli
250
gluten free cornflakes*
7
dried shredded coconut*
30
dried banana chips (15 chips)*
* See the FODMAP Tips, Dairy Tips and Gluten Free Tips for the ingredient notes above the method.
Equipment
Low FODMAP Muesli
I have to say I am completely addicted to this muesli – my flatmates have started hiding it so I don't sit down and munch through the whole batch at once! This muesli is slightly sweet and nice and crunchy. I can't tolerate oats so I have made this batch without any – but if you can tolerate them try replacing one cup of cornflakes for a cup of quick oats. You can store the muesli in an airtight container for up to two weeks. According to Monash University 1/4 cup of shredded coconut is a safe low FODMAP serving – in this recipe each serve contains just over 1 tablespoon of shredded coconut, so falls well within the low FODMAP guidelines.
Gluten Free Option
Low FODMAP
Dairy Free
Egg Free
Nut Free
Soy Free
MAKE GLUTEN FREE
SHOW NUTRITION
Nutrition per serve
NON-DAIRY FREE

|

DAIRY FREE

|

GLUTEN FREE
---
Love this recipe? Get your weekly meal plans.
FREE TRIAL
Method

|

FODMAP tips

|

Gluten Free tips

|

Dairy Free tips
---
Method
Preheat the oven to 150ºC or 300ºF on bake function. Measure out the cornflakes and roughly crush them (I did this by putting them in a plastic bag and then crushing them with a rolling pin).
In a large bowl mix the cornflakes, quinoa puffs, dried shredded coconut, pumpkin seeds and brown sugar. Add the oil and mix through the muesli until it is evenly covered. Line an oven roasting tray with baking paper. Add the muesli evenly to the tray. Place in the oven and allow to toast, tossing every 10 minutes until light brown (should take 15 to 20 minutes). Remove from oven and allow to cool.
Lightly crush the banana chips and add to the muesli. Transfer the muesli to an air tight container or jar. You can store it for up to two weeks.
Serve the muesli with fresh low FODMAP fruit and your preferred FODMAP friendly milk. This muesli also makes a great topping for low FODMAP ice cream!
Buying Tips
Quinoa puffs are often found in the gluten free section of your local supermarket.
Buy gluten free cornflakes that do not contain any high FODMAP ingredients like inulin, apple or pear juice, apple fibre, concentrated fruit juices, honey, or high fructose corn syrup.
Gluten Free Tips
If you are highly sensitive to gluten, check all packaged products, processed meat (like bacon), nuts, seeds and dried fruit do not contain a warning for trace gluten. If you are just on the low FODMAP diet you do not need to worry about this.
Dairy Free Tips