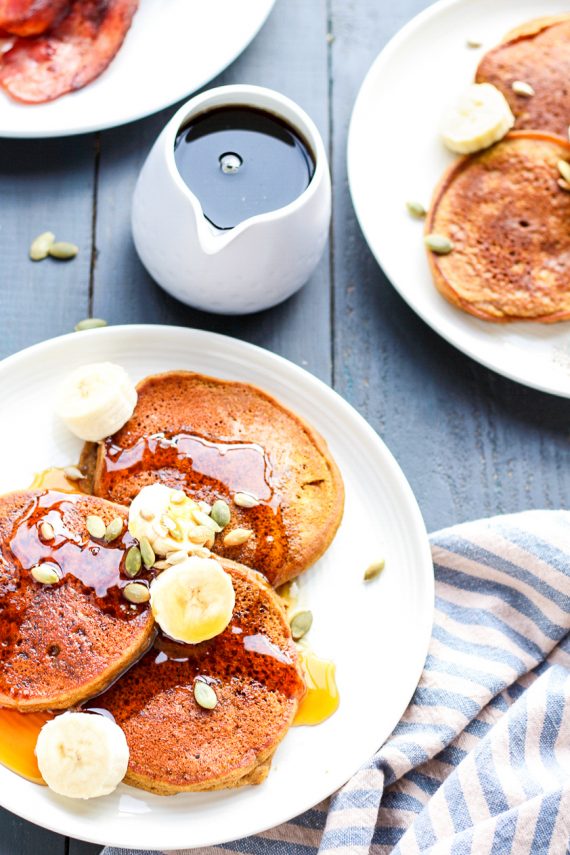 Ingredients
Imperial Units

|

Metric Units
SERVES 6
Pumpkin Pancakes
0.75
canned or fresh pumpkin puree (make fresh from Japanese pumpkin or Kabocha squash) (about 360g fresh pumpkin)
280
gluten free all purpose flour*
2
neutral oil (rice bran, canola, sunflower) plus more for cooking
To Serve
2
pumpkin seeds (optional)*
4
pure maple syrup (optional)*
* See the FODMAP Tips, Dairy Tips and Gluten Free Tips for the ingredient notes above the method.
Equipment
large frypan
blender/stick blender
microwave steamer or bowl
Low FODMAP Pumpkin Pancakes
These low FODMAP pumpkin pancakes make a gorgeous brunch! They are fluffy and filling and go great with a side of bacon and banana.
Vegetarian option: Serve with fresh low FODMAP fruit instead of bacon.
FODMAP Note: Common bananas when they are firm (unripe - green or just yellow) are low FODMAP in 100g serves, however they become high FODMAP for fructans when ripe (yellow with brown spots).
Gluten Free Option
Low FODMAP
Dairy Free
Nut Free
MAKE GLUTEN FREE
SHOW NUTRITION
Nutrition per serve
NON-DAIRY FREE

|

DAIRY FREE

|

GLUTEN FREE
---
Love this recipe? Get your weekly meal plans.
LEARN MORE
Method

|

FODMAP tips

|

Gluten Free tips

|

Dairy Free tips
---
Method
Preheat the oven to 50ºC (120ºF) bake function or use the warming function.
Make the pumpkin puree (if needed):Peel and deseed the pumpkin before chopping into small bite sized pieces. Place in a microwave proof bowl or steamer with a couple of tablespoons of water. Cook on high in the microwave for 7 to 10 minutes (until the pumpkin is soft). Drain and allow to cool for a couple of minutes, before transferring the pumpkin into a blender container. Puree with  water (add more if needed).
While the pumpkin cooks, place the gluten free plain flour, baking soda, baking powder, cinnamon, nutmeg, ginger, salt and brown sugar in a large bowl. Mix until well combined. In a separate bowl whisk together the low FODMAP milk, egg, and neutral oil. Once the pumpkin is blended, whisk through the wet ingredients.
Combine the wet and dry ingredients and mix until smooth. Homemade pumpkin puree can be a bit thicker than canned pumpkin puree, so if your mixture is a bit thick add another splash of low FODMAP milk.
Heat about a tablespoon of neutral oil in a large non-stick frying pan on medium heat. Use about 1/4 cup batter for each pancake and cook for 2-3 minutes on each side, or until pancakes are golden brown on both sides, and just cooked through. You should be able to cook about three at a time. Set aside on a plate and keep warm in the oven while you cook the remaining batter.
Serve hot with a side of grilled bacon, banana, toasted pumpkin seeds (or walnuts or pecans) and a drizzle of maple syrup.
Buying Tips
Make sure you use pure maple syrup (low FODMAP) not maple flavoured syrup (potentially high FODMAP).
When selecting your bacon, choose one that isn't cured using honey or other high FODMAP sweeteners like high fructose corn syrup, fructose or agave syrup. Please note that if the packet says that the product is 'Manuka Smoked' this is the type of wood used to smoke the bacon not actual honey, however please check the packet for other high FODMAP ingredients mentioned above.
Buy a gluten free plain flour or gluten free all purpose flour. The one I used contains these ingredients: maize starch, rice flour, tapioca starch, rice bran, & guar gum. Avoid flour blends that contain soy flour, chickpea/besan/gram/garbanzo bean flour, lentil flour, coconut flour, amaranth flour, or lupin flour.
Gluten Free Tips
Herbs and spices are naturally gluten free, however they can become contaminated during manufacturing processes. If you are highly sensitive to gluten, check the dried herbs and spices do not contain a warning for trace gluten. If you are just on the low FODMAP diet you do not need to worry about this.
If you are highly sensitive to gluten, check all packaged products, processed meat (like bacon), nuts, seeds and dried fruit do not contain a warning for trace gluten. If you are just on the low FODMAP diet you do not need to worry about this.
Dairy Free Tips