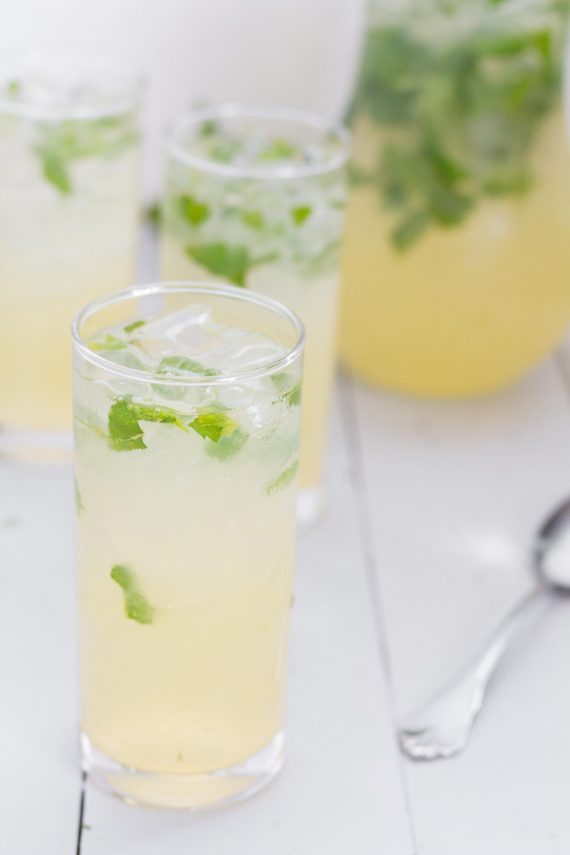 Ingredients
Imperial Units

|

Metric Units
* See the FODMAP Tips, Dairy Tips and Gluten Free Tips for the ingredient notes above the method.
Equipment
Low FODMAP Mint Lemonade
Summer has definitely arrived in New Zealand and the heat is leaving everyone just a little bit parched! Low FODMAP mint lemonade is a refreshing summer drink, and a great treat to help you recover from the heat. Prep time for this recipe does not included chilling time for the lemonade.
Gluten Free Option
Low FODMAP
Dairy Free
Egg Free
Nut Free
Soy Free
MAKE GLUTEN FREE
SHOW NUTRITION
Nutrition per serve
NON-DAIRY FREE

|

DAIRY FREE

|

GLUTEN FREE
---
Love this recipe? Get your weekly meal plans.
LEARN MORE
Method

|

FODMAP tips

|

Gluten Free tips

|

Dairy Free tips
---
Method
First you need to make a simple sugar syrup. Place 1 & 1/2 cups of white sugar and 1 & 1/2 cups of water into a medium sauce pan over medium heat, and bring to the boil. Stir the mixture until the sugar completely dissolves. Allow the mixture to cool (to speed this process up you can put it in the freezer for 10 to 15 minutes).
Juice the lemons. Place the two cups of lemon juice into a large pitcher or bowl. Add the remaining five cups of cold water. Then add 1 cup of simple sugar syrup. If the mixture is too sour you can add some more sugar syrup (you should have half a cup spare). If the mixture is too strong add move water.
Roughly chop the mint leaves and stir into the lemonade mixture.
Refrigerate the mint lemonade for 1 hour (or until cold). Also prepare your ice cubes (you'll need plenty).
Fill your glasses with ice and then pour in the mint lemonade. Enjoy!.
Store spare lemonade in the fridge for up to 1 week.
Buying Tips
Make your lemon juice and lemon zest from fresh lemon.
Gluten Free Tips
Dairy Free Tips