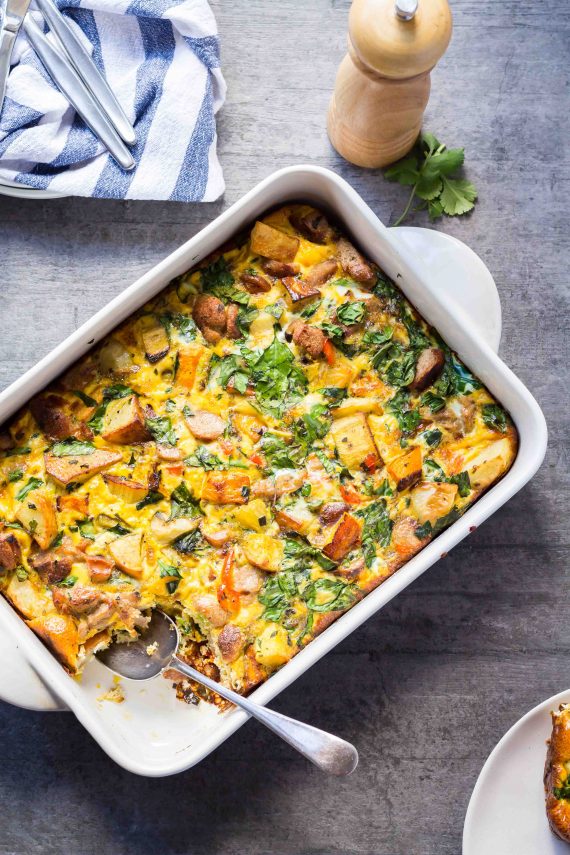 Ingredients
Imperial Units

|

Metric Units
Servings:
Roast Veggie Ingredients
270
sweet potato (peeled & cubed)*
200
Japanese (Jap) pumpkin (Kabocha squash or Buttercup squash) (peeled & cubed)
200
potato (peeled & cubed)
Other Ingredients
40
leek (green tips only, finely sliced)*
1
red bell peppers (deseeded & diced)
400
pork beef or lamb sausages (no onion or garlic) (chopped into small pieces)
60
baby kale or baby spinach (chopped)
Egg Mixture
* See the FODMAP Tips, Dairy Tips and Gluten Free Tips for the ingredient notes above the method.
Equipment
large frypan
roasting tray
large deep oven dish
Low FODMAP Roast Veggie & Sausage Breakfast Casserole
This low FODMAP roast veggie & sausage breakfast casserole is absolutely delicious! It's the perfect make-ahead breakfast for a busy work week. If you happen to have leftover roast veggies then you can toss those in instead of making a batch.
FODMAP Notes: Make sure you choose sausages that do not contain onion or garlic. Also, check they don't contain sneaky FODMAPs like honey. If you are struggling to find low FODMAP sausages, then ask your local butcher to make some for you. The amount of sweet potato in this recipe is well within low FODMAP limits per serve.
Gluten Free Option
Low FODMAP
Dairy Free
Nut Free
Soy Free
MAKE GLUTEN FREE
SHOW NUTRITION
Nutrition per serve
NON-DAIRY FREE

|

DAIRY FREE

|

GLUTEN FREE
---
Love this recipe? Get your weekly meal plans.
FREE TRIAL
Method

|

FODMAP tips

|

Gluten Free tips

|

Dairy Free tips
---
Method
Preheat the oven to 200ºC (400ºF) bake function. Peel and dice the sweet potato, pumpkin, and potato. Place in a roasting tray, drizzle with olive oil and season well with salt and pepper. Bake in a single layer for 20 minutes until soft.
While the roast veggies cook, prep your leek, red capsicum/pepper, and sausage. Heat a large frypan over medium-high heat. Once hot, add the garlic infused oil, leek tips and red capsicum, cook for a few minutes until fragrant. Then place to one side. Next, add the diced sausages to the pan and fry until cooked through.
Grease a large casserole dish. Add the sausages, leek and red capsicum/pepper, and roast veggies. Mix through the chopped spinach. In a large bowl, whisk together the eggs, low FODMAP milk, salt, black pepper and dried oregano until well combined. Then pour evenly over the ingredients in the casserole dish.
Bake uncovered for 25 to 30 minutes until the eggs are just set and slightly golden. Enjoy hot or cold. PS this recipe reheats well in the microwave!
Buying Tips
Garlic infused oil is found in the oil section of your local supermarket. It should be clear with no floating bits of garlic. You can also make garlic infused oil at home by frying garlic cloves in cooking oil, until they are golden and fragrant (then remove the garlic before you continue cooking your meal). This is a low FODMAP way to capture the garlic flavour as the fructans can't leach into the oil.
Make sure you buy a leek that has long green tips (this is the low FODMAP part), as you can't use the white/light green leek bulb (this part is high FODMAP).
Sweet potato is low FODMAP in 70g serves and becomes high FODMAP in larger serves. Our recipes only use a low FODMAP portion of sweet potato. However if you are concerned you can normally swap the sweet potato for regular potato, carrot or parsnip.
Gluten Free Tips
Herbs and spices are naturally gluten free, however they can become contaminated during manufacturing processes. If you are highly sensitive to gluten, check the dried herbs and spices do not contain a warning for trace gluten. If you are just on the low FODMAP diet you do not need to worry about this.
Dairy Free Tips