Thinking about your Thanksgiving or Christmas menu can be daunting when you are on the low FODMAP diet.  There's a lot of effort that goes into planning, cooking, and managing family dynamics and that's before you add a low FODMAP diet into the mix. So we're here to help. We've compiled a list of favourite holiday dishes and practical low FODMAP swaps to keep everyone happy.
STARTERS
Devils on horseback – this classic appetiser is made from prunes and bacon, and they can sometimes include nuts or cream cheese. However, prunes are high FODMAP so they are not a good choice if you are in the first phase of the diet. Instead, swap the prunes for chunks of fresh pineapple. Check out our Ultimate Holiday Digital Cookbook for the full recipe.
Grazing platters or antipasto platters – these are so easy to make low FODMAP and lots of fun. We've got a full guide with heaps of inspiration for you here.
Deviled Eggs – this request has come straight from our followers on Facebook. You can make a lovely low FODMAP version using eggs, mayonnaise and dijon mustard.
MAINS & SIDE DISHES
Green salad with lettuce, cucumber, radish, tomato and spring onion leaves. Serve red onion on the side for anyone not on the low FODMAP diet. Make your own gorgeous salad dressing to go with it – try our low FODMAP Italian Dressing or Ranch Dressing.
Roast veggies glazed in ginger, maple syrup and olive oil. Think potatoes, parsnips, carrots, and sweet potatoes. If your family members can't live without onion and garlic, then that's okay. Place a small oven-proof dish in the roasting tray and pop the onion and garlic in there to roast. The smaller dish will keep the onion and garlic separate from the other vegetables while they roast.
Mashed potato – boil the potatoes, then add butter or dairy free spread, low FODMAP milk (e.g. lactose free milk, unsweetened almond milk, soy milk made with soy protein, rice milk) or lactose free cream, and salt. Mash until silky smooth. You can also take the flavour to the next level by adding cheese, dried chives or mustard.
Garlic bread – make with low FODMAP wheat or spelt based sourdough bread or gluten free bread (check for high FODMAP ingredients), then add butter/dairy free spread, your choice of herbs (we love oregano), garlic infused oil and salt. Grab our low FODMAP garlic bread recipe.
Stuffing – swap the onion for finely chopped leek leaves, use low FODMAP wheat or spelt-based sourdough bread or gluten free bread (check for high FODMAP ingredients), choose a low FODMAP stock without onion or garlic, and your choice of herbs. Or use our gorgeous stuffing recipe.
Sweet potato casserole – sweet potato can be enjoyed in small servings on the low FODMAP diet. We like mixing carrot into our sweet potato casseroles to help you enjoy a larger portion. Check out our low FODMAP sweet potato casserole.
Roast chicken or turkey – instead of stuffing your roast with onion, garlic or apple, try using a large handful of fresh herbs and a lemon. Then roughly chop another handful of fresh herbs and mix through 2-3 tablespoons of garlic infused oil and some softened butter or dairy free spread. Brush over the skin of the entire roast. Season with salt and pepper before popping in the oven.
SAUCES
Cheese sauce – make using butter or dairy free spread, gluten free flour, low FODMAP milk (e.g. lactose free milk, unsweetened almond milk, soy milk made with soy protein, rice milk), your choice of cheese.
Gravy – packet gravy is usually high FODMAP as it tends to have onion or garlic powder. However, it's super easy to make your own using the pan juices from your roast, low FODMAP stock/broth (check no onion or garlic) or water, cornflour (cornstarch in the USA), salt and pepper and your choice of herbs. Check out this recipe for an example of how to make it. Or make a batch of gravy in advance using this recipe.
Cranberry sauce – you can often find low FODMAP cranberry sauce or jelly at the grocery store. Look for a brand sweetened with sugar (sucrose) and doesn't contain high FODMAP sweeteners. Or you can grab a recipe to make your own here. Limit your serving to 2 tablespoons.
DESSERTS
Trifle – choose jelly sweetened with sugar, glucose or dextrose and avoid options made from high FODMAP sweeteners like fructose, high fructose corn syrup, inulin/chicory root, sorbitol, mannitol, isomalt, maltitol. Use lactose free cream if possible or keep your portion small. Choose a mixture of fruit like kiwifruit, pineapple, just-ripe banana, oranges, raspberries, strawberries, or blueberries – check the Monash University FODMAP Diet App for serving size information. Check out our low FODMAP lemon curd and strawberry trifle.
Cheesecake – we LOVE cheesecake and prefer to keep it simple with a biscuit base made with gluten free or low FODMAP biscuits, cinnamon and butter or dairy free spread; then make a filling using lactose free cream cheese, icing sugar/confectioners sugar, cream (lactose free if possible) and vanilla. Follow the link for our full low FODMAP cheesecake recipe.
Butterscotch pudding/sticky date pudding – these types of puddings often rely on large amounts of dates which can make them high in FODMAPs. Instead, try switching these puddings for a butterscotch pudding made from banana and keep your serving size small. Try our low FODMAP banana butterscotch pudding.
Fruit cake – now my friends fruit cake is very hard to make low FODMAP, so we swap it out for a Spiced Christmas Carrot Cake instead. This option is way lower in FODMAPs and you can enjoy it with confidence.
Fruit pudding – again, these are usually super high in FODMAPs. We prefer to swap in another family favourite and serve self saucing chocolate pudding instead. You can make it using gluten free all purpose flour, butter or dairy free spread, low FODMAP milk, eggs, sugar, cocoa powder, and vanilla. Most recipes can be easily adapted or you can find our favourite recipe in The Gut Friendly Cookbook.
Fruit mince pies – ditch the store-bought variety and make your own at home. That way you can control the amount of dried fruit per serving. Try our lovely low FODMAP fruit mince pie recipe.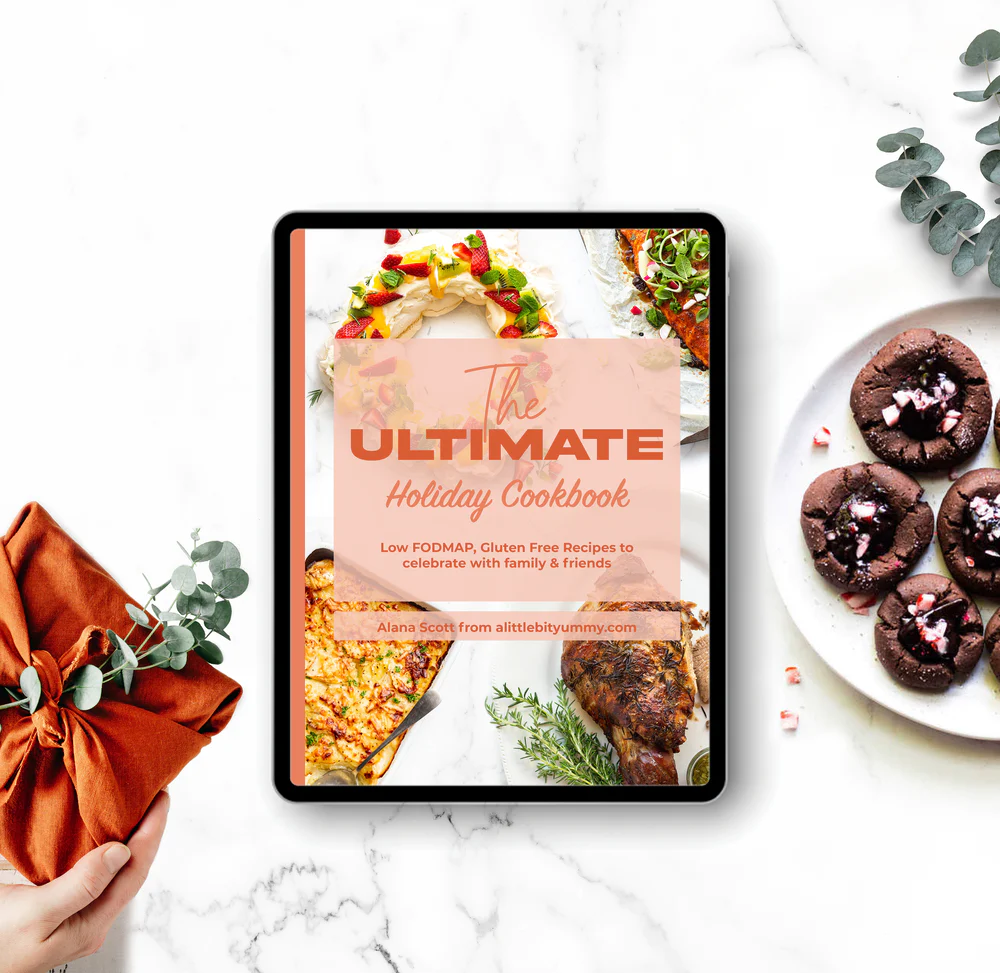 This cookbook has been designed so you can mix and match the recipes to create a holiday menu that is perfect for your needs. 
There are over 45 recipes (new and old favourites!) that cover:
Delicious Mains
Mouthwatering sides
To-die-for desserts
Low FODMAP Cocktail Recipes
Edible Gifts
+ so, so much more
It's also digital so you can instantly access your PDF download as soon as you purchase and get straight into the kitchen. All you need to access the cookbook is a PDF reader then you can view it on your mobile, tablet, laptop or desktop device.