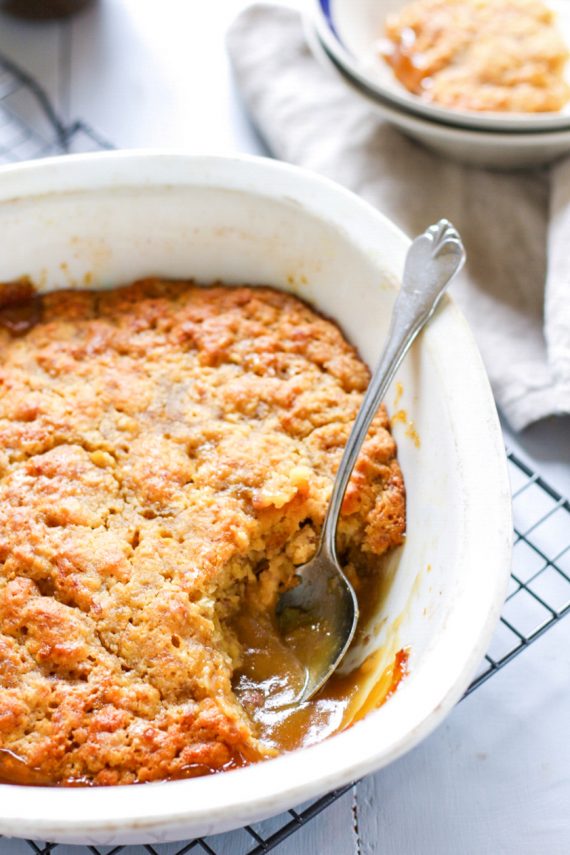 Ingredients
Imperial Units

|

Metric Units
SERVES 6
Banana Pudding Base
190
gluten free all purpose flour*
200
banana (firm - no brown spots) (mashed)*
100
dairy free spread (olive oil spread or butter) (melted)*
Butterscotch Sauce
100
brown sugar (lightly packed)
* See the FODMAP Tips, Dairy Tips and Gluten Free Tips for the ingredient notes above the method.
Equipment
Low FODMAP Banana Butterscotch Pudding
Feel like something sweet? Then this low FODMAP banana butterscotch pudding is the perfect comfort dessert. It combines the flavour of banana bread with the gooey goodness of butterscotch sauce. The other bonus about this dessert is that it is quick to make. Enjoy!
FODMAP Update: Golden syrup has been tested by Monash University and it is low FODMAP in 1/2 tablespoon serves and becomes high FODMAP in 1 tablespoon serves. I have adjusted the recipe below to make sure it remains low FODMAP, providing you divide it into the recommended number of serves. Common bananas when they are firm (unripe - green or just yellow) are low FODMAP in 100g serves, however they become high FODMAP for fructans when ripe (yellow with brown spots).
How To Make Golden Syrup: Can't find golden syrup? That's okay you can make it at home. Follow this video to find out how to make it. If you don't want to make golden syrup then you can replace it with an equal amount of maple syrup - just be mindful that this will make the pudding taste less like butterscotch.
Gluten Free Option
Low FODMAP
Dairy Free
Nut Free
Soy Free
MAKE GLUTEN FREE
SHOW NUTRITION
Nutrition per serve
NON-DAIRY FREE

|

DAIRY FREE

|

GLUTEN FREE
---
Love this recipe? Get your weekly meal plans.
LEARN MORE
Method

|

FODMAP tips

|

Gluten Free tips

|

Dairy Free tips
---
Method
Preheat oven to 180ºC (355ºF) bake function. Grease an oven proof dish(needs to hold one cup per serve), or ramekins.
Mix the gluten free all purpose flour and baking powder in a large mixing bowl. Mash the bananas. Beat the egg in a small bowl. Melt the dairy free spread (olive oil spread or butter). Then add the mashed banana, egg, vanilla essence, low FODMAP milk, and melted spread (or butter) to the large bowl. Mix until well combined. Transfer to the oven proof dish or ramekins.
Combine the brown sugar and corn starch in a small bowl. Then evenly sprinkle over the pudding mixture.
In a medium sized bowl mix together the boiling water, golden syrup and maple syrup. Then pour evenly over the pudding mixture.
Bake for 30 to 40 minutes, until a skewer inserted into the centre of the pudding comes out clean and the top is golden brown (just like the photo). It's okay if the pudding is wobbly. If you are cooking in ramekins, check after 20 minutes. Serve with low FODMAP icecream.
Buying Tips
Check that the cornflour (corn starch) is made from maize and not wheat.
Make sure you use pure maple syrup (low FODMAP) not maple flavoured syrup (potentially high FODMAP).
When choosing bananas make sure you select common bananas and not sugar bananas. Then use the bananas when they are firm (green to just yellow) and then become high FODMAP when they are ripe (have brown spots).
Buy a gluten free plain flour or gluten free all purpose flour. The one I used contains these ingredients: maize starch, rice flour, tapioca starch, rice bran, & guar gum. Avoid flour blends that contain soy flour, chickpea/besan/gram/garbanzo bean flour, lentil flour, coconut flour, amaranth flour, or lupin flour.
Golden syrup is low FODMAP in 1/2 tablespoon serves. Be careful with your serving size as it does become high FODMAP in larger serves. If you are feeling concerned you can swap the golden syrup with pure maple syrup.
Gluten Free Tips
Dairy Free Tips
Use a dairy free spread or olive oil spread instead of butter. Butter is considered low FODMAP.