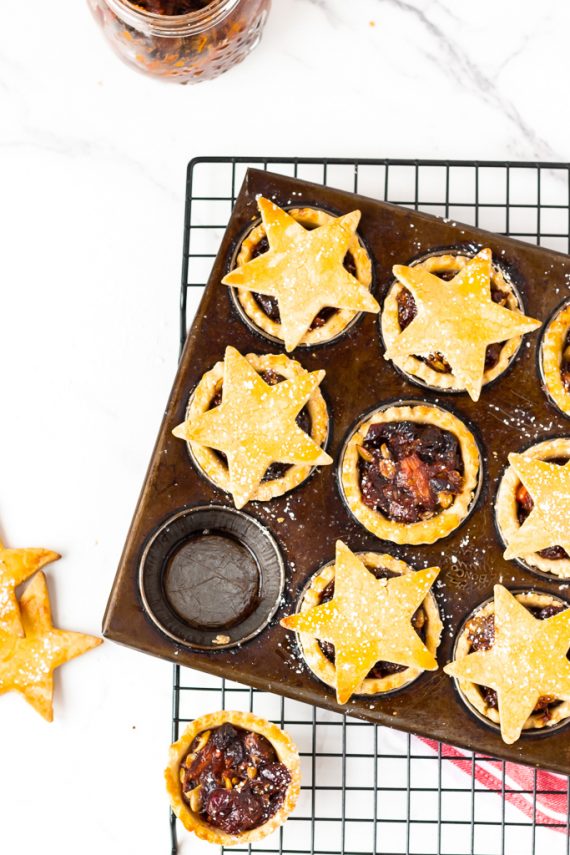 Ingredients
Imperial Units

|

Metric Units
SERVES 12 (limit 1 fruit mince pie per serve)
Pastry
250
gluten free all purpose flour*
0.5
guar gum (or xanthan gum)*
125
dairy free spread (olive oil spread or butter)*
Fruit Mince
100
imperial mandarin (weigh after peeling)
40
pumpkin seeds (toasted & chopped)*
Egg Wash
* See the FODMAP Tips, Dairy Tips and Gluten Free Tips for the ingredient notes above the method.
Low FODMAP Christmas Fruit Mince Pies
It wouldn't be the holidays without low FODMAP Christmas Fruit Mince Pies! My Mum LOVES fruit mince tarts… crispy golden pastry filled with decadent spiced fruit mince. I have fond memories of giving them out as Christmas gifts to neighbours and sharing them as we sat around chatting under the Christmas tree.
This year we've been re-creating the tradition by creating our own Low FODMAP Christmas Fruit Mince Pies with my good friend Chelsea!
FODMAP notes: 1 tbsp (13g) of cranberries or raisins is a low FODMAP serve. This recipe contains 10 safe serves of dried fruit and is well within low FODMAP limits.
Gluten Free Option
Low FODMAP
Dairy Free
Nut Free
Soy Free
MAKE GLUTEN FREE
SHOW NUTRITION
Nutrition per serve
NON-DAIRY FREE

|

DAIRY FREE

|

GLUTEN FREE
---
Love this recipe? Get your weekly meal plans.
LEARN MORE
Method

|

FODMAP tips

|

Gluten Free tips

|

Dairy Free tips
---
Method
Preheat the oven to 180ºC (355ºF) bake function. Grease a 12 hole mini tart tin/shallow cupcake tin (see photo above).
Make the pastry: Sieve the gluten-free all-purpose flour and guar gum (xanthan gum) into a large bowl, stir through the brown sugar and cinnamon. Chop the dairy free spread (or butter) into cubes (you want the spread/butter to be as cold as possible), then rub it into the flour using your fingertips, until it resembles fine breadcrumbs. You can use a food processor to do this. In a separate bowl beat the egg, then add it to the mixture along with the low FODMAP milk. Use your hands to bring it together into a rough dough and work until smooth. Pat the dough into a round flat ball, roughly 2.5cm (1 inch) thick. Wrap in clingfilm and place in the fridge to chill for 30 minutes.
Make the Christmas fruit mince. Peel and chop the rhubarb. Place in a shallow roasting tray, add a couple of tablespoons of water and sprinkle with brown sugar. Roast in the oven for about 10 minutes until soft.
Peel and finely chop the mandarin flesh and the crystalised ginger. Place a saucepan over medium-low heat. Add the chopped mandarin, crystalised ginger, raisins, cranberries, brown sugar, water, and spices. Bring to a gentle simmer. Once the rhubarb is cooked add it to the pan and mix well. Allow to simmer for about 10 minutes until thickened. Taste and add more brown sugar and spices to taste. Mix through the chopped pumpkin seeds.
Assemble the pies: Roll out the pastry to about 2-3mm thick and then use a cookie cutter to cut out the bases. Transfer to the tart tin and prick the bases with a fork, then spoon in about 1 heaped tablespoon of fruit mince per pie. Top with pastry stars or strips (we also left a few pies untopped). Whisk the egg and milk together to make an egg wash and brush over the pastry.
Bake in the oven for 15 to 20 minutes until golden brown.
Dust with icing sugar and dig in! Limit your serve to 1 low FODMAP Christmas mince tart (leave 3 – 4 hours between each serve).



Storage tips: These will stay fresh for 3 to 4 days in an air-tight container.
Buying Tips
Check that the dried cranberries are sweetened with sugar and not apple juice.
Guar gum or xanthan gum help gluten free baking to stick together and rise. They are often found in the gluten free section of the supermarket or in a health food store.
Buy a gluten free plain flour or gluten free all purpose flour. The one I used contains these ingredients: maize starch, rice flour, tapioca starch, rice bran, & guar gum. Avoid flour blends that contain soy flour, chickpea/besan/gram/garbanzo bean flour, lentil flour, coconut flour, amaranth flour, or lupin flour.
Gluten Free Tips
Herbs and spices are naturally gluten free, however they can become contaminated during manufacturing processes. If you are highly sensitive to gluten, check the dried herbs and spices do not contain a warning for trace gluten. If you are just on the low FODMAP diet you do not need to worry about this.
If you are highly sensitive to gluten, check all packaged products, processed meat (like bacon), nuts, seeds and dried fruit do not contain a warning for trace gluten. If you are just on the low FODMAP diet you do not need to worry about this.
Dairy Free Tips
Use a dairy free spread or olive oil spread instead of butter. Butter is considered low FODMAP.