Oh hello! Lots of you have been popping into our inbox with a super important question: What low FODMAP dish can I take to share at my work place, Christmas party, pot luck, BBQ, or family dinner?  I've heard you. I know that you want a super delicious plate that is going to satisfy everyone, right? Well my low FODMAP sharing platters have you covered!
These sharing platters or antipasto platters are perfect for any occasion. You can scale them up to feed a mob of people or down to feed 1 or 2. You can also tinker with them and adjust the ingredients to suit your needs.
It really is a win-win for everyone involved.
Today I have not one, not two but three low FODMAP sharing platter options for you!
Here are your choices:
Classic Cheese Board

(yes that's right cheese is low FODMAP)

Rockin' Dip Sharing Board

Sweet Treat Heaven Board
Are you ready? Let's get started.
Low FODMAP Sharing Platters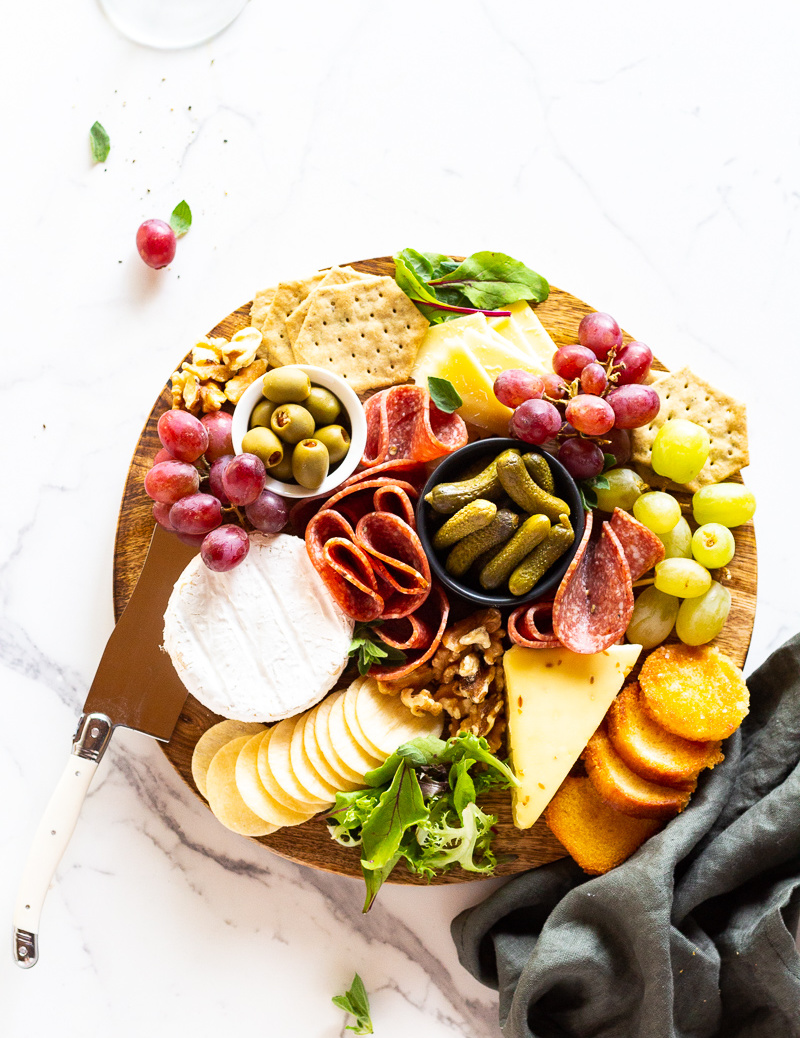 Classic Low FODMAP Cheese Board
Did someone say CHEESE?! Yes that's right folks, cheese can be a low FODMAP option. That means a classic cheese board should be on your menu.
When it comes to cheese there is plenty to choose from. The golden rule of thumb is if the nutrition label says that sugars are 1g or less per serve, then the cheese is considered low FODMAP at that serving size.
Here are some low FODMAP cheese options for you: blue cheese, cheddar cheese, colby, gouda, brie, camembert, mozzarella, percorino, manchego cheese.
For more serving size info check out our low FODMAP cheese guide or the Monash University Low Fodmap Diet App.
The trick to a gorgeous cheese board is getting the right combo of sweet and salty so here's what I used:
3 different types of cheese: Cheddar, gouda, and camembert

Grapes for pops of sweetness (six grapes per serving is low FODMAP)

Plain rice crackers

Olives

Tiny little gherkins/cornichons (they are so cute!)

Salami (look for a brand with no onion or garlic)

Walnuts

Salad greens tossed in a little olive oil and lemon juice

Homemade bruschetta (take low FODMAP or gluten free bread, brush with garlic infused oil & butter and then bake until golden)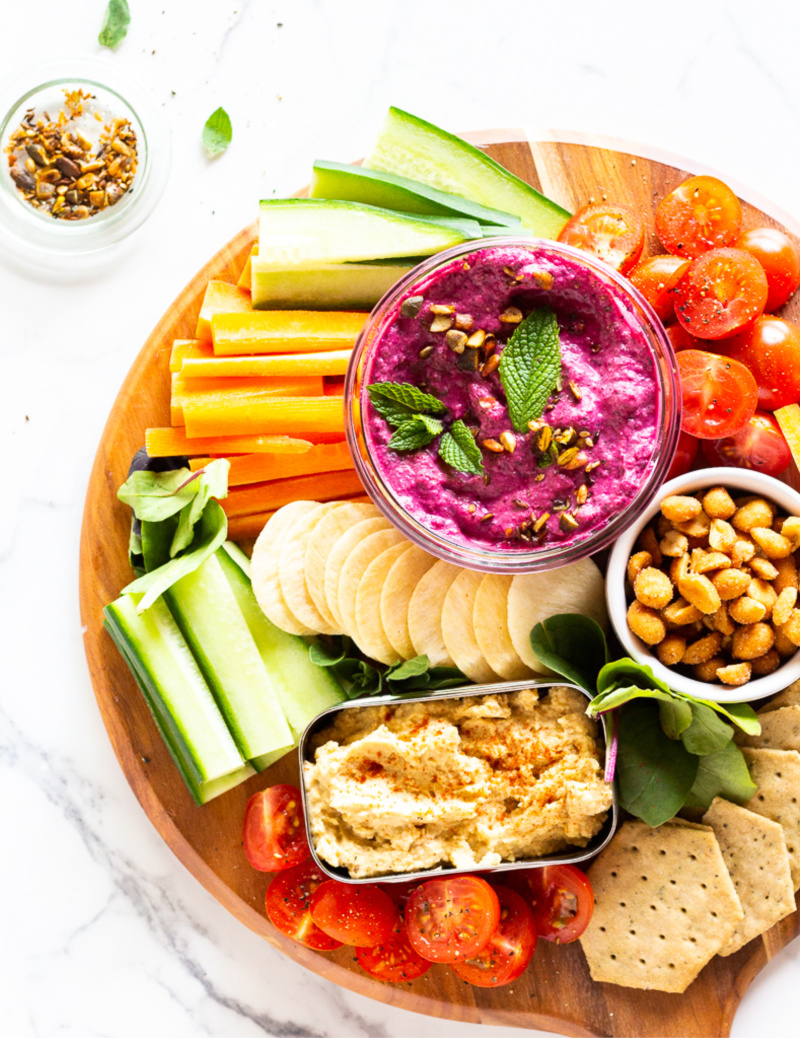 Rockin' Dip Sharing Platter
This gorgeous little number is dipalicious (yes I just went there) and features lots of amazing crunchy veggies. It's a great way to show off some tasty dips that no one will even know are low FODMAP!
Your dip options could include:
If you one of our awesome FODMAP Recipe Club members then our low FODMAP sour cream & chive dip, easy Tzatziki dip or easy basil pesto make awesome options too.
Mix and Match Dip Platter Options
Two dips of your choice: I chose my 5 minute beetroot dip & low FODMAP hummus

Plain rice crackers

Cucumber sticks (great alternative to celery)

Carrot sticks

Cherry tomatoes (check Monash University FODMAP Diet app for serving size info)

Roasted peanuts (check no honey, onion or garlic) or toasted pumpkin & sunflower seeds

Salad greens tossed in a little olive oil and lemon juice (to make the plate pretty)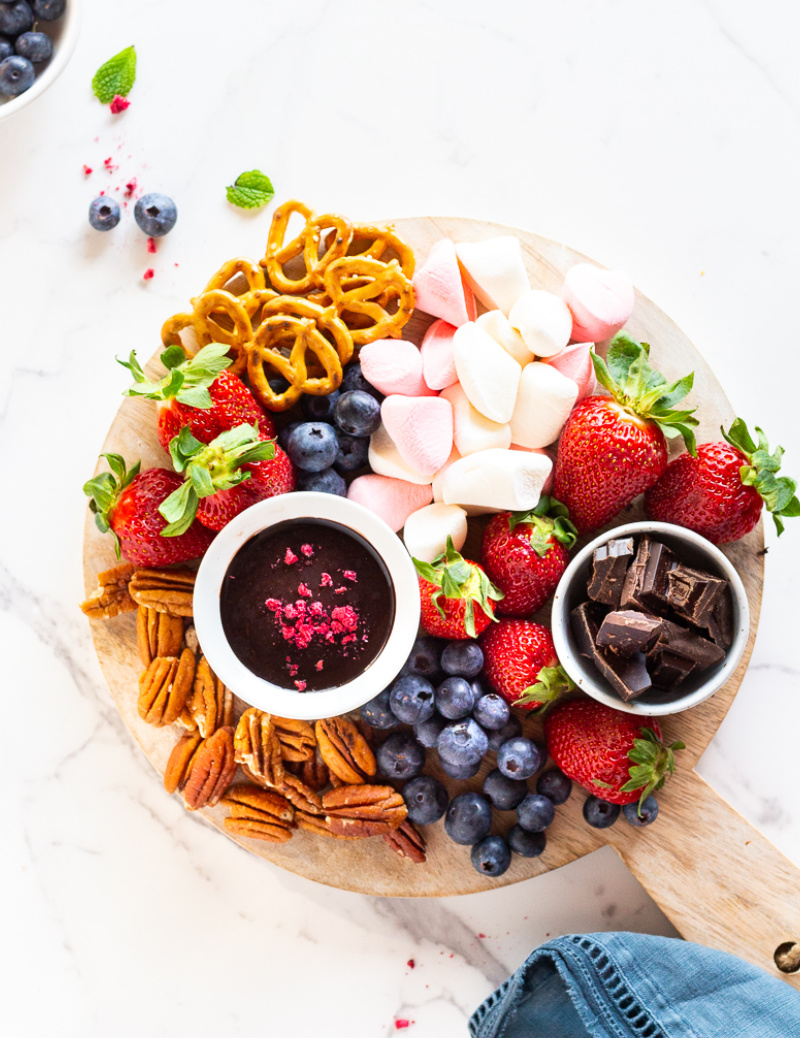 Low FODMAP Sweet Treat Heaven Board
If you have been scheduled to bring dessert, then I've got you covered. Making a decadent sweet treat platter is super duper easy and you can mix and match it with seasonal low FODMAP fruit.
Currently it's summer here in New Zealand so this is what I featured:
Fresh strawberries (you can enjoy 5 strawberries per serve)

Blueberries – these tart little berries are low FODMAP in 1 cup serves

Pretzels – yip you heard right, wheat-based pretzels are low FODMAP in ½ cup serves, or you can swap them out for gluten free pretzels

Pecans

Dark chocolate – I used 70% high quality dark chocolate

Marshmallows – some of you lost your minds when I posted marshmallows on Instagram. These are often low FODMAP, just avoid brands that contain sorbitol, mannitol, maltitol, isomalt, fructose, or high fructose corn syrup.

Dark chocolate dipping sauce (see recipe below). PS I sprinkled some freeze dried strawberries on top of the dipping sauce.

If you are feeling super fancy and want to do some baking, then add some little squares of brownie, sliced ginger cookies, or squares of blueberry crumble slice.
This tasty jumble of sweet treat options will be a hit. So if you want to eat some of this platter yourself, make sure you stand next to it! Otherwise it will be gone in a flash.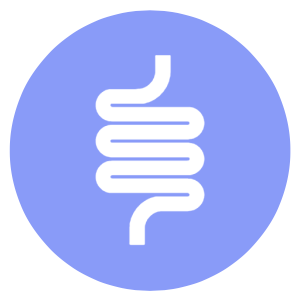 Are you ready to take control of your gut symptoms?
No thanks, my gut is perfect.
Now my lovelies if you want to make a batch of
instant low FODMAP chocolate sauce
for dipping fruit/pretzels/marshmallows in then this is how I do it:
Makes ¾ cup – 6 serves – 2 tbsp per serve
Prep time: 2 minutes Cook time: 5 minutes
INGREDIENTS
¼ cup low FODMAP milk
¼ cup boiling water
½ cup soft brown sugar
1/4 cup cocoa powder
2 tbsp maple syrup
½ tsp vanilla essence
2 tbsp cornflour/starch
3 tbsp cold water (for dissolving the cornflour)
METHOD
Place the milk, boiling water, brown sugar, cocoa powder, maple syrup and vanilla essence in a small saucepan.

Dissolve the cornflour/starch in the cold water, then whisk through the other ingredients.

Place the saucepan over medium heat for 3 to 4 minutes, until the mixture starts to gently simmer, stirring regularly. Once the sauce thickens and coats the back of a spoon (instead of running off it), remove from the heat and pour into a sterilised jar.

Keep in the fridge for up to 2 weeks. Enjoy in 2 tablespoon serves.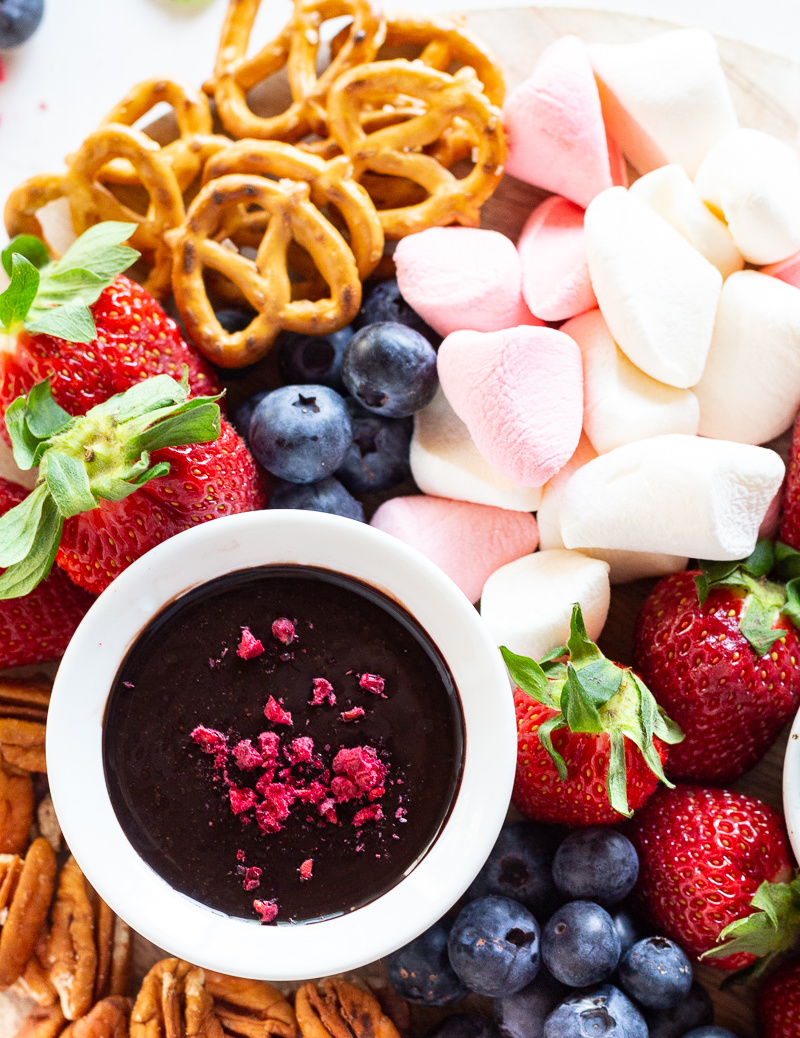 Final Thoughts
Did this post make you hungry? It has definitely got me drooling! I hope this post has given you the confidence to go forth and create your own awesome low FODMAP sharing platters. Don't forget you can mix and match between my different platter ideas to make something your friends, family and co-workers will love!