You might have heard that polyols are sugar alcohols but these sneaky FODMAPs won't make you drunk! Polyols occur naturally in foods (like fruit and vegetables) or are manmade and added to processed foods as a low calorie sweetener. This is why you often see them in weight loss protein bars and diabetic sweets.
Unfortunately sugar alcohols like to wreck havoc on our digestive systems and can cause down right unpleasant irritable bowel syndrome symptoms (IBS) in some people. While on the low FODMAP diet there are six polyols you should look out for: sorbitol (420), mannitol (421), maltitol (965), xylitol (967), isomalt (953), and lactitol (966) (1).
Why are Polyols a problem?
Only one-third of the polyols consumed are actually absorbed by our bodies, and the level of absorption depends on the type of polyol and the individual. When polyols are poorly absorbed, they become fodder for our gut bacteria, who feast on the sugars and rapidly ferment them, triggering IBS symptoms (2 3).
Polyols are famous for their laxative effect, which is why packets of chewing gum contain warnings that excess consumption can cause diarrhoea. The polyols work as laxatives by drawing water into the large intestine when they are poorly absorbed, which moves the food quickly through the intestines, triggering bowel movements (2 3).
Where are polyols found?
The most talked about polyols are sorbitol and mannitol which occur naturally in a wide range of fruit and vegetables. Polyols can also be manmade and are often sneaked into processed goods such as hard candies, toffees, ice cream, jams and preserves, chewing gum, chocolates, protein powders, baked goods, nutritional supplements, diabetic supplements, cough drops and throat lozenges (4 5).
Make sure you don't get caught out by checking the ingredient lists of processed foods, and pay close attention to any product that states it is sugar free, as these often contain high FODMAP sugar alcohols or inulin.
What are the different sugar alcohols?
Sorbitol (420)
Sorbitol tends to be commonly found in fruits like apples, apricots, avocado, blackberries, cherries, lychee, nectarines, peaches, pears, plums, and prunes (2 3). Sorbitol is also manufactured and used as an artificial sweetener because it has approximately 60% of the sweetness of sucrose (table sugar) (5). Check processed products for 420 or glucitol, as these are other names for sorbitol (2 5).
Mannitol (421)
Mannitol naturally occurs in a range of fruit and vegetables like watermelon, cauliflower, celery, snow peas, and sweet potato (3). Mannitol can also be manufactured from fructose sourced from cornstarch (5). Check processed products for mannitol food additive number 421 (6).
Maltitol (965)
Maltitol is another poorly absorbed sugar alcohol. Believe it or not maltitol is actually derived from cornstarch… according to the Sugar Association  "maltitol is manufactured by hydrogenating maltose, the glucose-glucose disaccharide (two sugars) derived from cornstarch." It is also an ideal sweetener as maltitol is 90% as sweet as sugar, which makes it a highly attractive sugar replacement (5). Its food additive number is 965 (6).
Lactitol (966)
Lactitol is a sugar alcohol derived from lactose rich whey (5). It is commonly used in chewing gum, hard and soft candies, and frozen dairy desserts and is often mixed with other artificial sweeteners (5). Watch out for the food additive number 966 (6).
Xylitol (967)
Low levels of xylitol naturally occur in fruits, vegetables, and other plants (7 8). For example, foods such as raspberries, strawberries, and endives contain xylitol (9). However the levels appear to be low enough that these fruits and vegetables are considered low FODMAP (3).
Xylitol can be commercially extracted from corncobs and hardwood trees, and  becomes an issue when it is used in higher amounts as an artificial sweetener (8). When checking labels watch out for Xylitol, birch sugar, or 967 (10 11).
Isomalt (953)
Isomalt definitely does not end in 'ol' which means it is easy to miss it when reading labels! Isomalt is a sugar alcohol that contains both sorbitol and mannitol, which is why it is high FODMAP and should be avoided in the low FODMAP phase.
During the manufacturing process of isomalt, the fructose portion of cane sugar is converted into two disaccharides: glucose-sorbitol (gluco-sorbitol) and glucose-mannitol (gluco-mannitol) (4 5). Watch out for isomalt's food additive number 953 when checking food labels.
Erythritol (968)
Erythritol is relatively well absorbed in our small intestines when compared to the other high FODMAP sugar alcohols (12). Only about 10% of the erythritol ingested makes it to our large intestine, and our gut bacteria appear not to rapidly ferment it in our large intestines (12 13). This means erythritol is less likely to trigger gut symptoms compared to the other polyol sugars.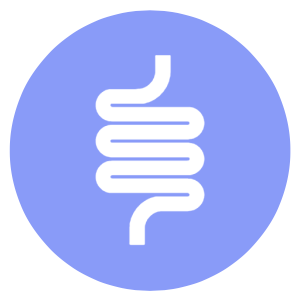 Are you ready to take control of your gut symptoms?
No thanks, my gut is perfect.
During the first phase of the low FODMAP diet you may want to limit your intake of erythritol until your symptoms settle, then you can test your tolerance to the ingredient.
Research also suggests that erythritol can increase the malabsorption of fructose, which in turn could trigger IBS symptoms (12 14 15). This means you may also want to reduce your erythritol consumption when you do your fructose challenge so you get accurate results. Follow the link to find out more about where erythritol hides.
Final Thoughts
Polyols are high FODMAP sugar alcohols that like to sneak into our diets and cause digestive distress! It is important that you remove high FODMAP sugar alcohols during the low FODMAP phase and test them in the reintroduction phase, to see if you can add them back into your diet. To make sure you don't get surprised by a polyol, check your processed food products for their additive numbers as well.