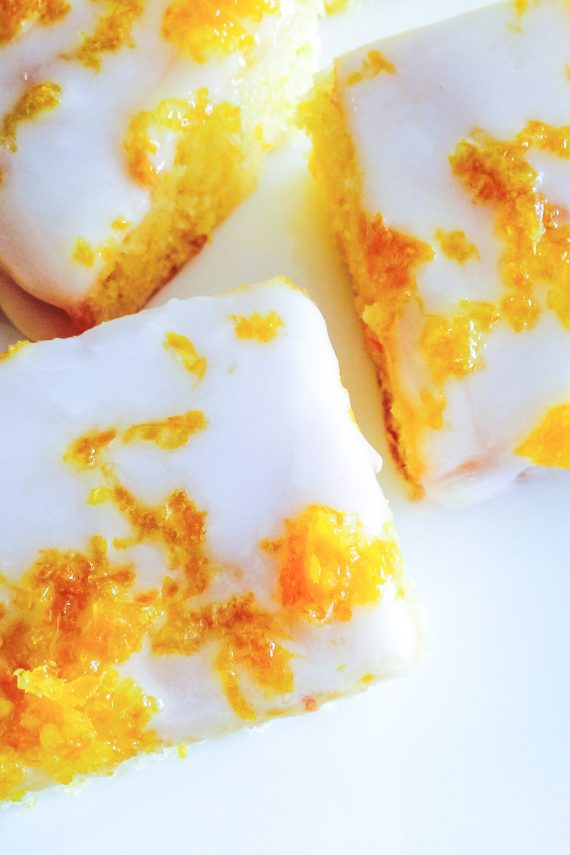 Ingredients
Imperial Units

|

Metric Units
SERVES 12
Lemon Cake
105
gluten free self raising flour*
100
dairy free spread (olive oil spread or butter) (softened)*
Lemon Glaze
130
confectioners sugar (powdered sugar)*
* See the FODMAP Tips, Dairy Tips and Gluten Free Tips for the ingredient notes above the method.
Equipment
microplane (for zesting)
baking tin 20cm by 30cm (12 inch by 8 inch)
fine mesh sieve
Low FODMAP Lemony Lemon Cake
This low FODMAP lemony lemon cake certainly has a bit of zing to it! The secret is to use lots of lemon zest to bring out the flavour. This cake is perfect if you have lemons lying around that you don't know what to do with.
How to make self raising flour: If you can't find gluten free self raising flour that's okay. Instead try taking your 3/4 cup of gluten free all purpose flour and adding 1 & 1/4 teaspoons of baking powder and 1/2 teaspoon of salt. Mix these ingredients together before adding any other ingredients.
Gluten Free Option
Low FODMAP
Dairy Free
Nut Free
Soy Free
MAKE GLUTEN FREE
SHOW NUTRITION
Nutrition per serve
NON-DAIRY FREE

|

DAIRY FREE

|

GLUTEN FREE
---
Love this recipe? Get your weekly meal plans.
FREE TRIAL
Method

|

FODMAP tips

|

Gluten Free tips

|

Dairy Free tips
---
Method
Preheat oven to 180°C (355°F) on fan bake setting. Grease a 30cm by 20cm (12 inch by 8 inch) sized tin.
Zest and juice three large lemons. To zest a lemon  - you want to grate the bright yellow layer and not the white layer underneath. To easily juice a lemon cut it in half and pierce the flesh with a fork before squeezing.
In a medium sized bowl beat the gluten free self raising flour, sugar, salt, and softened dairy free spread (olive oil spread or butter) until it is doughy.
In a smaller separate bowl whisk the lemon zest, lemon juice and eggs until well combined.
Pour the egg mixture into the dough and beat until it is smooth and sticky (if doing this by hand it will take a couple of minutes).
Pour into the baking tin and bake for 20 to 25 minutes until the top is golden brown and the cake feels springy.
Allow to cool before icing.
For the icing, mix together the confectioners sugar (powdered sugar) and 3 and 1/2 tablespoons of lemon juice. Once mixed spoon it onto the top of the cake and spread with a spatula. Then sprinkle the remaining lemon zest on top. Allow to set before cutting.
Buying Tips
Make sure the self raising flour is gluten free. I used one made from a mixture of rice flour, maize starch, tapioca starch, sugar, raising agents (450, 500), vegetable gum (Xanthan). Avoid flour blends that contain soy flour, chickpea/besan/gram/garbanzo bean flour, lentil flour, coconut flour, amaranth flour, or lupin flour.
Make your lemon juice and lemon zest from fresh lemon.
Gluten Free Tips
Most icing sugars (powdered sugar) are gluten free, however some do contain wheat starch. This means you should check that your icing/powdered sugar is gluten free.
Dairy Free Tips
Use a dairy free spread or olive oil spread instead of butter. Butter is considered low FODMAP.