Leftover Halloween treats, gorgeous Thanksgiving meals, endless holiday parties, office chocolates and of course Christmas feasts, make it easy to lose track of our low FODMAP diets! Being mindful while eating can help you enjoy the festive season without overdoing the FODMAPs.
Ten Low FODMAP Mindful Eating Tips:
1. Think before you eat. Before you chow down on whatever is put in front of you, take a moment. Think about what emotions you are feeling (happy, sad, angry, lonely, hungry, stressed). Ask yourself if you are actually hungry. If you are about to eat a large meal just for the sake of it, then now is the time to reconsider. If you are sad or lonely it might be a good time to ring a friend or have a short walk before eating. If you are stressed then write a to do list so you can come back to the problem later. Take care of those emotional needs first, so you don't mistake them as hunger. Once you have determined that you are hungry, check what is available and choose low FODMAP food options.
2. Choose a smaller plate. The size of our dinner plates has grown substantially over the past ten years, and large plates are trendy! However large plates encourage overeating and tend to raise the quantity of FODMAPs we consume in a meal. Professor Brian Wansik from Cornell University has studied how plate size influences our eating behaviour, on average people eat 30% more when they eat from large bowls. If you can focus on choosing a smaller plate and savour your meal instead.
3. Serve out your portions. We all know how important portion size is for good symptom control. Dish out low FODMAP treat food into portion sizes instead of eating straight from the bag.
If you are eating buffet style have a look at what is on offer first, then fill your small plate with low FODMAP options. If you want to try something that is potentially moderate to high FODMAP choose it last and reduce your portion size. Remember FODMAPs are accumulative so if you haven't had many, you might get away with a couple of bites of high FODMAP foods. Accredited practising dietitian, Joanna Baker recommends facing away from the buffet, or if you are at home, packing away leftovers before sitting down to eat, to reduce your chances of going back for seconds.
If you are at a cocktail party choose a position away from the nibbles table to stop you mindlessly eating high FODMAP foods. Also consider alternating your drinks between your low FODMAP alcoholic beverage and water. Alcohol is a gut irritant and can trigger symptoms, so indulge in one or two drinks but know your limit.
4. Sit down to eat. If you are eating on the run, then it is unlikely you will fully register what you are eating and you will feel hungry again much sooner. Rushing through meals can also encourage you to eat fast and swallow more air, which can contribute towards symptoms. Take time to sit down and enjoy your meal. Clear any clutter off your dining table, and make it somewhere where you want to sit. Buy a candle and a couple of nice placemats to get you in the mood!
5. Step away from your phone & turn off the television. Technology is everywhere these days and it is easy to let it take over our lives. Meal times should be for reflection and for reconnecting with other family members. Make meal times a tech free zone.
6. Practice gratitude. Before you start the meal take a moment to be thankful – be it for the farmers who produced the produce, the cook who prepared the meal, or the company you are with.
7. Don't rush the meal. Food should be savoured and enjoyed!  Chew slowly and pop your cutlery down between mouthfuls. Eating slowly also gives your stomach time to communicate with your brain so you can recognise when you are full. Digestion begins in the mouth, so well-chewed food is also easier for your body to digest.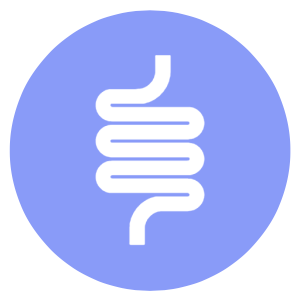 Are you ready to take control of your gut symptoms?
No thanks, my gut is perfect.
8. Listen to your body & resign from the Clean Plate Club. Many of us were taught that it is naughty and wasteful to leave food on your plate. However, overeating can challenge our FODMAP threshold as well as encourage weight gain. This means it is time to resign from the club and listen to your body's hunger cues. If you do leave a few bites of your meal, it's not the end of the world!
9. Plan your daily meals. During the holiday season it is easy to skip meals due to busy schedules or to 'save space' for a big party. Keep in mind that routine low FODMAP meals help keep us regular and reduce cravings. Also being more careful with your meals leading up to a party or special occasion dinner means you can focus on lowering your FODMAP load, which gives you a bit more wriggle room when eating out.
10. Carry smart swaps with you.  Be mindful on what is on offer around you. If you just can't ignore the chocolate treats at the office, then take your own treat with you or limit your portion size. Smart swapping of high FODMAP foods to low FODMAP foods means you can enjoy more, without suffering the consequences.
Final Thoughts
There are plenty of ways to eat mindfully this festive season and nourish your body while on the low FODMAP diet. If you do end up over indulging and suffer the consequences then check out these tips for reducing gastrointestinal distress. Happy Holidays Everyone!
More Low FODMAP Holiday Reading
Low FODMAP Guide To Surviving Christmas