Many of us are guilty of not eating enough vegetables. Life is busy and it is easy to forget to plan veggies into your meals. In Australia 2 out of 3 people aren't eating enough vegetables per day (1). These statistics are echoed throughout the Western world. Vegetables and whole foods in general are great for our overall health and wellbeing. The issue is getting you excited about eating them! So let's look at 7 easy ways to eat more vegetables while on the low FODMAP diet without it feeling like a burden.
7 Easy Ways To Eat More Low FODMAP Vegetables
1. Start your day right
Breakfast is the perfect time to start your day right with a serve of vegetables. Add a handful of spinach to your humble egg on low FODMAP toast or create a veggie packed omelette. Love porridge? Create a carrot cake porridge bowl. Simply add a small grated carrot and a sprinkle of cinnamon and ground ginger to your oats, along with a handful of toasted nuts and seeds.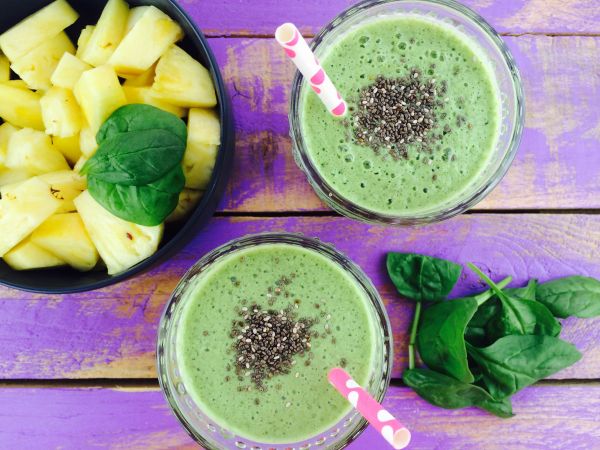 2. Hide them in a low FODMAP smoothie
Adding a handful of kale or spinach to your low FODMAP smoothies is a great way to 'hide' vegetables in your morning meal. They won't change the flavour of the smoothie although they might turn it a funky colour. I love adding a handful of spinach to this low FODMAP blueberry smoothie, otherwise try giving my green smoothie recipe a go.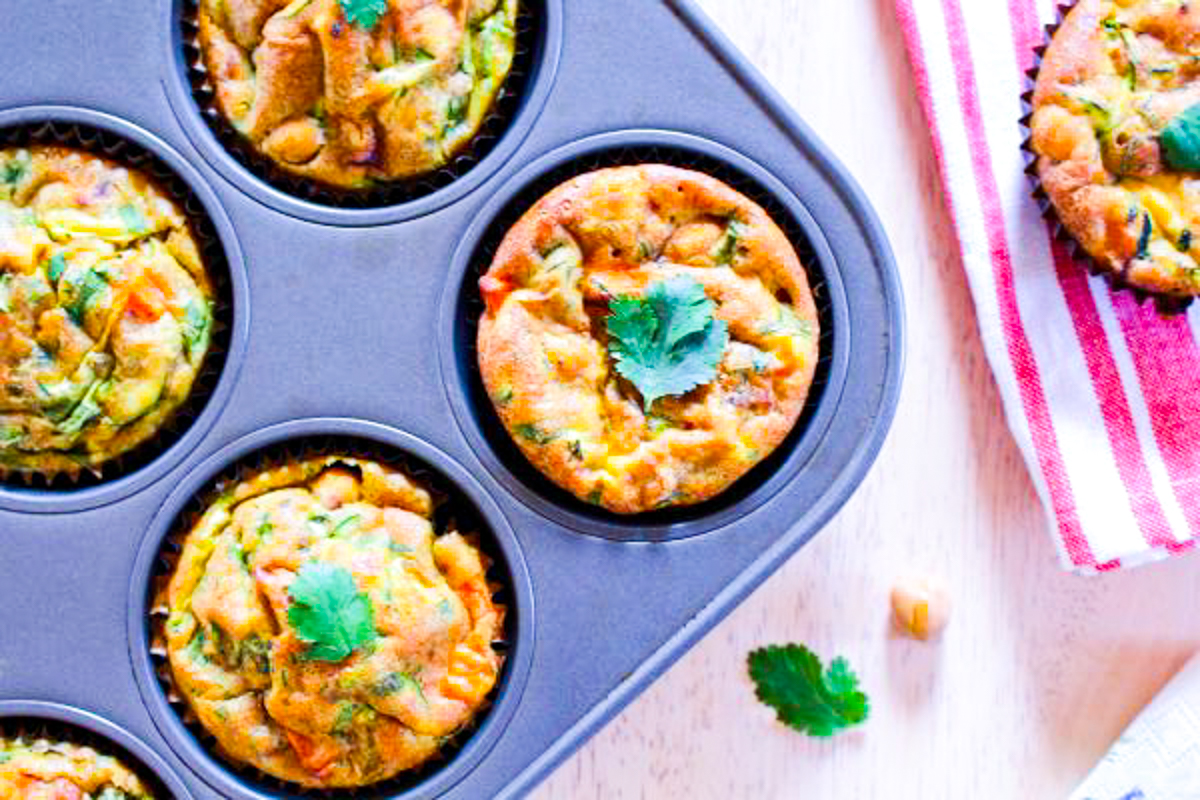 3. Veggie up your snacks
The fibre in vegetables can help fill you up and keep you satisfied for longer. Try carrot, cucumber and red pepper sticks dipped in the safe serving of low FODMAP hummus. Mini egg frittata muffins are a great way to use up leftover vegetables. My favourite version is curried carrot and chickpea frittata muffins.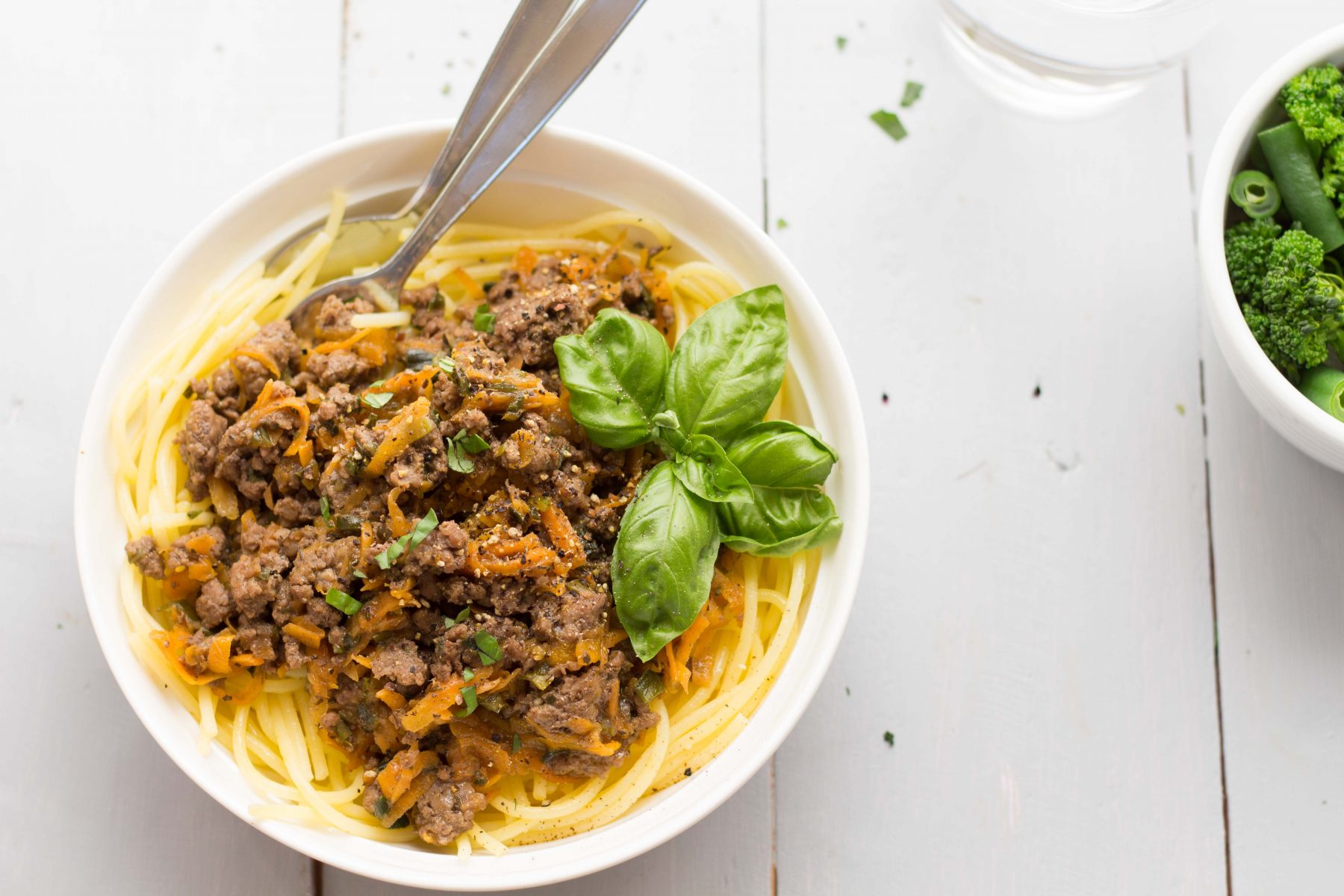 4. Sneak them into your Bolognese
Bolognese is perfect for hiding veggies in (trust me your household won't even notice). I love adding grated carrot or zucchini, a few cups of green leafy vegetables (silverbeet, spinach, kale), and canned tomato to ours… then serve with a small green salad or green beans on the side.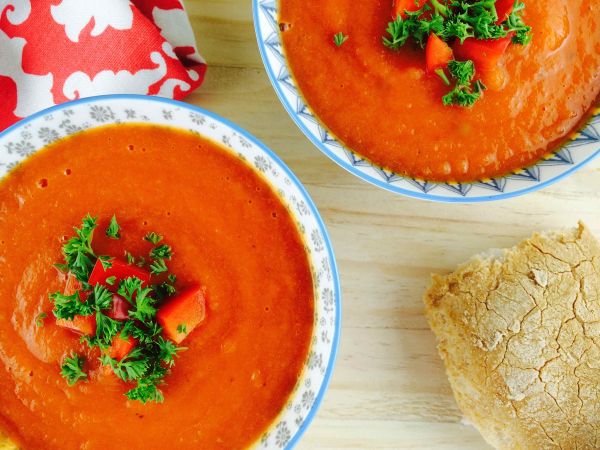 5. Turn soup into vegetable powerhouses
Soups are the perfect way to eat vegetables… you can mash them or blend them until they disappear into a tasty soupy mess. You can easily turn roast vegetables into soup by adding some low FODMAP stock and a handful of fresh herbs. Then puree until smooth. Otherwise, try my roasted sweet red pepper soup.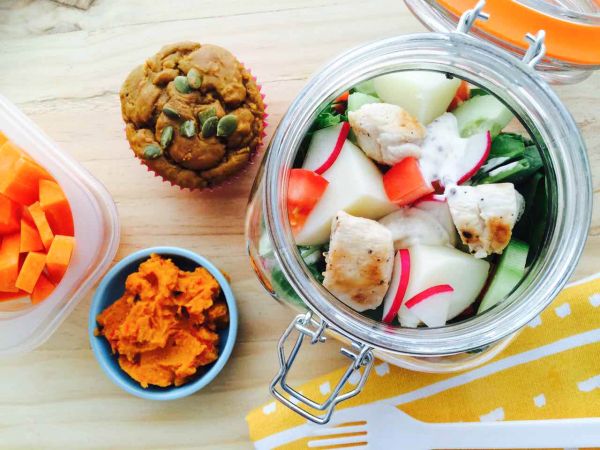 6. Power pack your salads
There are so many ways to pack your salads full of flavor and vegetables.  Tasty options can range from classic green salads with mustard vinaigrette, to Greek salad with tomatoes, cucumber, olives and feta, or roast vegetable & brown rice salad. If you are stuck for ideas check out my mix and match salad infographic, or explore the salads below for some inspiration.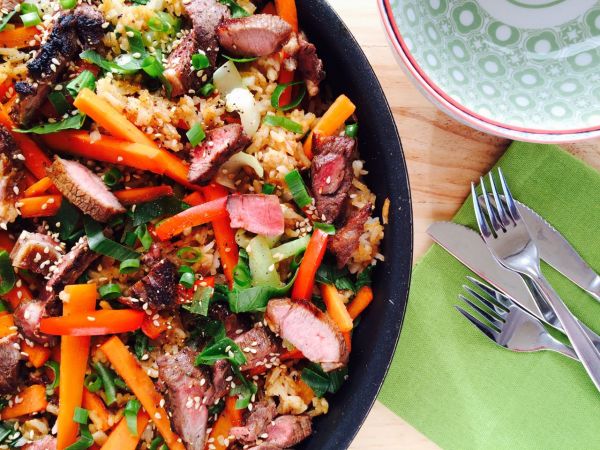 6. Create balanced dinners
Most of us are guilty of having too many carbs and protein and not enough veggies on our dinner plates. A good rule of thumb is to divide your plate into 4:  ¼ carb (potato, rice, gluten free pasta), ¼ protein (chicken, beef pork, fish, lamb, tofu, tempeh), and then ½ low FODMAP vegetables. When developing recipes, I aim to include 3 colourful vegetables per meal.
For example, carrots, red pepper, and green beans in a stir fry, or buttercup pumpkin, eggplant and parsnip in a roast veggie mix.  Vegetable skewers roasted on the BBQ are also a fantastic way to inspire your family to eat more vegetables: try a mixture of red or yellow pepper, eggplant, courgette, and a low FODMAP serve of sweet corn.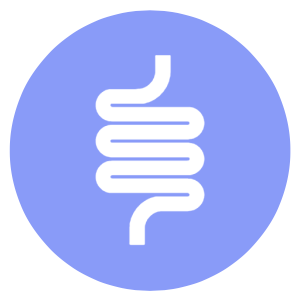 Are you ready to take control of your gut symptoms?
No thanks, my gut is perfect.
Not feeling the inspiration? Let us help.
Check out our recipes and our low FODMAP meal plans in the FODMAP Made Easy Programme for lots of low FODMAP inspiration. Or follow us on Facebook.