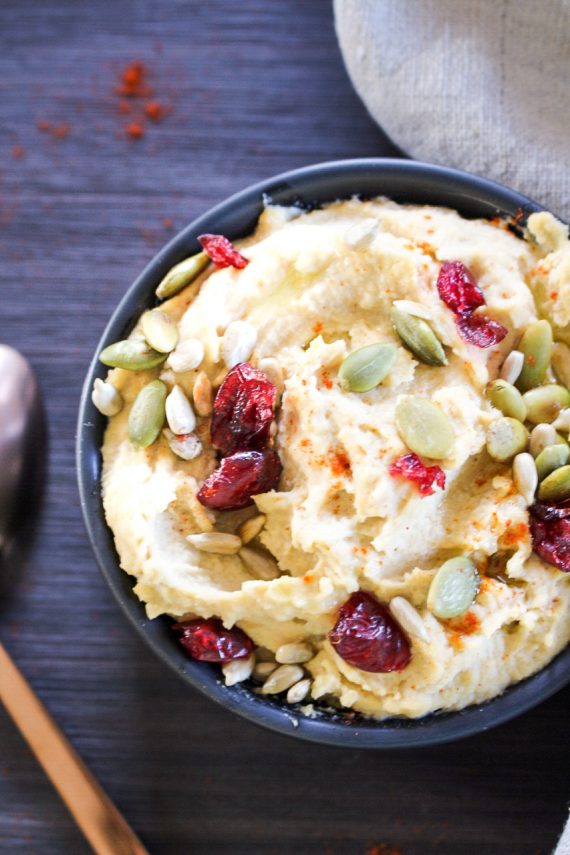 Ingredients
Imperial Units

|

Metric Units
SERVES 8 (2 & 1/2 tablespoons per serve)
Traditional Hummus
400
canned chickpeas in brine (drain & rinse before using)
To Serve
2
pumpkin seeds, sunflower seeds, dried cranberries (optional)*
0.125
paprika (sprinkle to garnish)*
* See the FODMAP Tips, Dairy Tips and Gluten Free Tips for the ingredient notes above the method.
Equipment
Traditional Low FODMAP Hummus
Bet you didn't think traditional low FODMAP hummus was possible? Well this recipe is going to blow your mind! We recapture the garlic flavour by using low FODMAP garlic infused oil and a safe serve of tahini gives this recipe that authentic hummus flavour. Also the trick to ultra silky smooth hummus is to whip your tahini first and spend a few minutes shelling your chickpeas before you use them.
Low FODMAP Note On Tahini & Chickpeas: According to Monash University canned chickpeas are low FODMAP in 1/4 cup (42g) serves. This is because the oligosaccharides in the chickpeas leach in the water, lowering the FODMAP content of the chickpeas. Just make sure you wash and drain them well before using. Tahini is low FODMAP in 1 tablespoon serves before becoming high FODMAP at 2 tablespoon serves. This recipe uses 2 tablespoons of tahini, which means when you divide the recipe by 8 serves, the tahini is well within low FODMAP limits (1.5 teaspoons per serve).
Gluten Free Option
Low FODMAP
Dairy Free
Egg Free
Nut Free
Soy Free
MAKE GLUTEN FREE
SHOW NUTRITION
Nutrition per serve
NON-DAIRY FREE

|

DAIRY FREE

|

GLUTEN FREE
---
Love this recipe? Get your weekly meal plans.
FREE TRIAL
Method

|

FODMAP tips

|

Gluten Free tips

|

Dairy Free tips
---
Method
Drain and rinse the canned chickpeas under running water for 1 minute. Then drain again. Now is the time to grab any friends, family or children and drag them into the kitchen to help you shell the chickpeas. Gently pinch the skin to each chickpea to remove. If you don't mind slightly coarser hummus you can skip this step!
Juice your lemon.
Add the tahini and lemon juice to the food processor or blender, and whip on high for 30 seconds, until well combined and smooth.
Then add the washed chickpeas, garlic infused oil, olive oil, cumin, and salt. Blend until relatively smooth. Add a little bit of water until the hummus reaches your desired consistency.
Taste and add more salt and lemon juice to suit your personal preference. Then blend again. Allow to chill for 30 minutes then top with a sprinkle of paprika, and some low FODMAP nuts or seeds.
Enjoy! This recipe should make 8 serves (2 & ½ tablespoons of hummus per serve)
Buying Tips
Garlic infused oil is found in the oil section of your local supermarket. It should be clear with no floating bits of garlic. You can also make garlic infused oil at home by frying garlic cloves in cooking oil, until they are golden and fragrant (then remove the garlic before you continue cooking your meal). This is a low FODMAP way to capture the garlic flavour as the fructans can't leach into the oil.
Check that the dried cranberries are sweetened with sugar and not apple juice.
Make your lemon juice and lemon zest from fresh lemon.
Tahini can be low FODMAP in small serves (1 tablespoon), just avoid larger serve as these become high FODMAP.
Gluten Free Tips
Herbs and spices are naturally gluten free, however they can become contaminated during manufacturing processes. If you are highly sensitive to gluten, check the dried herbs and spices do not contain a warning for trace gluten. If you are just on the low FODMAP diet you do not need to worry about this.
If you are highly sensitive to gluten, check all packaged products, processed meat (like bacon), nuts, seeds and dried fruit do not contain a warning for trace gluten. If you are just on the low FODMAP diet you do not need to worry about this.
Dairy Free Tips