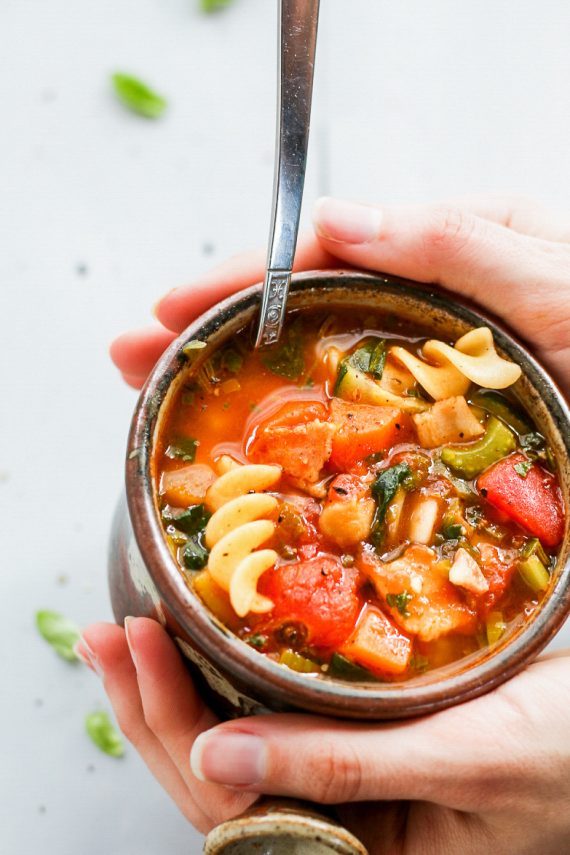 Ingredients
Imperial Units

|

Metric Units
Servings:
Low FODMAP Minestrone
80
leek (green tips only)*
400
plain crushed/chopped tomatoes (canned)*
500
low FODMAP chicken stock/vegetable stock*
75
gluten free pasta (spirals, shells)*
168
canned chickpeas in brine (weight after draining & rinsing)*
To serve
2
parmesan cheese or soy based vegan cheese (optional)*
* See the FODMAP Tips, Dairy Tips and Gluten Free Tips for the ingredient notes above the method.
Equipment
Low FODMAP Minestrone
Low FODMAP minestrone makes the perfect lunch or a light dinner! This minestrone soup is packed full of flavour and uses low FODMAP canned chickpeas instead of traditional high FODMAP beans. To make this dish vegetarian just leave out the bacon.
Note on canned chickpeas & celery: Canned chickpeas are low FODMAP because the GOS and fructans are water soluble, and they leach out of the chickpeas and into the water. Just make sure you rinse the chickpeas well before using. Celery is low FODMAP in small 12g serves. The amount of celery in this recipe is low FODMAP per serve.
Gluten Free Option
Low FODMAP
Dairy Free
Egg Free
Nut Free
Soy Free
MAKE GLUTEN FREE
SHOW NUTRITION
Nutrition per serve
NON-DAIRY FREE

|

DAIRY FREE

|

GLUTEN FREE
---
Love this recipe? Get your weekly meal plans.
LEARN MORE
Method

|

FODMAP tips

|

Gluten Free tips

|

Dairy Free tips
---
Method
Dice the potato and carrot, finely slice the celery, finely chop the green leek tips, and remove the rind and cut the bacon into small pieces. Place a large saucepan over medium heat. Add the garlic infused oil, carrot, bacon, potato, celery and green leek tips. Saute gently for 15 to 20 minutes until the ingredients start to soften. Add a drizzle of olive oil and turn down the heat if needed (you want the vegetables soft but not too brown).
While the veggies soften, dice the zucchinis, and thinly slice the spinach leaves. Make the low FODMAP stock if needed. Drain and rinse the chickpeas, before draining again.
Then add the canned tomatoes, low FODMAP stock, hot water, diced zucchinis, spinach leaves, and chickpeas. Bring to the boil and allow to simmer on medium-low heat for 10 minutes.
Measure out the pasta and roughly chop the basil (leaves and stalks). Reserve any small basil leaves for garnish.
Add the pasta and basil to the soup. Cook the pasta in the soup according to packet directions, or until the pasta is cooked (if you are using the soup for lunches, under cook the pasta by 1 to 2 minutes to stop it going mushy). If the soup is too thick, add a little bit of water.
Season with salt and pepper. Garnish with baby basil leaves and add a drizzle of garlic infused oil and a sprinkle of parmesan cheese (if desired).
Buying Tips
Garlic infused oil is found in the oil section of your local supermarket. It should be clear with no floating bits of garlic. You can also make garlic infused oil at home by frying garlic cloves in cooking oil, until they are golden and fragrant (then remove the garlic before you continue cooking your meal). This is a low FODMAP way to capture the garlic flavour as the fructans can't leach into the oil.
Make sure you buy a leek that has long green tips (this is the low FODMAP part), as you can't use the white/light green leek bulb (this part is high FODMAP).
Choose gluten free pasta, not spelt or wheat based pasta as these can be high FODMAP, and check for added high FODMAP ingredients link inulin, soy flour, lupin flour, and amaranth flour. If some of your family are not low FODMAP or gluten free you can cook them normal pasta, however make sure you cook it separately.
When selecting your bacon, choose one that isn't cured using honey or other high FODMAP sweeteners like high fructose corn syrup, fructose or agave syrup. Please note that if the packet says that the product is 'Manuka Smoked' this is the type of wood used to smoke the bacon not actual honey, however please check the packet for other high FODMAP ingredients mentioned above.
Buy chickpeas canned in water or brine (the oligosaccharides will leach into the liquid, which reduces the FODMAP content). Make sure you rinse the chickpeas well in water before using.
Check the vegan soy based cheese does not include onion, garlic or coconut flour in the ingredients. Cheddar, Colby, mozzarella, and parmesan cheeses are all low FODMAP.
Choose plain canned tomatoes with no added herbs or spices. Check there is no added onion or garlic.
Choose a stock that does not include onion or garlic. We prefer to use Massel Chicken Stock Cube 7's (in the yellow & blue packet). This product is low FODMAP, gluten free and vegan (despite it's name) and each packet makes 7 cups of stock. This product can be brought online around the world and is available from some supermarkets.
Gluten Free Tips
If you are highly sensitive to gluten, check all packaged products, processed meat (like bacon), nuts, seeds and dried fruit do not contain a warning for trace gluten. If you are just on the low FODMAP diet you do not need to worry about this.
Dairy Free Tips