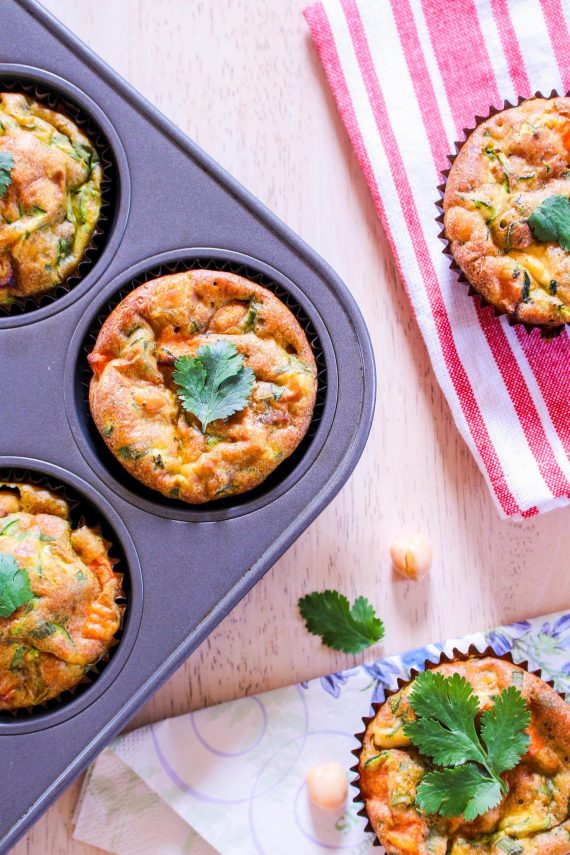 Ingredients
Imperial Units

|

Metric Units
SERVES 16 mini frittatas (limit 3 per serve)
Curried Carrot & Chickpea Frittatas
320
carrot (peeled & diced)
50
dairy free spread (olive oil spread or butter)*
105
gluten free self raising flour*
40
green onions/scallions (green tips only)*
5
fresh cilantro (chopped)
168
canned chickpeas in brine (weight after draining & rinsing)*
* See the FODMAP Tips, Dairy Tips and Gluten Free Tips for the ingredient notes above the method.
Equipment
standard muffin tray (12 portion)
muffin liners
Low FODMAP Curried Carrot & Chickpea Frittatas
These low FODMAP curried carrot & chickpea frittatas are one of my favourite snacks! They are also a great way to sneak a low FODMAP serving of legumes into your diet. Make sure you explore the website for more delicious low FODMAP snacks.
These low FODMAP mini frittatas freeze well and are lovely reheated in the microwave.
Low FODMAP note on chickpeas & tofu: Both canned chickpeas and firm tofu are stored in water, which allows the GOS content to leach out of the products and into the water, lowering the FODMAP content. Just make sure you drain both well and rinse the chickpeas before using. This recipe contains a low FODMAP serving of both products, providing you limit yourself to 3 frittatas at a time.
Gluten Free Option
Low FODMAP
Dairy Free
Nut Free
MAKE GLUTEN FREE
SHOW NUTRITION
Nutrition per serve
NON-DAIRY FREE

|

DAIRY FREE

|

GLUTEN FREE
---
Love this recipe? Get your weekly meal plans.
FREE TRIAL
Method

|

FODMAP tips

|

Gluten Free tips

|

Dairy Free tips
---
Method
Place the oven on to preheat at 180ºC (355ºF) bake function.
Place a large frypan over medium heat. Peel and dice the carrots into small cubes. Add to the frypan with a drizzle of olive oil. Allow to gently sautee for 10 to 15 minutes until soft and slightly golden brown. Stir occasionally.
While the carrot cooks, prepare the rest of the mini frittata ingredients. Melt the dairy free spread (olive oil spread or butter). In a large bowl whisk together the eggs, low FODMAP milk, garlic infused oil, and melted dairy free spread (olive oil spread or butter). Then whisk through the curry powder and gluten free self raising flour.
Finely chop the green onions/scallions (green tips only), grate the zucchinis, and roughly chop the fresh cilantro. Drain the tofu before chopping/crumbling into small pieces. Drain the chickpeas and rinse under cold water, before draining again.
Mix the grated zucchinis, green onions/scallions (green tips only), rinsed chickpeas, tofu, fresh cilantro and cooked carrot through the wet mixture. Season with a few grinds of salt and pepper, then mix again.
Line your muffin trays with paper liners (this will make clean up easier!), then spoon the mixture into the cups. Fill almost to the top. Place in the oven and cook for 25 to 30 minutes until springy and golden (if testing with a wooden skewer it should come out clean). Don't worry if your mini frittatas sink when they come out of the oven...that's normal and they will still taste delicious. These will keep in the fridge for two days or you can pop them into the freezer once they have cooled.
Reheating tip: Pop the mini frittatas in the microwave for 40 seconds to a minute (longer if reheating from frozen) to enjoy a warm snack.
Buying Tips
Garlic infused oil is found in the oil section of your local supermarket. It should be clear with no floating bits of garlic. You can also make garlic infused oil at home by frying garlic cloves in cooking oil, until they are golden and fragrant (then remove the garlic before you continue cooking your meal). This is a low FODMAP way to capture the garlic flavour as the fructans can't leach into the oil.
Buy chickpeas canned in water or brine (the oligosaccharides will leach into the liquid, which reduces the FODMAP content). Make sure you rinse the chickpeas well in water before using.
Check the mild curry powder does not include onion or garlic powder.
Make sure you buy firm tofu (these are often preserved in liquid, just drain the liquid off before using). The high levels oligosaccharides/FODMAPs are drained off with the liquid and during the manufacturing process, which makes the tofu low FODMAP. Avoid using Silken tofu as this product is high FODMAP.
Make sure the self raising flour is gluten free. I used one made from a mixture of rice flour, maize starch, tapioca starch, sugar, raising agents (450, 500), vegetable gum (Xanthan). Avoid flour blends that contain soy flour, chickpea/besan/gram/garbanzo bean flour, lentil flour, coconut flour, amaranth flour, or lupin flour.
Buy a bunch of green onions/scallions with long green tips. You can use the green tips of the green onions/scallions (which are low FODMAP) and not the white stem when cooking.
Gluten Free Tips
Herbs and spices are naturally gluten free, however they can become contaminated during manufacturing processes. If you are highly sensitive to gluten, check the dried herbs and spices do not contain a warning for trace gluten. If you are just on the low FODMAP diet you do not need to worry about this.
Dairy Free Tips
Use a dairy free spread or olive oil spread instead of butter. Butter is considered low FODMAP.