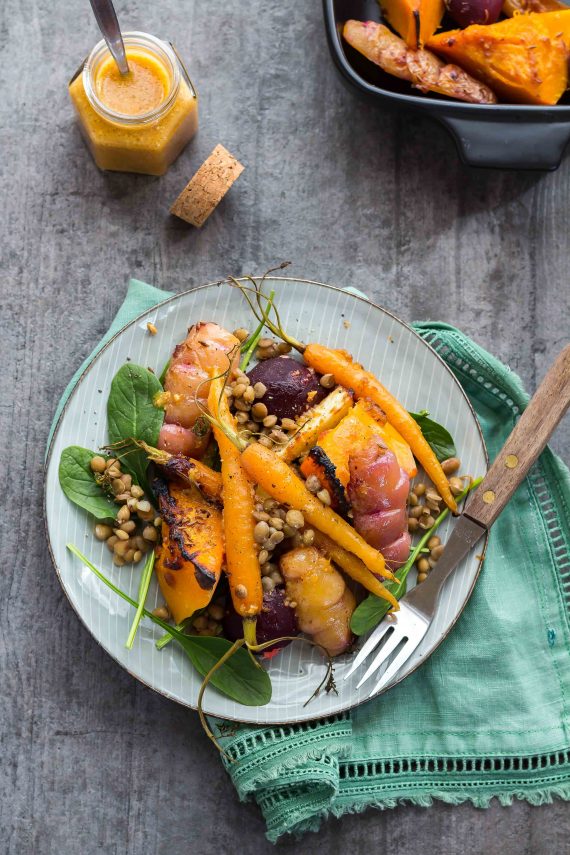 Ingredients
Imperial Units

|

Metric Units
Servings:
Marinade
2
orange zest (save the orange juice)*
Other Ingredients
450
Japanese (Jap) pumpkin (Kabocha squash or Buttercup squash) (cut into chunks)
130
parsnip (sliced into thick sticks)
300
red yams (cut into halves)
150
canned beetroot (weigh after draining, then halve)*
400
canned lentils (weight is for entire can, drain & rinse)*
60
freshly squeezed orange juice*
* See the FODMAP Tips, Dairy Tips and Gluten Free Tips for the ingredient notes above the method.
Equipment
roasting tray
large mixing bowl
Low FODMAP Orange Miso Roast Veggie & Lentil Salad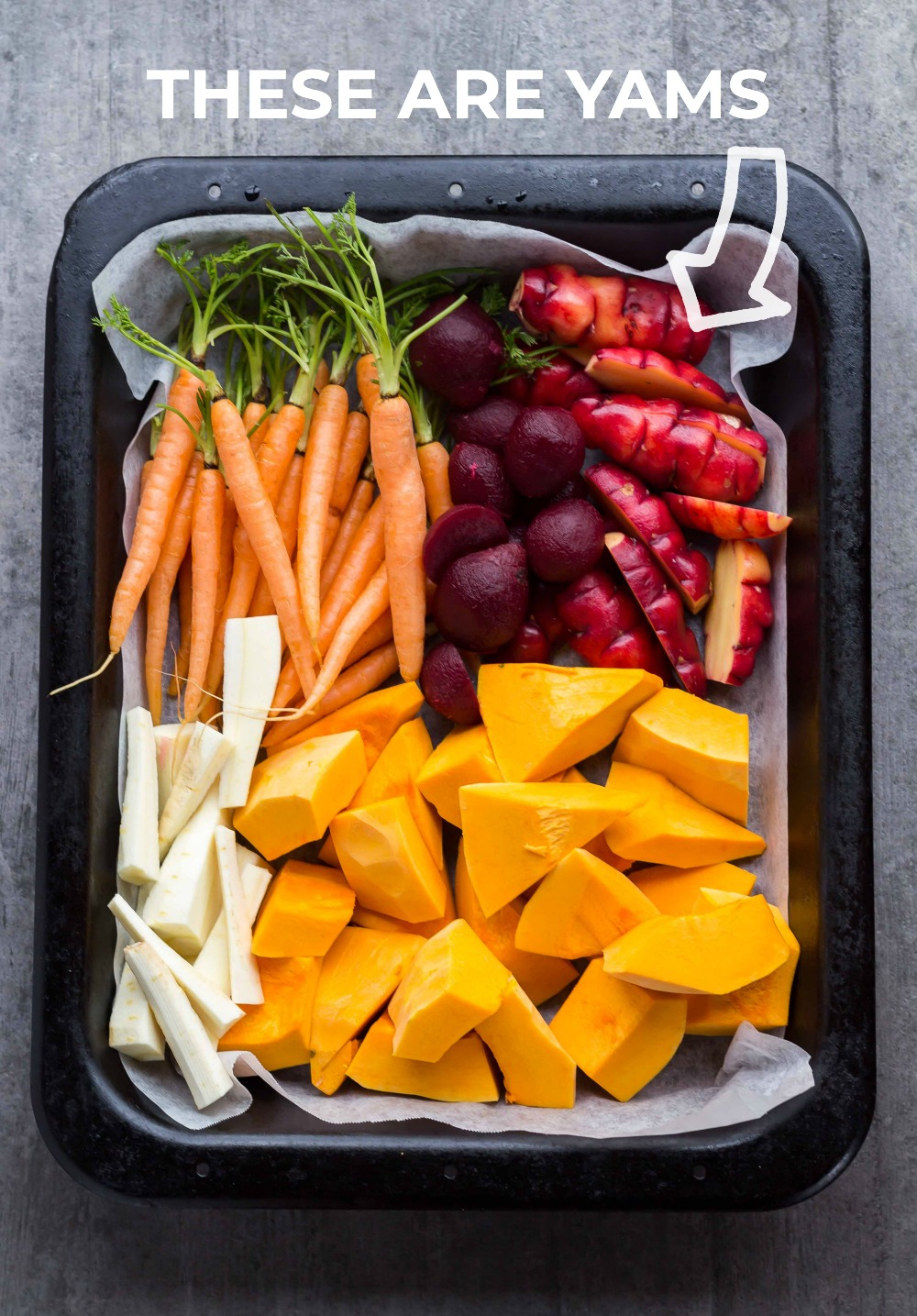 Something magical happens when you fuse miso and orange together in this low FODMAP orange miso roast veggie & lentil salad. Their flavours combine to create an Asian flavour bomb that keeps you going back for more! We've snuck a vegan protein source of canned lentils into this dish which is low FODMAP in small serves.
Cooking Note: Make sure you choose a miso paste that doesn't contain bonito! Also, choose a GF option if needed. You can often find miso paste in the International Aisle of the supermarket or in your local Asian grocery store.
PS... the prep photo shows what we call a Yam in NZ!
What do you call them in your country? Let us know so we can update our ingredient database.
Gluten Free Option
Low FODMAP
Dairy Free
Egg Free
Nut Free
MAKE GLUTEN FREE
SHOW NUTRITION
Nutrition per serve
NON-DAIRY FREE

|

DAIRY FREE

|

GLUTEN FREE
---
Love this recipe? Get your weekly meal plans.
LEARN MORE
Method

|

FODMAP tips

|

Gluten Free tips

|

Dairy Free tips
---
Method
Preheat the oven to 180ºC (355ºF) bake function. Mix together the miso paste, crushed ginger, maple syrup, orange zest, and olive oil.
Prep the vegetables and transfer into a lined roasting tray (they should be in a single layer). Then brush with half of the miso marinade (reserve the remaining marinade) and sprinkle with cumin seeds.
Roast in the oven for 25 – 30 minutes until the vegetables are tender and golden (they should be starting to caramelize).
Drain and rinse the lentils. Mix the orange juice through the miso dressing.
Arrange the spinach onto the plates and top with the roast veggies and lentils. Then drizzle with miso dressing. Enjoy!
Buying Tips
Check the crushed ginger does not contain garlic. Crushed ginger is grated ginger that has been preserved in a jar. You can swap it for fresh ginger if you prefer.
Make sure you use pure maple syrup (low FODMAP) not maple flavoured syrup (potentially high FODMAP).
Miso paste should be found in your local supermarket or Asian food store. We prefer using miso paste that does not include bonito. The ingredients in our miso paste includes: water, soybeans, rice, and salt. Make sure you check the miso paste does not include onion or garlic.
 Make your orange juice and orange zest from fresh oranges.
We recommend using canned beetroot in recipes as it is lower in FODMAPs. Canned beetroot is low FODMAP in 60g serves, whereas fresh beetroot is higher in FODMAPs and the serving size must be limited to 20g.
Canned lentils are lower in FODMAPs as the oligosaccharides leach into the brine. Just make sure you drain and rinse them well before using.
Gluten Free Tips
Herbs and spices are naturally gluten free, however they can become contaminated during manufacturing processes. If you are highly sensitive to gluten, check the dried herbs and spices do not contain a warning for trace gluten. If you are just on the low FODMAP diet you do not need to worry about this.
Dairy Free Tips