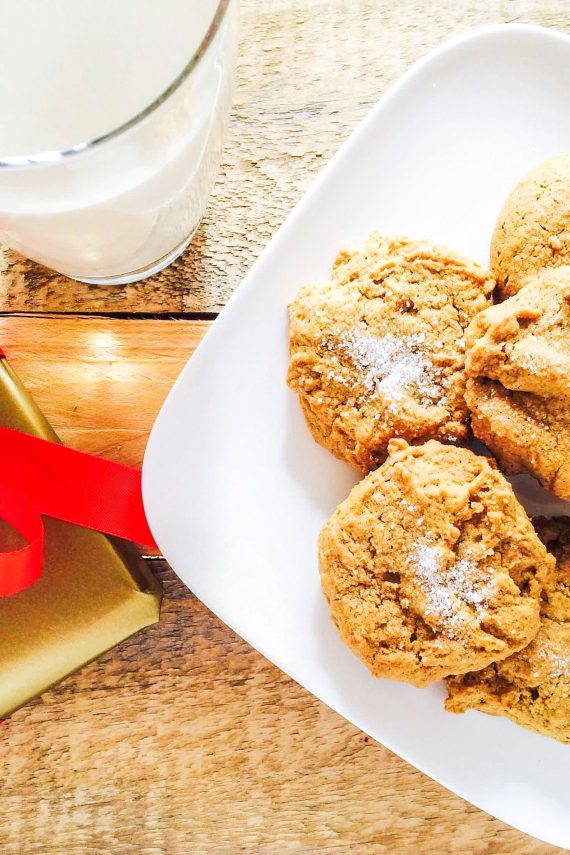 Ingredients
Imperial Units

|

Metric Units
SERVES 26 (1 to 2 cookies per serve)
Soft Ginger Cookies
190
dairy free spread (olive oil spread or butter)*
350
gluten free all purpose flour*
1
guar gum (or xanthan gum)*
* See the FODMAP Tips, Dairy Tips and Gluten Free Tips for the ingredient notes above the method.
Equipment
Low FODMAP Soft Ginger Cookies
These low FODMAP soft ginger cookies are perfect for the Christmas season and a great treat to leave out for Santa. These cookies are a treat food so make sure you only have one (maybe two) at a time.

FODMAP Note: Only small 1/2 tablespoon serves of golden syrup are low FODMAP. This recipe is low FODMAP providing you divide it into at least 8 serves. This means you can enjoy 1 to 2 cookies per serve.
Gluten Free Option
Low FODMAP
Dairy Free
Nut Free
Soy Free
MAKE GLUTEN FREE
SHOW NUTRITION
Nutrition per serve
NON-DAIRY FREE

|

DAIRY FREE

|

GLUTEN FREE
---
Love this recipe? Get your weekly meal plans.
LEARN MORE
Method

|

FODMAP tips

|

Gluten Free tips

|

Dairy Free tips
---
Method
Preheat the oven to 180ºC (350ºF) bake function. Soften the dairy free spread (olive oil spread or butter) slightly but don't melt it. Place the dairy free spread and sugar in a large bowl and mix until light and fluffy. Then mix in the large egg and golden syrup.
In a separate large bowl whisk together the gluten free all purpose flour, ground ginger, cinnamon, baking soda, ground cloves, salt, and guar gum until well combined. Mix the wet and dry ingredients together until well combined.
Line two cookie trays with baking paper. Scoop the mixture onto the trays - you should fit about 12 cookies per tray (make sure they are evenly spaced). Flatten each cookie slightly and sprinkle the tops with white sugar. Bake for 10 to 12 minutes until the cookie bases turn slightly golden and the tops start to crack. Remove from oven and leave to cool for two minutes on the cookie tray before transferring to a wire rack to cool.
Buying Tips
Guar gum or xanthan gum help gluten free baking to stick together and rise. They are often found in the gluten free section of the supermarket or in a health food store.
Buy a gluten free plain flour or gluten free all purpose flour. The one I used contains these ingredients: maize starch, rice flour, tapioca starch, rice bran, & guar gum. Avoid flour blends that contain soy flour, chickpea/besan/gram/garbanzo bean flour, lentil flour, coconut flour, amaranth flour, or lupin flour.
Golden syrup is low FODMAP in 1/2 tablespoon serves. Be careful with your serving size as it does become high FODMAP in larger serves. If you are feeling concerned you can swap the golden syrup with pure maple syrup.
Gluten Free Tips
Herbs and spices are naturally gluten free, however they can become contaminated during manufacturing processes. If you are highly sensitive to gluten, check the dried herbs and spices do not contain a warning for trace gluten. If you are just on the low FODMAP diet you do not need to worry about this.
Dairy Free Tips
Use a dairy free spread or olive oil spread instead of butter. Butter is considered low FODMAP.