If you've been following me on social media, then you might have noticed I've been in hospital recently. Over the past year, I've been experiencing unexplained abdominal symptoms that feel different to my IBS symptoms. My gynecologist was concerned that I might have endometriosis and suggested I had a laparoscopy to check. Continue reading to find out about my experience.
What is endometriosis?
Endometriosis is a common inflammatory condition, in which tissue that is similar to the tissue that lines the inside of your uterus is found in places outside your uterus. In New Zealand, 1 in 10 women have endometriosis.
What are the symptoms of endometriosis?
Pain with periods (dysmenorrhoea). Often the most common symptom.
Bowel problems like bloating, diarrhoea, constipation, pain with bowel movements, painful wind (sometimes diagnosed as Irritable Bowel Syndrome)
Painful intercourse (dyspareunia)
Sub-fertility or infertility
Pain in other places such as the lower back
Pain at other times e.g. with ovulation or intermittently throughout the month
Premenstrual syndrome (PMS). This might make you feel moody, emotional or irritable
Abnormal menstrual bleeding
Trouble or pain urinating (bladder pain)
If your gynecologist strongly suspects that you have endometriosis then they might recommend that you have a laparoscopy to get a definitive diagnosis.  A laparoscopy is keyhole surgery(they call it this because the incisions they make are small), which allows the surgeon to view the pelvic cavity via a small camera. This is done in the hospital under general anesthetic and is best performed by a gynecologist with expertise in treating endometriosis.  If endometriosis is found then it should be removed (excised or resected) and sent to the lab for confirmation (histology).
Prep List Before Hospital
You will be out of action for a few days (up to 2 weeks) after your surgery so get prepared and pop some ready-made meals into the freezer like chicken soup, shepherd's pie, and spaghetti bolognese.
Have a think about your food (not all hospitals can cater to the low FODMAP diet). Consider packing a small lunchbox with light low FODMAP snacks so you have something you know you can eat
Pack a magazine/iPod/laptop to entertain you while you wait (just make sure your friend/family take any valuables when you go into surgery)
Take loose-fitting, comfy clothes (maternity clothes are great) and a panty liner for after your surgery
My Hospital Experience
Prep before the surgery was pretty relaxed. Once the paperwork was done, I got tucked up cosy in a hospital bed in my oh so sexy hospital gown and compression stockings. Then there was a lot of waiting. Make sure you take a friend, a good magazine and/or your iPod or laptop so you can listen to some music or even a movie. Just make sure you give any valuables to your friend as you head into surgery.
Once I was wheeled off to theatre, things progressed quickly. I'm pretty sure I was only awake in there for about five minutes before I drifted off. Rest assured that your anesthetic team will be lovely and happy to answer any of your questions.
Before I knew it, I was waking up in recovery. Unfortunately, I came to with a migraine (I have a history of them) so it took us a little bit to get that under control.
Next, I was moved into the day-stay recovery area. Here I was a bit more alert but still very sleepy. I could definitely feel that my abdomen was distended from the C02 gas (they use this gas to safely distend your abdomen so they have more space to view your organs) and I was incredibly thirsty. The goal was to get me on my feet and moving to help shift the gas (you also might experience some shoulder pain). You can't go home until you can walk, pass wind and pee! My body had other plans though, and due to a blood pressure issue I wasn't able to get on my feet until the next day so I was kept in overnight. My Mum packed me a low FODMAP lunchbox to make sure I had some food I could eat without causing more bloating.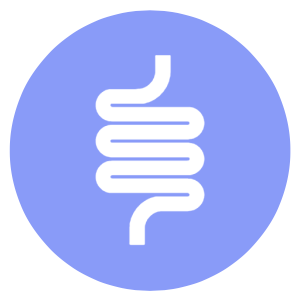 Are you ready to take control of your gut symptoms?
No thanks, my gut is perfect.
Ladies also remember to pack your panty liners (they don't tend to tell you this). If you're squeamish skip the rest of this paragraph! It's possible that after surgery you might experience some discharge… kind of like a moderate or heavy period for a day or two. Having comfortable panty liners (instead of the nappy-like hospital ones) can make you feel a bit more human. Good news is this should clear up within 5 days.
The amount of pain you may experience will vary depending on what the surgeon finds and if any endometriosis was cut out. They didn't find endometriosis during my surgery so my body just needed to focus on healing the small wound holes from the ports they used. I stayed relatively comfortable just on ibuprofen and paracetamol. You will definitely need to take it easy for the first few days and allow your body to sleep off the general anesthetic, so plan some good TV to binge watch.
About seven days after surgery my belly button looked like it had been in a serious bar fight (black and blue were definitely my new colours!). Two weeks later the worst of the bruising and almost all of the swelling has disappeared.
Where to Next
We've discovered that endometriosis isn't the cause of my pain, next we are hoping that a new Mirena will help manage any hormone induced pain. I'll also be having another chat with my doctor and maybe another specialist to investigate the cause of my distended small and large intestines (the surgeons found this as they looked for endometriosis).