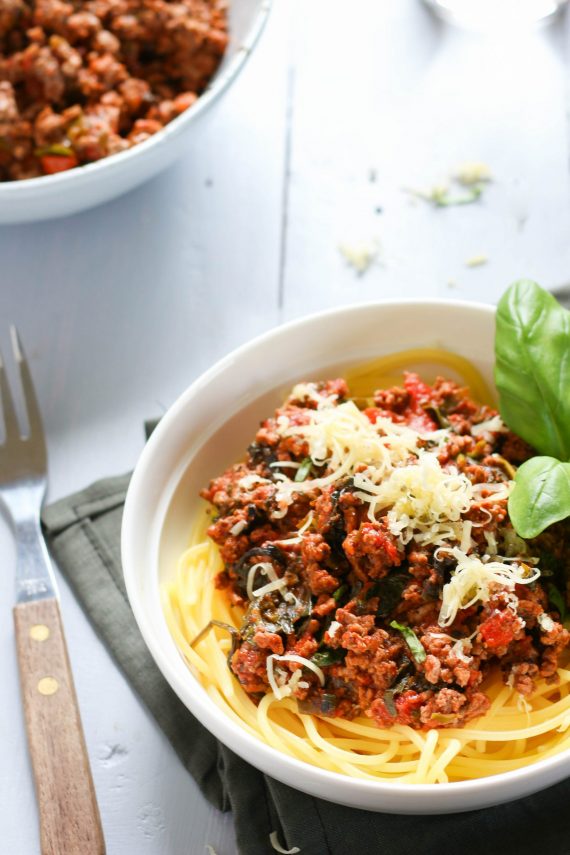 Ingredients
Imperial Units

|

Metric Units
Servings:
Spaghetti Bolognese
40
leek (green tips only)*
400
plain crushed/chopped tomatoes (canned)*
1
salt & pepper (to taste)
300
gluten free spaghetti*
57
colby or cheddar cheese or soy based vegan cheese (optional) (grated)*
Low FODMAP Veggies
240
carrot (peeled & cut into sticks)
* See the FODMAP Tips, Dairy Tips and Gluten Free Tips for the ingredient notes above the method.
Equipment
large frypan
large saucepan
Low FODMAP Spaghetti Bolognese
Low FODMAP spaghetti bolognese is an easy meal to throw together at the last minute! It is comfort food at its finest and with the right herbs you can bring a little bit of Italy right to your door. Make sure you serve it with a side of low FODMAP veggies.
Low FODMAP note on tomato paste: I always get a lot of questions about whether tomato paste is low FODMAP. Monash University uses 1 tablespoon of tomato paste and 1/2 a cup of canned tomato per serve in their spaghetti bolognaise recipe. That means that the below recipe is considered FODMAP friendly when divided between the recommended number of serves.
Gluten Free Option
Low FODMAP
Dairy Free
Egg Free
Nut Free
Soy Free
MAKE GLUTEN FREE
SHOW NUTRITION
Nutrition per serve
NON-DAIRY FREE

|

DAIRY FREE

|

GLUTEN FREE
---
Love this recipe? Get your weekly meal plans.
FREE TRIAL
Method

|

FODMAP tips

|

Gluten Free tips

|

Dairy Free tips
---
Method
Roughly chop the baby spinach and finely chop the green leek tips. Peel and cut the carrots into sticks and slice the green beans into bite sized pieces. Place to one side.
Select a large fry pan and place on medium heat. Add a splash of olive oil and cook lean ground beef until browned.
Add the canned tomatoes, tomato paste, leek tips, baby spinach and herbs (oregano, basil, thyme) to the lean ground beef. Mix well and allow to simmer on medium to low heat for 20 minutes. Make sure you stir it so it doesn't burn. Add salt and pepper to taste.
Add a generous amount of salt to a large saucepan of water. Bring the water to a rolling boil. Then add the gluten free spaghetti and cook according to packet directions, until soft. Drain pasta and toss with olive oil. While the spaghetti cooks, cook the green beans and carrots in a medium sized saucepan of boiling water for two to three minutes, until they are brightly coloured and soft.
Serve the bolognese on top of spaghetti and sprinkle with a low FODMAP cheese like cheddar or colby (if desired). Make sure you include the veggies on the side (I like to mix mine in with the bolognese).
Buying Tips
Make sure you buy a leek that has long green tips (this is the low FODMAP part), as you can't use the white/light green leek bulb (this part is high FODMAP).
Choose gluten free pasta, not spelt or wheat based pasta as these can be high FODMAP, and check for added high FODMAP ingredients link inulin, soy flour, lupin flour, and amaranth flour. If some of your family are not low FODMAP or gluten free you can cook them normal pasta, however make sure you cook it separately.
Check the vegan soy based cheese does not include onion, garlic or coconut flour in the ingredients. Cheddar, Colby, mozzarella, and parmesan cheeses are all low FODMAP.
Choose plain canned tomatoes with no added herbs or spices. Check there is no added onion or garlic.
Gluten Free Tips
Herbs and spices are naturally gluten free, however they can become contaminated during manufacturing processes. If you are highly sensitive to gluten, check the dried herbs and spices do not contain a warning for trace gluten. If you are just on the low FODMAP diet you do not need to worry about this.
Dairy Free Tips