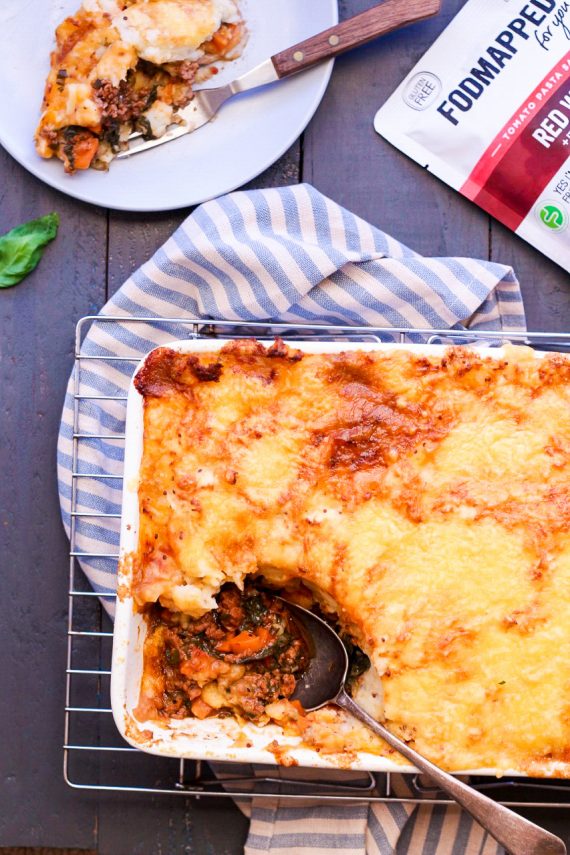 Ingredients
Imperial Units

|

Metric Units
Servings:
Mince Filling
600
lean ground lamb (or ground beef)
80
leek (green tips only, finely chopped)*
375
FODMAPPED Red Wine + Italian Herbs Tomato Pasta Sauce
250
FODMAPPED Slow Cooked Chicken Stock
1.5
worcestershire sauce*
240
carrot (finely diced)
100
swiss chard (spinach or kale) stalks removed, finely chopped
1
fresh basil (finely chopped)
Potato Topping
1200
potato (peeled & chopped into pieces)
2
dairy free spread (olive oil spread or butter)*
100
low FODMAP cheese (cheddar, colby, mozzarella)
100
colby or cheddar cheese or soy based cheese (optional) (grated, for topping)*
Side Dish
* See the FODMAP Tips, Dairy Tips and Gluten Free Tips for the ingredient notes above the method.
Equipment
large frypan
large saucepan
large deep oven dish
Low FODMAP Shepherd's Pie
My family loves Shepherd's Pie! It has been one of my favourite dinners since I was a little one (I'm pretty sure I used to eat my weight in it!). It's super easy to make low FODMAP, and FODMAPPED's Red Wine Simmer Sauce & Slow Cooked Chicken Stock make the perfect flavour base. If you don't have access to these products don't fret - you can replace them with 2 cups of my red wine & tomato pasta sauce instead. I suggest pairing the pie with a side of green beans or a simple green salad to make it a balanced meal.
Dairy Free Option: If you need to be dairy free just omit the cheese - it will still be super tasty! Also use a dairy free milk and a dairy free spread.This isn't necessary if you are just on the low FODMAP diet.
Please note that this is a sponsored post for FODMAPPED For You. You can find out about my work with FODMAPPED here.
Gluten Free Option
Low FODMAP
Dairy Free
Egg Free
Nut Free
Soy Free
MAKE GLUTEN FREE
SHOW NUTRITION
Nutrition per serve
NON-DAIRY FREE

|

DAIRY FREE

|

GLUTEN FREE
---
Love this recipe? Get your weekly meal plans.
FREE TRIAL
Method

|

FODMAP tips

|

Gluten Free tips

|

Dairy Free tips
---
Method
Preheat the oven to 200ºC (390ºF). Grease a large oven proof dish.
Finely chop the green leek tips. Dice the carrots, and finely slice the silverbeet (spinach or kale). Peel the potatoes and cut into small pieces.
Place the potatoes into a large saucepan, cover with hot water, and boil for 15 to 20 minutes until tender.
While the potatoes cook, heat a large saucepan over medium high heat. Add the garlic infused oil, green leek tips and lean ground lamb (or ground beef). Cook until browned. Add the FODMAPPED For You Red Wine Simmer sauce, FODMAPPED For You Chicken Stock, Worcestershire sauce, diced carrots, and silverbeet. Mix well and turn down the heat to medium. Allow to simmer for about 20 minutes, stirring occasionally, remove from heat once the sauce has reduced. Then stir through the basil leaves and season with salt and pepper as needed.
Mash the potatoes with low FODMAP milk, dairy free spread (or butter), wholegrain mustard, and a few grinds of salt.
Place the lean ground lamb (or ground beef) into the large oven proof dish. Evenly top with the mustard mashed potato. Then sprinkle with low FODMAP grated cheese if desired.
Place into the oven uncovered and bake for 20 to 25 minutes until golden. Allow to rest for five minutes, then serve with a side of steamed green beans.
Buying Tips
Garlic infused oil is found in the oil section of your local supermarket. It should be clear with no floating bits of garlic. You can also make garlic infused oil at home by frying garlic cloves in cooking oil, until they are golden and fragrant (then remove the garlic before you continue cooking your meal). This is a low FODMAP way to capture the garlic flavour as the fructans can't leach into the oil.
Make sure you buy a leek that has long green tips (this is the low FODMAP part), as you can't use the white/light green leek bulb (this part is high FODMAP).
Monash University have tested Worcestershire sauce and it is low FODMAP, despite containing small amounts of onion and garlic. The sauce is low FODMAP because the onion and garlic are fermented during the manufacturing process which reduces the FODMAP levels.
Check the vegan soy based cheese does not include onion, garlic or coconut flour in the ingredients. Cheddar, Colby, mozzarella, and parmesan cheeses are all low FODMAP.
Check your mustard does not contain onion or garlic powder.
Gluten Free Tips
Buy a gluten free Worcestershire sauce or substitute 1 tablespoon gluten free soy sauce, 1/4 teaspoon Chinese five spice, and 1/2 tsp brown sugar for every tablespoon of Worcestershire sauce. Often the ingredient labels don't state they are gluten free, so if the ingredients look safe then ring the manufacturer to confirm.
Dairy Free Tips
Use a dairy free spread or olive oil spread instead of butter. Butter is considered low FODMAP.