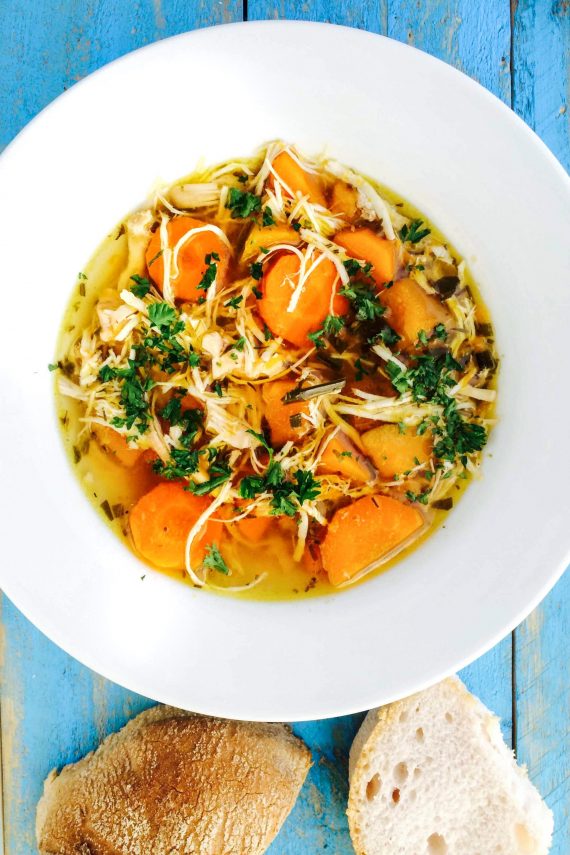 Ingredients
Imperial Units

|

Metric Units
Servings:
Slow Cooker Chicken Soup
600
chicken breast fillets
240
carrot (peeled & chopped)
240
Japanese pumpkin (Kabocha squash or Buttercup squash) OR parsnip
40
leek (green tips only)*
1000
low FODMAP chicken stock*
3
fresh parsley (finely chopped)
* See the FODMAP Tips, Dairy Tips and Gluten Free Tips for the ingredient notes above the method.
Slow Cooker Chicken Soup
This delicious low FODMAP slow cooker chicken soup is great when you are feeling unwell or just want a hassle free meal. You can place all the ingredients in a slow cooker, leave it alone for seven hours, and come home to a perfectly cooked meal! If you decided not to use the pumpkin in the recipe, add in some parsnip or sweet potato (just watch the serving size).
Gluten Free Option
Low FODMAP
Dairy Free
Egg Free
Nut Free
Soy Free
MAKE GLUTEN FREE
SHOW NUTRITION
Nutrition per serve
NON-DAIRY FREE

|

DAIRY FREE

|

GLUTEN FREE
---
Love this recipe? Get your weekly meal plans.
FREE TRIAL
Method

|

FODMAP tips

|

Gluten Free tips

|

Dairy Free tips
---
Method
Peel and chop the carrots and pumpkin (parsnip or sweet potato) into small pieces. Finely chop the green leek tips.
Spray the slow cooker dish with spray oil. Place the whole chicken breasts in the bottom of the slow cooker. Cover with the carrots, pumpkin, green leek tips, garlic infused olive oil, fresh lemon juice, dried thyme, rosemary, and bay leaves.
Cover the ingredients low FODMAP chicken stock. I did this by dissolving one cube of Massel Chicken Stock Cube 7's in  one cup of hot water per serve i.e for four serves dissolve 4 cubes in 4 cups of water. Season with salt & pepper.
Place the lid on the slow cooker and cook on 'auto' mode or low heat for six to seven hours.
Just before serving, shred the chicken breasts using two forks (if it is tender enough you won't need to remove the chicken breasts from the crock pot). While you shred the chicken, heat the gluten free low FODMAP bread in the oven until it is hot and slightly crispy.
Dish the hot chicken soup into bowls, sprinkle with parsley, and serve with a side of crispy bread. Season with salt & pepper as needed.
Storage tip: This soup freezes well. You can either reheat on a stovetop or in a microwave until warm.
Buying Tips
Garlic infused oil is found in the oil section of your local supermarket. It should be clear with no floating bits of garlic. You can also make garlic infused oil at home by frying garlic cloves in cooking oil, until they are golden and fragrant (then remove the garlic before you continue cooking your meal). This is a low FODMAP way to capture the garlic flavour as the fructans can't leach into the oil.
Make sure you buy a leek that has long green tips (this is the low FODMAP part), as you can't use the white/light green leek bulb (this part is high FODMAP).
Make your lemon juice and lemon zest from fresh lemon.
Choose a stock that does not include onion or garlic. We prefer to use Massel Chicken Stock Cube 7's (in the yellow & blue packet). This product is low FODMAP, gluten free and vegan (despite it's name) and each packet makes 7 cups of stock. This product can be brought online around the world and is available from some supermarkets.
Wheat or spelt sourdough breads make good options. Also check your Monash or FODMAP Friendly apps for certified low FODMAP breads in your area. Avoid ingredients like inulin, apple or pear juice, apple fibre, concentrated fruit juices, honey, or high fructose corn syrup. Also check what flours have been used, avoid products that contain amaranth flour, lupin flour, chickpea/besan/gram/garbanzo bean flour, lentil flour or large amounts of soy flour or coconut flour especially if choosing gluten free bread.
Gluten Free Tips
Herbs and spices are naturally gluten free, however they can become contaminated during manufacturing processes. If you are highly sensitive to gluten, check the dried herbs and spices do not contain a warning for trace gluten. If you are just on the low FODMAP diet you do not need to worry about this.
Dairy Free Tips