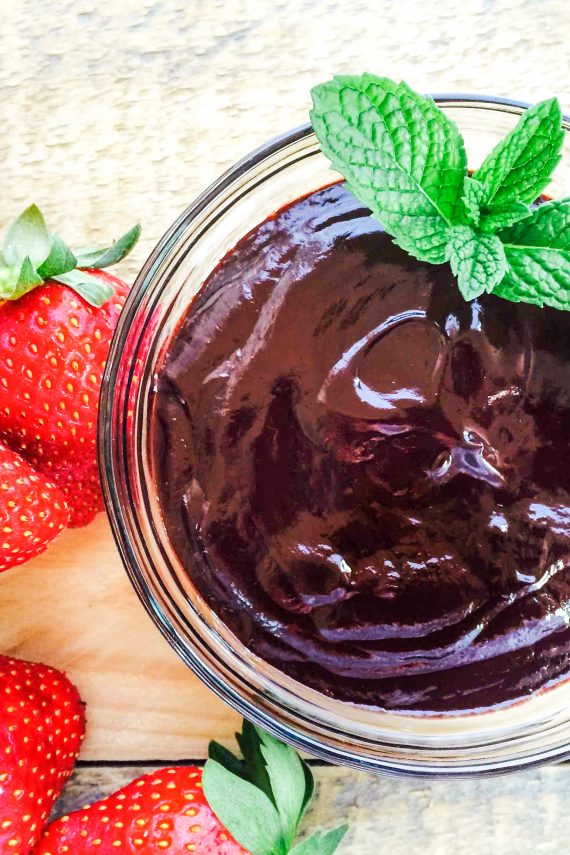 Ingredients
Imperial Units

|

Metric Units
Servings:
Dark Chocolate Dipping Sauce
1
dairy free spread (olive oil spread or butter)*
* See the FODMAP Tips, Dairy Tips and Gluten Free Tips for the ingredient notes above the method.
Equipment
Dark Chocolate Dipping Sauce
Chocolate covered strawberries are one of my favourite summer time treats. This decadent Low FODMAP dark chocolate dipping sauce is perfect for BBQs and hot summer afternoons. The chocolate sauce is very similar to a fondue sauce, except you don't need a flame to keep it fluid. This recipe makes enough dipping sauce for at least one large punnet of strawberries and it goes great with other low FODMAP fruit like banana (just limit yourself to one serve of fruit).

Gluten Free Option
Low FODMAP
Dairy Free
Egg Free
Nut Free
Soy Free
MAKE GLUTEN FREE
SHOW NUTRITION
Nutrition per serve
NON-DAIRY FREE

|

DAIRY FREE

|

GLUTEN FREE
---
Love this recipe? Get your weekly meal plans.
LEARN MORE
Method

|

FODMAP tips

|

Gluten Free tips

|

Dairy Free tips
---
Method
Roughly chop the dark chocolate.
Melt the dark chocolate, white sugar, and dairy free spread (olive oil spread or butter) in a small saucepan over low heat, stirring continuously. Then whisk in the low FODMAP milk until the chocolate sauce is smooth. Taste the sauce and add more white sugar if needed.
If you are restrained enough not to consume the sauce all at once, store it in the fridge and reheat it in the microwave.
Buying Tips
Choose a dark chocolate that doesn't contain inulin or high FODMAP sweeteners like honey, high fructose corn syrup, agave syrup or fructose. Also avoid dark chocolate that contains high FODMAP fruit or nuts.
Gluten Free Tips
Dairy Free Tips
Use a dairy free spread or olive oil spread instead of butter. Butter is considered low FODMAP.