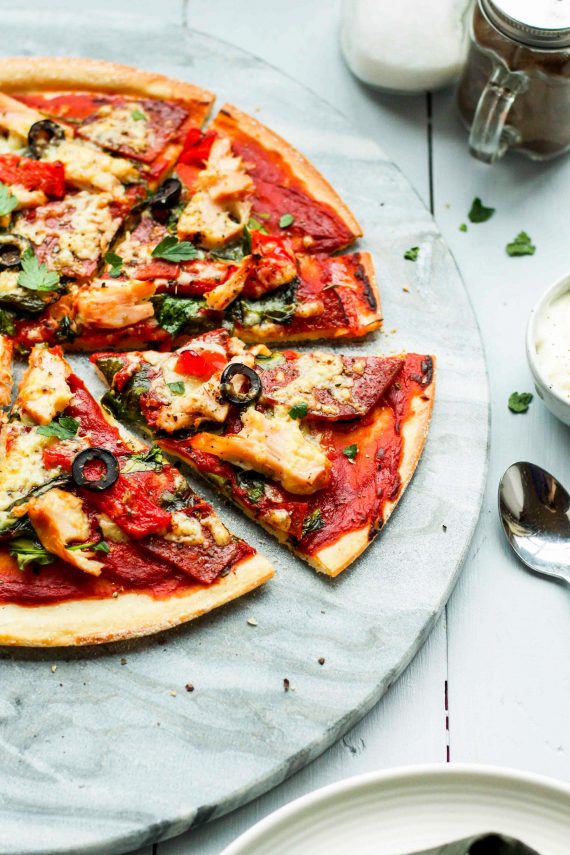 Ingredients
Imperial Units

|

Metric Units
Servings:
Pizza
1
red bell peppers (deseeded & cut into quarters)
2
gluten free pizza base*
12
black Spanish pitted olives*
50
FODMAP friendly salami or chorizo*
250
plain smoked chicken breast
113
mozzarella cheese or soy based vegan cheese (optional) (optional)*
Garlic Infused Dressing
* See the FODMAP Tips, Dairy Tips and Gluten Free Tips for the ingredient notes above the method.
Equipment
Low FODMAP Salami & Smoked Chicken Pizza
This recipe was inspired by Courteney Nielsen, who won our Gluten Freedom pizza competition in New Zealand. The low FODMAP salami and smoked chicken go perfectly with Gluten Freedom's Everyday Pizza bases and our garlic infused mayonnaise dressing! You will need to go hunting for FODMAP friendly salami.
Note on garlic infused oil: Garlic infused oil is safe on the low FODMAP diet as it contains the garlic flavour but not the fructans.
Gluten Free Option
Low FODMAP
Dairy Free
Egg Free
MAKE GLUTEN FREE
SHOW NUTRITION
Nutrition per serve
NON-DAIRY FREE

|

DAIRY FREE

|

GLUTEN FREE
---
Love this recipe? Get your weekly meal plans.
FREE TRIAL
Method

|

FODMAP tips

|

Gluten Free tips

|

Dairy Free tips
---
Method
Preheat the oven to 200ºC (390ºF) on grill function. Deseed and cut the red bell peppers into four chunks and place skin up on an oven tray. Drizzle in neutral oil. Grill for about 5 to 10 minutes until the skin blackens and bubbles. Remove from oven and place to one side to cool.
While the red bell peppers grills, prepare the pizzas. Slice the smoked chicken and salami into pieces. Rinse and thinly slice the black olives. Roughly chop the spinach. Cover the gluten free pizza bases with tomato paste and sprinkle evenly with the dried oregano. Add the salami, smoked chicken, chopped spinach and olives.
Once the red bell peppers is cooked, preheat oven to 200ºC (390ºF) bake function.  Peel the red bell peppers and slice into pieces. Add the sliced red bell peppers to the pizza and sprinkle with cheese (if using). Season with salt and pepper. Cook for about 15 minutes until the bases go golden brown (or according to packet directions).
While the pizza cooks, mix together the mayonnaise and garlic infused oil (add more garlic infused oil after tasting if needed). Finely chop the basil leaves.
Then sprinkle the hot pizzas with basil and drizzle with the garlic infused mayonnaise.
Buying Tips
Garlic infused oil is found in the oil section of your local supermarket. It should be clear with no floating bits of garlic. You can also make garlic infused oil at home by frying garlic cloves in cooking oil, until they are golden and fragrant (then remove the garlic before you continue cooking your meal). This is a low FODMAP way to capture the garlic flavour as the fructans can't leach into the oil.
Gluten free pizza bases should be found in the gluten free section of your local supermarket, but make sure you check for high FODMAP ingredients like inulin, apple fibre, lupin flour, amaranth flour, garbanzo/besan flour, as well as large amounts of soy or coconut flour. You can use normal pizza bases for any family members who do not need to be low FODMAP or gluten free.
Check the vegan soy based cheese does not include onion, garlic or coconut flour in the ingredients. Cheddar, Colby, mozzarella, and parmesan cheeses are all low FODMAP.
Check the FODMAP friendly salami or chorizo does not contain onion, garlic or dehydrated vegetables.
Choose a mayonnaise that does not include onion or garlic powder. We like using Best Foods Mayonnaise (Lite or regular). If you are a meal plan member you can also grab the recipe for our egg free mayonnaise here.
Choose processed products like sun-dried tomatoes, roasted red peppers, or olives that do not contain onion or garlic in the brine/oil.
Gluten Free Tips
Herbs and spices are naturally gluten free, however they can become contaminated during manufacturing processes. If you are highly sensitive to gluten, check the dried herbs and spices do not contain a warning for trace gluten. If you are just on the low FODMAP diet you do not need to worry about this.
If you are highly sensitive to gluten, check all packaged products, processed meat (like bacon), nuts, seeds and dried fruit do not contain a warning for trace gluten. If you are just on the low FODMAP diet you do not need to worry about this.
Dairy Free Tips