The workplace can be a challenging environment, filled with deadlines, projects, office politics and never ending daily tasks that all need your urgent attention. Living with a chronic illness like Irritable Bowel Syndrome (IBS) can hamper your productivity and requires time and energy to manage, making surviving in the work place even tougher. Many employers underestimate the impact this chronic illness has on their bottom line and are surprised to discover that it is the leading cause of work place absenteeism after the common cold (1 2). Employees are left wondering if they should tell their boss, mention it to their colleagues or just stay silent.
If you aren't directly affected by IBS, then chances are someone in your workplace will be, as up to 1 in 5 people silently suffer from this illness (2). Gastrointestinal distress can be painful and disruptive, but there are ways of effectively managing it without causing embarrassment. These practical tips can help:
Understand Your Rights
Many countries have Equality Acts or disability legislation for the workplace that require employers to make reasonable adjustments for people with disabilities or conditions to help reduce discrimination. Seek advice so you know what you are entitled to before talking to your boss.
Start a Dialogue With Your Manager
While chronic illnesses can be embarrassing, it can be beneficial to discuss them with your manager, especially if they are impacting your performance. This brave move can help open up a dialogue for discussion, allow the manager to educate themselves, and even help you negotiate flexible working options that suit your health needs. For example, if mornings are challenging then starting and finishing an hour later might be a viable solution.  Of course, use your discretion and judgement before broaching the subject as it may not be appropriate in all situations. Also consider going prepared with documentation from your doctor that supports your discussion points.
Find a Work Place Buddy
If you suffer from IBS then there is no need to go around the office shouting about your health issues, however finding a workplace buddy who can offer some support can help reduce anxiety. This buddy can cover for you in emergencies, provide some light relief, and help you navigate social situations. If you need to take frequent or long breaks to deal with symptoms, it could be worth mentioning your chronic illness to your work colleagues (at least the ones who sit next to you) so they understand why you need to disappear.
Navigate Shared & Potluck Lunches
If you are on a restrictive medical diet then you might need some help navigating shared lunches. Have a chat to your colleagues about what they like to bring. Next select a couple of people to quietly talk to about your dietary needs. You might find they are happy to tailor their muffins to be gluten free or low FODMAP, or swap out ingredients so you can enjoy the fruit salad. Most people enjoy helping others, and many will be happy to help. Otherwise keep some grab and go snacks (see below) in your desk, so you always have something you can enjoy.
If the meal is being catered, then see if it can be tailored to meet your needs. If the catering company is unable to help, then consider bringing in your own meal instead.
Eat Out with Colleagues or Clients
Avoiding eating out is almost impossible in the workplace, whether it is a lunch meeting with a client, a work function, or a quick after work drink with colleagues, these situations can be challenging to manage with IBS. If you are on a restrictive diet then good communication and management skills can help you join in without causing embarrassment:
Read my Eating Out guide so you know what sort of dishes can be easily adapted for the low FODMAP diet.
Do your research – create a list of restaurants that are local and have suitable options for you. Then email it to colleagues who are in charge of arranging eating out occasions, if you can, discretely mention you have food intolerances that impact your health.
Be prepared and ring the restaurants before you go so you can organize your meal in advance.
Once at the restaurant excuse yourself from the table and speak to the waiter privately, confirm your meal option or order a meal that suits your needs. That way you don't need to negotiate your meal in front of your colleagues or clients.
If anyone asks about your eating habits just say "I have food intolerances that cause serious health issues." This sentence can help shut down conversations without going into detail about your private health concerns.
If you decide to drink alcohol know your limits and make smart choices. You can find a guide to the low FODMAP alcohol here.
Keep Grab & Go Food Options In Your Desk
If you are on a restrictive medical diet like the low FODMAP diet, then keep some food options in your desk so you don't get caught out:
Prepackaged low FODMAP soup. The FODMAPPED For You team have some great options on the market if you are in Australia, Canada, or the USA (stay tuned New Zealand & UK FODMAPers – their products will be coming to your market soon).
Create your own trail mix using low FODMAP nuts, seeds, dark chocolate, & dried cranberries (check your low FODMAP app for safe serves).
Serve of low FODMAP fruit: common banana (unripe), mandarin, orange, kiwifruit. Check the Monash University FODMAP Diet app for serving size information.
Small serves of pretzels or plain potato chips.
2 rice cakes with peanut butter or sunflower seed butter.
Your favourite soothing drink: peppermint tea, hot chocolate powder, ginger & lemon teabags (just check these items for sneaky high FODMAP ingredients).
Don't Put Up With Discrimination
If a colleague is making you feel uncomfortable about your work place habits or dietary needs don't put up with it. Ignorance is not an excuse for jokes or harsh comments. Many people don't understand the impact a chronic illness like IBS can have on a person's life, or understand that our dietary habits are medical requirements not optional choices. Consider educating the person on the impact the chronic condition has on your life so they can understand the actions you take. Call in a mediator if you need support.
Combat Odours in the Workplace Bathroom
Toilet talk is often a taboo topic in the office, but if you are worried about leaving behind unpleasant odours, then there are a couple of tricks that can help:
Courtesy flushes. Try flushing every time you hear a splash to reduce embarrassing odours.
Grab some poo-pourri. This is a scented oil based liquid you spray into the toilet bowl before you go. It forms a barrier on top of the toilet water, so when you go, the smell can't escape. That way you can leave the bathroom smelling as fresh as a daisy.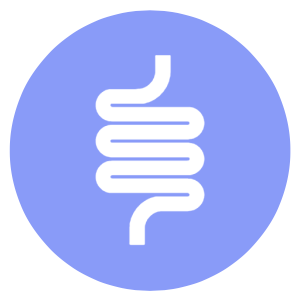 Are you ready to take control of your gut symptoms?
No thanks, my gut is perfect.
Clean the toilet. If there are cleaning supplies in the bathroom, then cleaning the toilet after you go can be another way to reduce unpleasant odours.
Prepare An Emergency Kit
IBS can be unpredictable and despite your best planning, there will be times at work where you get caught out. Keeping an emergency kit in your desk or bag can help you reduce anxiety and manage symptoms. Consider including:
Pain-relief medication. This could be Panadol or ibuprofen or a medication prescribed from your doctor. Just make sure you keep some with you to manage painful symptoms.
Peppermint oil capsules or peppermint tea can help reduce cramps (bowel spasms).
Ginger can help reduce nausea. Sucking on crystalised ginger or drinking ginger tea can provide some light relief.
Over the counter medications like anti-diarr hoea medication (eg Imodium), antispasmodics (eg Buscopan), and anti-gas medication to take as needed.
Heat pack for comfort and to relieve pain.
Also remember to stay hydrated and do some gentle exercise (light walk, gentle stretching) as these can sometimes help ease symptoms.
Final Thoughts
Managing a chronic illness can be challenging and isolating, but just remember you are not alone. Putting in place some practical strategies can help you reduce symptoms and increase your productivity, while discretely raising awareness about IBS can help create a supportive environment and more flexible work arrangements.