October is World Vegetarian Month and while I'm a self-confessed omnivore, my household has been making more of an effort to eat vegetarian meals…. Which brings me to low FODMAP tofu and how to make it tasty.
I've always had a bit of a mental block when it comes to tofu. Something about the texture has been a bit off-putting. As part of the A Little Bit Yummy meal plan service, I'm determined to get awesome vegetarian meal plans up and running soon, so this means I'm conquering tofu!
This is what I've learned so far:
It needs to be firm tofu, not silken tofu to be low FODMAP.
Drain and press the tofu before you use it. Evenly cube the tofu, place on a plate lined with a lint-free tea towel, pop a flat tray on top with some heavy cans/tins and leave for 10 minutes (ideally 30 minutes). This will help remove excess moisture.
Tofu doesn't have a strong flavour so make sure you marinate it and then consider adding a sauce
Then bake or fry it to get it crunchy on the outside and soft in the center (texture is your friend when it comes to tofu!). See recipes below for inspiration.
4 of my Favourite Tofu Recipes So Far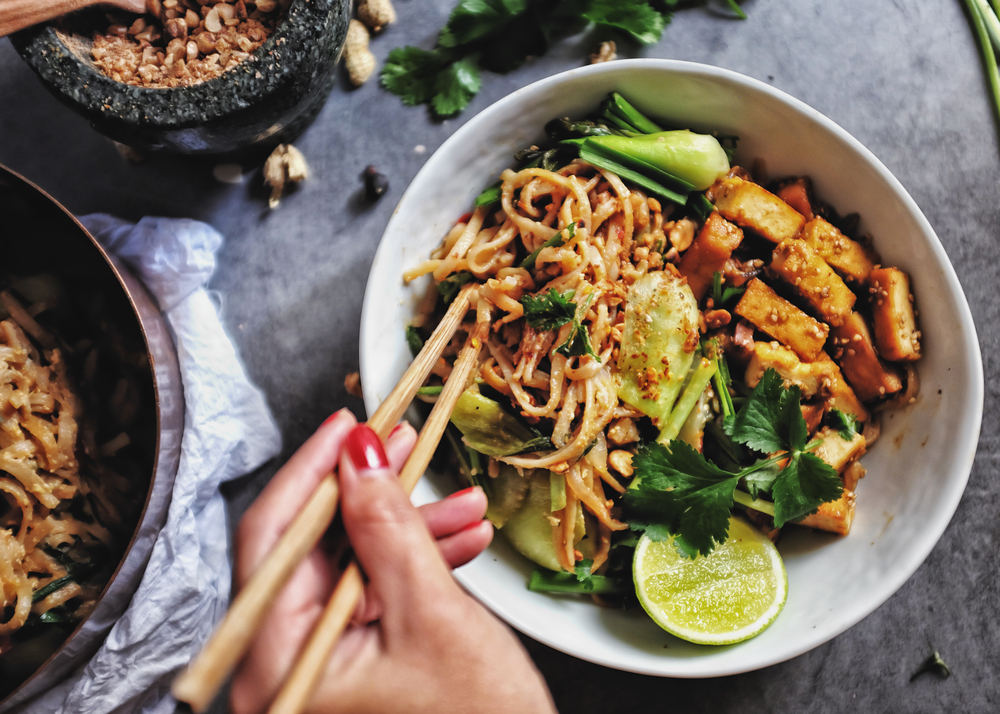 Never Fail Crunchy Tofu (Serves 2)
INGREDIENTS
200g firm tofu (cut into even cubes)
¾ tbsp garlic infused oil or olive oil
¾ tbsp soy sauce
Season with black pepper
2 tsp cornflour
METHOD
Preheat the oven to 200ºC (390ºF) bake function. Line a baking tray with baking paper.
Drain the tofu and cut into even cubes.
Press the tofu: Cover a plate with a clean tea towel (lint free or use paper towels), add the tofu and fold over the cloth, then cover with a clean chopping board or flat plate. Add a couple of cans/tins as a weight to the top of the board and allow to press for 5 to 10 minutes (preferably 30 minutes).
Then place the tofu in a medium-sized bowl. Toss with garlic infused oil, soy sauce, black pepper. Sprinkle with cornflour and toss again until evenly covered.
Transfer onto a lined baking tray in a single layer. Pop into the oven and bake for 15 minutes, turn the tofu, and bake for another 10 to 15 minutes until the tofu is deep golden brown around the edges.
Enjoy hot or cold in salads, stir-fries or smothered in sauce!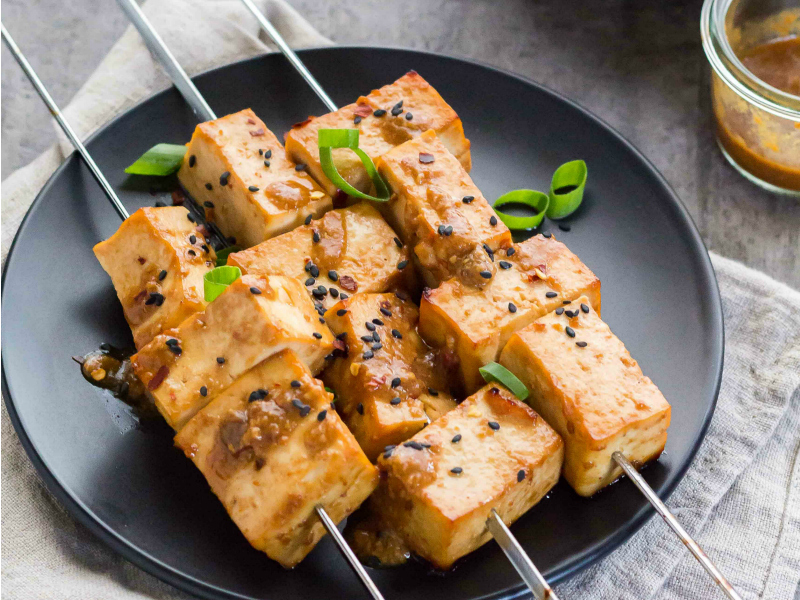 Miso & Chilli Tofu Skewers
There is something so magical about combining miso and chilli to create a flavour bomb! These miso & chilli tofu skewers create a delicious vegan meal.
Pro tip: Banish boring tofu by marinating your tofu for at least two hours before you cook or prep your tofu the night before.
Get the full recipe here.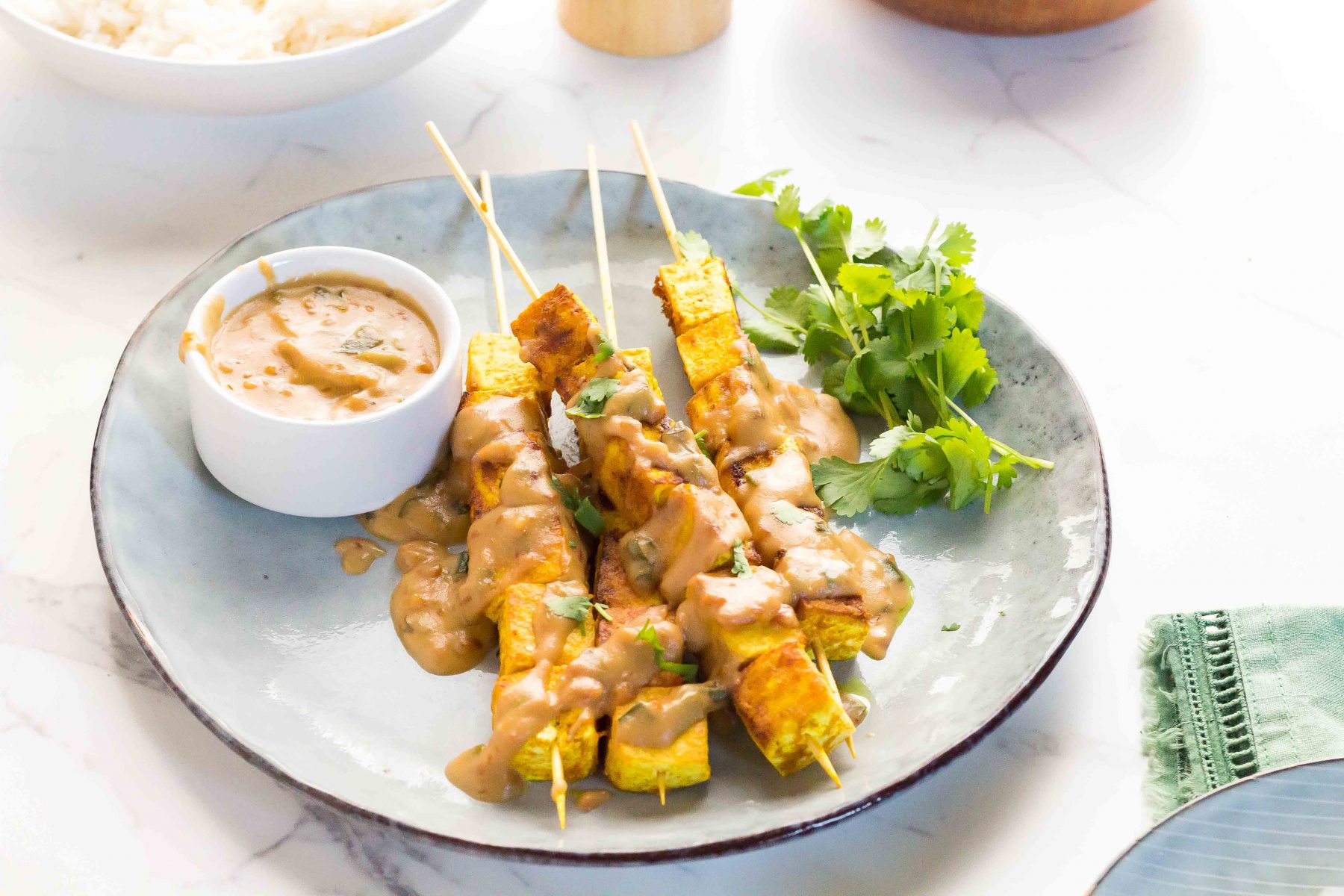 Tofu with Low FODMAP Peanut Satay Dipping Sauce (Serves 4)
TOFU MARINADE
500 g firm tofu (cut into cubes)
1 tbsp crushed ginger
2 tsp ground cumin
1 tsp ground turmeric
1/2 tsp ground coriander
2 tbsp lemon juice
2 tsp lemon zest
4 tsp garlic infused oil
PEANUT SAUCE
8 tbsp peanut butter (or sunflower seed butter for Nut Free option)
1 tbsp garlic infused oil
1 tsp sesame oil
20 g (1/2 cup) spring onion (green tips only, finely chopped)
1/4 tsp dried chilli flakes (just a pinch, optional)
250 ml (1 cup) coconut milk (canned)
125 ml (1/2 cup) low FODMAP vegetable stock
1 tbsp soy sauce
2 tsp brown sugar
1 tbsp lemon juice (add a squeeze to taste)
2 tbsp fresh coriander (finely chopped, to serve)
METHOD
Slice the tofu into bite-sized cubes. Place on a plate and press using a tray with weights for five minutes. Next pop the tofu into a large bowl and mix through the ginger, cumin, ground coriander, lemon juice, lemon zest, and garlic infused oil. Allow to marinate for at least 20 minutes (ideally for 2 hours or overnight). Place your wooden skewers in a dish of water to soak.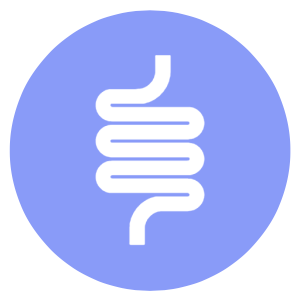 Are you ready to take control of your gut symptoms?
No thanks, my gut is perfect.
Place a medium-sized fry pan over medium heat. Add the garlic infused oil, sesame oil and spring onion tips. Fry until fragrant, then whisk in the coconut milk, stock, peanut butter, soy sauce, brown sugar until smooth. Turn down the heat to medium-low and allow to simmer for about 8 minutes. Add a pinch of chilli flakes and a squeeze of lemon juice to taste.
While your satay sauce simmers, pan-fry or BBQ your skewers. Thread the tofu onto the skewers. If using a fry-pan, heat over medium-high heat. Add a splash of oil and cook the tofu skewers for about 2 minutes each side until the outside is slightly golden and crisp.
Serve the skewers hot, smothered in satay sauce with a sprinkle of fresh coriander/cilantro. Have the rice and salad on the side.
Decadent Dark Chocolate Tofu Mousse
Need I say more! This decadent chocolate mousse is the perfect indulgent dessert and it's packed full of calcium. Just make sure you chill the mousse before you taste it to allow the flavours to deepen. Get the full recipe here.
Final Thoughts
Firm tofu is an awesome low FODMAP protein option and a great way to incorporate some meat-free meals into your diet. Also, remember that once you've completed your FODMAP challenges you can bring silken tofu back into your diet based on your tolerance levels. In the meantime… how do you like your low FODMAP tofu?