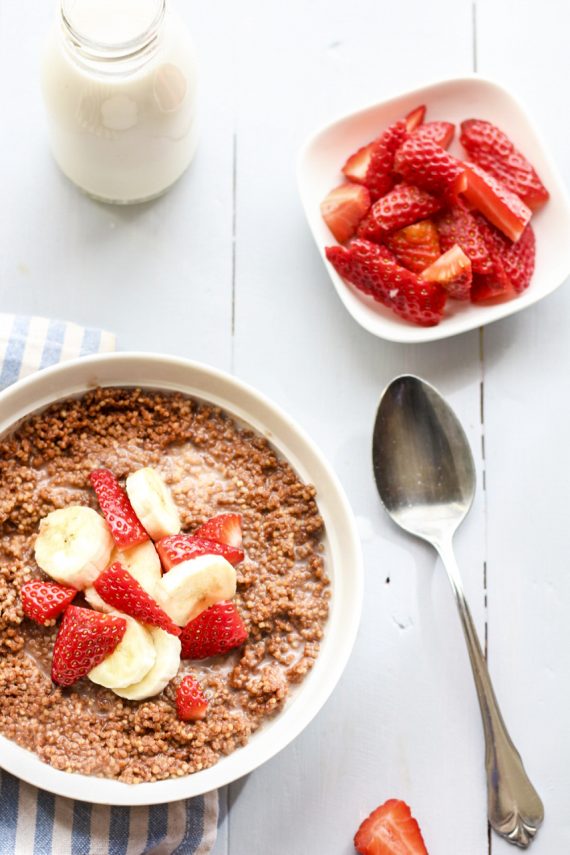 Ingredients
Imperial Units

|

Metric Units
Servings:
Chocolate Millet Porridge
To Serve
5
cocoa powder (unsweetened)
3
pure maple syrup (optional)*
90
banana (firm - no brown spots) (30g or 1.06oz per person)*
15
fresh strawberries (5 per person)
* See the FODMAP Tips, Dairy Tips and Gluten Free Tips for the ingredient notes above the method.
Equipment
Low FODMAP Chocolate Millet Porridge
Who doesn't love chocolate for breakfast?! I am a self confessed chocolate addict, and this low FODMAP chocolate millet porridge satisfies my cravings while keeping breakfast healthy. This breakfast is filling and absolutely delicious. You can also use the flavourings in this recipe to tasty up rice porridge or quinoa porridge. I love keeping this low FODMAP recipe simple by pairing it with a serving of low FODMAP fruit. To keep your breakfast interesting through out the week you could also add a safe serving of dried shredded coconut, or top with a dollop of peanut butter and some crunchy pumpkin seeds. Breakfast can be hard on the low FODMAP diet, so if you need some more ideas don't forget to check out my collection here.
FODMAP Note: Common bananas when they are firm (unripe - green or just yellow) are low FODMAP in 100g serves, however they become high FODMAP for fructans when ripe (yellow with brown spots).
Gluten Free Option
Low FODMAP
Dairy Free
Egg Free
Nut Free
Soy Free
MAKE GLUTEN FREE
SHOW NUTRITION
Nutrition per serve
NON-DAIRY FREE

|

DAIRY FREE

|

GLUTEN FREE
---
Love this recipe? Get your weekly meal plans.
FREE TRIAL
Method

|

FODMAP tips

|

Gluten Free tips

|

Dairy Free tips
---
Method
Cooking Tip: To make mornings easier,  you can cook the millet in advance and reheat it with low FODMAP milk in the morning (see cooking notes).
Toast the millet seed in a saucepan over medium high heat, for about 2-3 minutes until it starts to go golden. Add the low FODMAP milk and boiling water. Throw in a pinch of salt. Then cover and bring to a simmer. Then turn down the heat to the lowest setting and allow to simmer for 15 to 20 minutes, until most of the liquid absorbs and the millet is soft.
Peel and slice the banana, and cut the strawberries into quarters.
Once the millet is cooked you can then stir through more low FODMAP milk until it is creamy. Stir through the unsweetened cocoa. Divide between bowls and top with the strawberries, banana and a drizzle of pure maple syrup. Enjoy!
Notes for cooking millet the night before: Complete step one in the method. Store the millet in an air tight container in the refrigerator. In the morning break up the millet using a fork. Transfer to bowls and add your low FODMAP milk. Heat in the microwave until warm. Then stir through the cocoa powder and low FODMAP fruit. Drizzle with maple syrup.
Buying Tips
Make sure you use pure maple syrup (low FODMAP) not maple flavoured syrup (potentially high FODMAP).
When choosing bananas make sure you select common bananas and not sugar bananas. Then use the bananas when they are firm (green to just yellow) and then become high FODMAP when they are ripe (have brown spots).
Gluten Free Tips
Millet is naturally gluten free. Just check it hasn't been processed in a factory containing gluten.
Dairy Free Tips