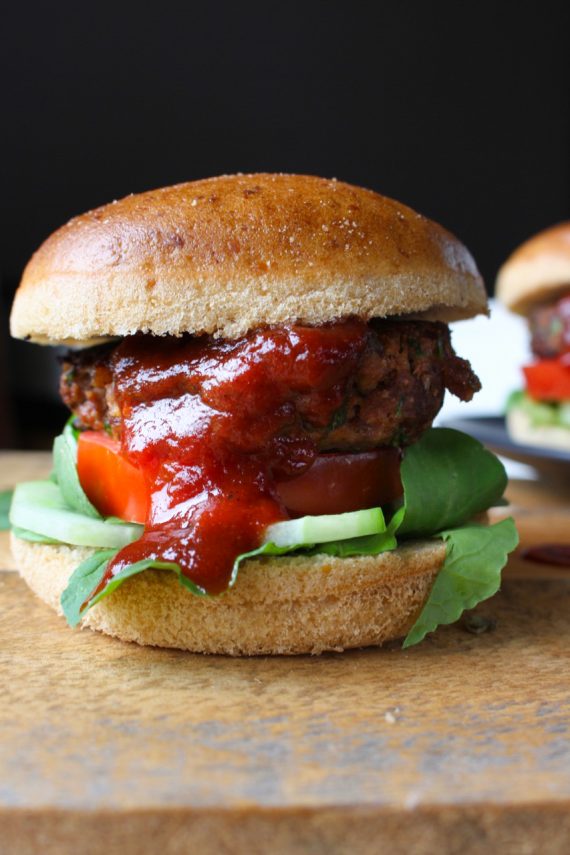 Ingredients
Imperial Units

|

Metric Units
Servings:
Beef Patties
10
green onions/scallions (green tips only, finely chopped)*
1
large eggs (lightly beaten)
30
gluten free breadcrumbs*
Roast Carrot
300
carrot (peeled & cut into chunks)
1.5
neutral oil (rice bran, canola, sunflower)
Salad
4
lettuce (butter, iceberg, red coral)
For Serving
4
low FODMAP Barbeque Sauce*
4
gluten free burger bun*
* See the FODMAP Tips, Dairy Tips and Gluten Free Tips for the ingredient notes above the method.
Equipment
large frypan
roasting tray
Low FODMAP Beef Burgers with BBQ Sauce
Everyone loves a good burger! My homemade BBQ sauce is perfect for creating delicious low FODMAP burgers at home. Keep in mind that gluten free burger buns should be limited to 1 per serve so I love to serve these burgers with a side salad. If you are feeding little ones then you can always add a side of potato fries.
Low FODMAP Note On BBQ Sauce: You can use store bought BBQ sauce for this recipe, however you will need to try and find one that does not include onion or garlic powder. Otherwise you can make my quick and easy BBQ sauce recipe here.
Gluten Free Option
Low FODMAP
Dairy Free
Nut Free
MAKE GLUTEN FREE
SHOW NUTRITION
Nutrition per serve
NON-DAIRY FREE

|

DAIRY FREE

|

GLUTEN FREE
---
Love this recipe? Get your weekly meal plans.
FREE TRIAL
Method

|

FODMAP tips

|

Gluten Free tips

|

Dairy Free tips
---
Method
Preheat the oven to  210ºC (410ºF) bake function. Peel and cut the carrot into small chunks, place in a roasting tray and toss with oil. Bake for 25 to 30 minutes until golden and soft, turn once during cooking.
Make the patties. In a large bowl, mix together the lean ground beef, finely chopped green onions/scallions tips, gluten free breadcrumbs, dried herbs (basil, oregano, thyme), Worcestershire sauce,  and a few grinds of salt and pepper. Divide the mixture evenly into patties (2 per person).
Over medium-high heat pan fry or BBQ the patties until they are cooked through (about 7 minutes each side).
While the patties cook, prepare your salad ingredients. Wash and shred the lettuce, slice the tomatoes, and thinly slice the cucumbers. Toast the gluten free buns if desired.
Assemble the burgers and add a dollop of BBQ sauce. Then use the left over salad ingredients to create side salads, toss through the roasted carrot, and crumble the remaining burger patties over the salad. Drizzle with mayo and BBQ sauce. Enjoy!
Buying Tips
Buy gluten free burger buns, bread, and wraps that do not contain any high FODMAP ingredients like inulin, apple or pear juice, apple fibre, concentrated fruit juices, honey, or high fructose corn syrup. Also check what low FODMAP flours have been used, avoid gluten free products that contain amaranth flour, lupin flour, chickpea/besan/gram/garbanzo bean flour, lentil flour or large amounts of soy flour or coconut flour.
If not all of your household need to be low FODMAP you can buy them normal burger buns.
Monash University have tested Worcestershire sauce and it is low FODMAP, despite containing small amounts of onion and garlic. The sauce is low FODMAP because the onion and garlic are fermented during the manufacturing process which reduces the FODMAP levels.
Buy a bunch of green onions/scallions with long green tips. You can use the green tips of the green onions/scallions (which are low FODMAP) and not the white stem when cooking.
Buy a BBQ sauce that does not include onion or garlic powder. Otherwise you can try making our smoky BBQ Sauce.
Choose a mayonnaise that does not include onion or garlic powder. We like using Best Foods Mayonnaise (Lite or regular). If you are a meal plan member you can also grab the recipe for our egg free mayonnaise here.
Gluten Free Tips
Buy a gluten free Worcestershire sauce or substitute 1 tablespoon gluten free soy sauce, 1/4 teaspoon Chinese five spice, and 1/2 tsp brown sugar for every tablespoon of Worcestershire sauce. Often the ingredient labels don't state they are gluten free, so if the ingredients look safe then ring the manufacturer to confirm.
Herbs and spices are naturally gluten free, however they can become contaminated during manufacturing processes. If you are highly sensitive to gluten, check the dried herbs and spices do not contain a warning for trace gluten. If you are just on the low FODMAP diet you do not need to worry about this.
If you are highly sensitive to gluten, check all packaged products, processed meat (like bacon), nuts, seeds and dried fruit do not contain a warning for trace gluten. If you are just on the low FODMAP diet you do not need to worry about this.
Dairy Free Tips