Low FODMAP Guide To Reading Labels
Learning to read food labels is a minefield on the low FODMAP diet! Many high FODMAP foods are added to processed products to help enhance their texture and taste. This guide will help you spot the high FODMAP ingredients and optimize your chance of success.
How to Read the Ingredient List
In food labels ingredients are listed in order of weight. This means the first ingredient listed is in the largest quantity and the last ingredient listed is in the lowest quantity. Dietitian Caroline Tuck from Monash University states that "when you are starting to re-introduce higher FODMAP foods, you may choose to try products which have high FODMAP ingredients such as garlic powder listed as minor ingredients. You just then need to monitor your tolerance" (1). During the low FODMAP phase, it is recommended that you avoid high FODMAP ingredients if possible. When it comes to wheat, rye, and barley try to avoid products that list these ingredients as first to third in the ingredient list (1).
Common High FODMAP Ingredients
Inulin or chicory root extract/fibre is often added to dairy products (like yoghurt), gluten free bread and baking, rice crackers, stevia blends, coconut milk and protein powders. It can also be labelled as dietary fibre in some countries (3 4).
You also need to watch out for fructo-oligosaccharides (FOS), which are added to processed foods as well as supplements and protein powders.
Sugar alcohols, or polyols as we know them, are added to a wide range of processed foods. The ones to watch out for are sorbitol (E420), mannitol (E421), maltitol (E956), xylitol (E967), and isomalt (E953) (5 7). Remember to check for their food additive numbers as well.
High FODMAP sweeteners can also cause digestive issues. These sweeteners include honey, high-fructose corn syrup, crystalline fructose, agave syrup, yacon syrup, fruit sugar, isolated fructose, fructose, fructose syrup, Isoglucose, fructose-glucose syrup (5 8 9). In Canada, high fructose corn syrup can be called glucose-fructose syrup. Concentrated fruit juice is another high FODMAP ingredient especially prevalent in gluten free products. In particular watch out for apple juice and pear juice, as well as any juice from other high FODMAP fruits.
Onion and garlic like to sneak into processed foods, so check labels for onion, onion powder, onion extract, garlic, garlic powder, and garlic extract. Also watch out for ingredients labelled as spices (except in the USA), natural flavours, dehydrated vegetables, and chicken salt, as these can all have onion or garlic as a hidden ingredient. In the USA onion and garlic cannot be included under spices (13). If you are not sure whether the product contains onion or garlic ring or email the manufacturer. Also check dried spices and spice mixtures (especially Chinese five spice powder, curry powder, chilli, or cayenne pepper) for added garlic and onion powders. Worcestershire sauce is an exception and is low FODMAP (2). You can read more about worcestershire sauce here.
Lactose can hide in a number of different ingredients, so keep an eye out for milk, milk solids, yoghurt, buttermilk, sour cream, milk curds, and whey protein concentrate in ingredient lists (10).
Dried fruit is often high FODMAP. Avoid products, like breakfast cereals and muesli bars, that have high amounts of dried fruit in them.
When looking for low FODMAP baking and bread, keep an eye out for these high FODMAP flours: amaranth flour, einkorn, emmer, khorasan, kamut, lupin, barley, amaranth, rye, soy and wheat (2). Just remember that if soy flour (or other high FODMAP flours) are not the predominant flour in the bread  (it is far enough down the ingredient list) then the product could still be FODMAP safe. You will need to test it to check your tolerance levels.
Ingredients that Are Considered Low FODMAP
There is a misperception that gums are high FODMAP. However, according to FODMAP dietitian Kate Scarlata guar gum, locust bean gum, xanthan gum, and cellulose are not considered FODMAPs at this time (11). However, these gums can be fermented in our digestive systems, which means some people with IBS may have additional issues with them that are not related to FODMAPs.
Although many soy products are high FODMAP, soy lecithin is considered low FODMAP (6). Soy lecithin is made from a mixture of phospholipids and oil (12), neither of which are believed to contain FODMAPs.
Examples of High & Low FODMAP Ingredients
Please note that this is not a complete list of high & low FODMAP ingredients.
|   High FODMAP | Low FODMAP |   Not Tested But Considered Low FODMAP |   Not Tested But Considered High FODMAP |
| --- | --- | --- | --- |
| Amaranth flour | Beet sugar | Acidity regulators | Gram flour |
| Apple juice | Brown sugar | Anti-caking agents | Lentil flour |
| Agave syrup | Buckwheat flour | Antifoaming agent | Milk curds |
| Barley | Corn syrup | Antioxidants | Milk solids |
| Buttermilk | Dextrose | Barley Malt Extract (small serves only) | Molasses |
| Chicken salt* | Garlic infused oil | Cane juice crystals | Soy flour |
| Chicory root extract/fibre | Glucose syrup | Caramel Colour | Whey protein concentrate |
| Coconut flour | Golden syrup (1/2 Tbsp serve)** | Cellulose | Yacon syrup |
| Crystalline fructose | Maple syrup | Colourings & colour fixatives | |
| Dehydrated vegetables* | Mineral salts | Enzymes | |
| Einkorn | Palm sugar | Flavour enhancers | |
| Emmer | Rice malt syrup | Foaming agents | |
| Fruit sugar | Soy/soya protein isolate | Fruit flavours/extract | |
| Fruit concentrate | Stevia | Guar gum | |
| Fructo-oliogsaccharides (FOS) | Whey protein isolate | Invert sugar | |
| Fructose-glucose syrup | Wheat starch | Locust bean gum | |
| Natural flavours* | | Maltodextrin | |
| Garlic/garlic powder | | Preservatives | |
| Glucose-fructose syrup (only in Canada) | | Raising agents | |
| High fructose corn syrup | | Thickeners | |
| Honey | | Soy lecithin | |
| Inulin  (dietary fibre) | | Stabilisers | |
| Isoglucose | | Xanthan gum | |
| Isolated fructose | | | |
| Isomalt (E953) | | | |
| Khorasan (kamut) | | | |
| Lupin | | | |
| Maltitol (E956) | | | |
| Mannitol (E421) | | | |
| Milk | | | |
| Milk curds | | | |
| Onion/onion powder | | | |
| Spices * | | | |
| Sorbitol (E420) | | | |
| Sour cream | | | |
| Wheat flour |   | | |
| Xylitol (E967) | | | |
| Yoghurt | | | |
* These ingredients can contain onion or garlic. Spices in the USA cannot include onion or garlic (13).
**High FODMAP in larger serves
(Table compiled from: Catsos, 2014a; Catsos, 2014b; Monash University App, 2015; Scarlata, 2012; Scarlata, 2014; Shepherd & Gibson, 2012)
Food Label Examples
Low FODMAP: Soy Milk made from Soy Protein. Note how soy protein is listed in the ingredients.

FODMAP Content Depends on Serving Size: Soy Milk made from Hulled Soy Beans
Soy milk made from hulled soya beans contains varying amounts of FODMAPs depending on the serving size. It is low FODMAP at ¼ cup (60ml) serve, moderate FODMAP at ½ cup (125ml) serve, and high FODMAP at 250ml (1 cup) serve. This means if you chose to use soy milk made from hulled soy beans you need to control your portion size.

High FODMAP: Soy Milk made from Whole Soy Beans. Problem ingredients: whole soybeans & pearl barley.

High FODMAP: Gluten Free Cornflakes
The problem ingredient is the apple juice concentrate. Gluten free cornflakes made without apple juice could be low FODMAP providing other high FODMAP ingredients have not been added.

Potentially Low FODMAP: Gluten Free Bread
This bread does contain a potential high FODMAP ingredient – soy flour. However it is not the predominant flour used in the bread and it is the fourth ingredient listed in the ingredient list. This means the FODMAP content in 1 to 2 slices of this gluten free bread could be low FODMAP.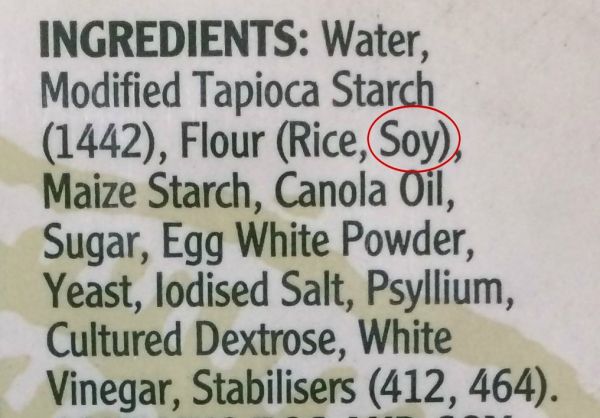 High FODMAP: Rice crackers with added chicory root fibre.
Problem ingredient: chicory root fibre. Plain rice crackers without chicory root fibre/inulin are low FODMAP.

Final Thoughts
Checking labels for high FODMAP ingredients is an important part of the low FODMAP diet. In the beginning, it is often easier to choose products that have shorter ingredient lists. I recommend that you cook meals from fresh ingredients as much as possible. If you have questions about the FODMAP content of certain ingredients please let me know by commenting below.
Main feature image: GoodStudio/Shutterstock.com
SaveSave
SaveSave