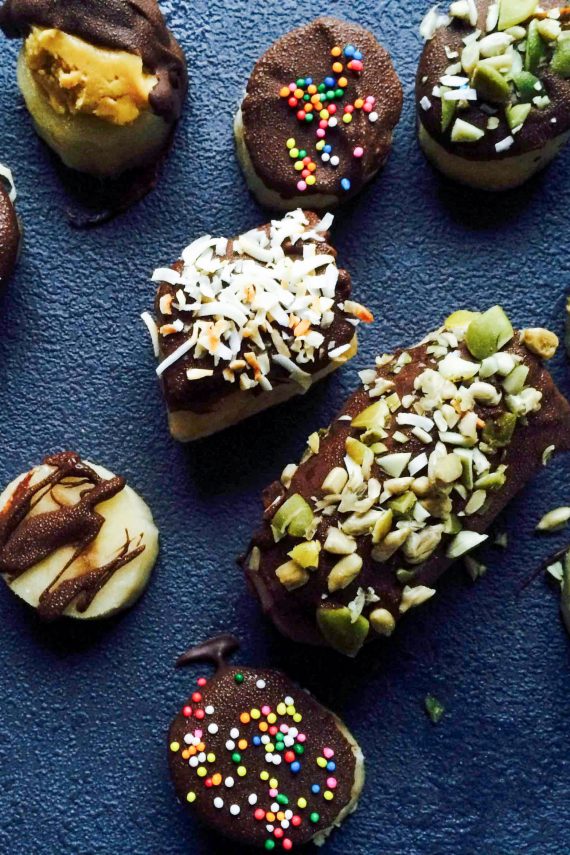 Ingredients
Imperial Units

|

Metric Units
Servings:
Bananas
3
banana (firm - no brown spots)*
100
dark chocolate (melted)*
Topping Suggestions
3
hundred & thousands sprinkles*
2
dried shredded coconut*
4
nut or seed butters (sunflower seed butter, peanut butter)*
3
low FODMAP nuts or seeds (chopped)*
* See the FODMAP Tips, Dairy Tips and Gluten Free Tips for the ingredient notes above the method.
Low FODMAP Frozen Banana Bites
Frozen banana bites make a tasty low FODMAP treat. You can cover them in your choice of seed or nut butter (sunflower seed butter or peanut butter are good options) or dip them in dark chocolate. I love adding yummy toppings like toasted seeds, shredded coconut, low FODMAP muesli, or hundreds & thousands.
Note on choosing low FODMAP nut and seed butter: Be careful when choosing your nut or seed butter. Almond butter is only be low FODMAP in 1 tablespoon serves. Avoid butters made from high FODMAP nuts like cashew nuts.
FODMAP Note: Common bananas when they are firm (unripe - green or just yellow) are low FODMAP in 100g serves, however they become high FODMAP for fructans when ripe (yellow with brown spots).
Gluten Free Option
Low FODMAP
Dairy Free
Egg Free
Nut Free
Soy Free
MAKE GLUTEN FREE
SHOW NUTRITION
Nutrition per serve
NON-DAIRY FREE

|

DAIRY FREE

|

GLUTEN FREE
---
Love this recipe? Get your weekly meal plans.
FREE TRIAL
Method

|

FODMAP tips

|

Gluten Free tips

|

Dairy Free tips
---
Method
Prepare your toppings. Toast your shredded coconut and low FODMAP seeds in a small frypan over medium heat. Roughly chop the shredded coconut and seeds as needed. Place your toppings in bowls.
Melt the chocolate in the microwave. Place the chocolate in a microwave proof bowl and heat in the microwave on high for 10 to 20 second increments (stirring occasionally), until melted.
Peel the bananas and then chop them into pieces. Line a baking tray with baking paper.
Dip the banana pieces (I only dip half of each piece) in the chocolate and cover immediately with your favourite low FODMAP toppings. Or create banana seed/nut butter 'sandwiches' before dipping in chocolate. You might need to warm your chocolate a couple of times during dipping to keep it from setting.
Place into the freezer for 4 to 5 hours until the banana is frozen and the chocolate is hard. Then transfer the banana bites from the baking tray to a freezer container. The banana bites should keep for up to three months.
Eat frozen (once thawed the banana goes mushy). Enjoy!
Buying Tips
When choosing bananas make sure you select common bananas and not sugar bananas. Then use the bananas when they are firm (green to just yellow) and then become high FODMAP when they are ripe (have brown spots).
Choose a dark chocolate that doesn't contain inulin or high FODMAP sweeteners like honey, high fructose corn syrup, agave syrup or fructose. Also avoid dark chocolate that contains high FODMAP fruit or nuts.
Check the sunflower seed butter or peanut butter does not contain high FODMAP ingredients like honey, high fructose corn syrup, inulin (chicory root), agave syrup.
Gluten Free Tips
If you are highly sensitive to gluten, check all packaged products, processed meat (like bacon), nuts, seeds and dried fruit do not contain a warning for trace gluten. If you are just on the low FODMAP diet you do not need to worry about this.
Dairy Free Tips