Are you avoiding guar gum or xanthan gum? There is no need. It's a myth that these gums are high FODMAP. According to laboratory food testing by FODMAP Friendly both guar gum and xanthan gum are low FODMAP in 5g (1 tablespoon serves) (email communication with FODMAP Friendly 30/01/2017).
What is Guar Gum?
Guar gum is processed from guar seed (1). If you want to get technical, it is the ground endosperm of these cluster seeds! (1) The beans are de-husked, before being milled and sieved to create guar gum (1). So where do you find it? You can normally locate guar gum in the gluten free aisle or the baking aisle of the supermarket and it is an off-white coloured powder.
What is Xanthan Gum?
Xanthan gum is produced in a very different way to guar gum, by using bacteria. The gum is produced when Xanthomonas campestris bacteria ferment carbohydrates (like sucrose or glucose) (2). The sticky by-product created during the fermentation process, is then filtered and purified before being dried and ground into powder to form xanthan gum (2).
Why are these gums used in commercial products & baked goods?
These gums are magical powders to food manufacturers as their properties can help blend and thicken, as well as improve texture, making processed food products more pleasant to eat. Here's what they do:
How does A Little Bit Yummy use these products?
We sometimes use guar gum or xanthan gum in our homemade baked goods as it helps keep gluten free baking from crumbling and improves the texture. We only use a small amount (normally ½ tsp or less per cup of gluten free flour) which is considered low FODMAP. If you prefer to avoid using these gums, you can normally replace them with chia seeds that have been soaked in hot water.
Can these products cause digestive distress?
Guar gum, although it is not a FODMAP, can be fermented by our gut bacteria and the byproducts appear to be poorly absorbed, which can cause gastrointestinal symptoms (3). The amount of guar gum needed to trigger symptoms appears by large amounts (>15g per day) (3). This serving size is much larger than the amounts used in commercial food stuffs or home baking.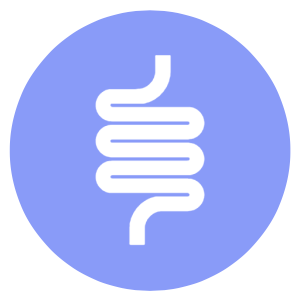 Are you ready to take control of your gut symptoms?
No thanks, my gut is perfect.
Xanthan gum is safe when less than 15g is consumed per day (4). Like guar gum it can also cause some gastrointestinal issues like excess gas and bloating (4).
It is important to note that these gastrointestinal symptoms are not caused by FODMAPs, and that both xanthan gum and guar gum are safe for human consumption in small doses. However, if you are concerned please speak to your doctor or dietitian.
Final Thoughts
Both xanthan gum and guar gum are safe to eat during the inital phase of the low FODMAP diet. So if your low FODMAP baking is crumbly or lacking texture, trying add xanthan gum or guar gum to your next batch. Also don't forget to check out FODMAP Friendly and learn more about their FODMAP food testing.