The low FODMAP diet removes some high fibre foods from our everyday diets. Not enough fibre can lead to toileting troubles… if you are struggling with constipation then it's time to check you are getting enough. To find out how much fibre you need, check out my guide to Getting Enough Fibre on the Low FODMAP Diet. In the meantime, here are 5 quick and easy ways to boost your fibre intake:
Add flaxseed or chia seeds to your low FODMAP yoghurt, smoothies or porridge. One tablespoon of chia seeds contains around five grams of fibre, making it an easy high fibre addition to your meal or snack

 (1)

. Just avoid serving sizes over two tablespoons as these can become high FODMAP

 (2, 6)

. Flaxseed, also known as linseed, is another great high fibre food as it contains between two to three grams of fibre per tablespoon (ground vs whole seeds)

 (3)

. According to testing by FODMAP Friendly, flaxseed (linseed) is low FODMAP in 1 tablespoon serves, however larger serving sizes are high FODMAP

 (6)

. Registered dietitian, Audrey Inouye from IBS Nutrition, recommends that you limit your serve to 2 to 3 teaspoons per meal. You can make flaxseed or chia seeds disappear into smoothies, yoghurt or porridge, which means it doesn't feel like you are eating high fibre foods!
Add a sprinkle of toasted low FODMAP nuts or seeds to your meals. This is a tasty way to add more fibre to your salads, cereals, pasta dishes or stir-fries. Low FODMAP nut options include peanuts, pecans, pinenuts, macadamia nuts, walnuts, or almonds (less than 10 nuts)

 (2)

. Toasted pumpkin seeds, sesame seeds, or sunflower seeds also make lovely low FODMAP additions to your meals

 (2)

. If you are in a hurry, then grab a handful of nuts or seeds as a quick snack.

Eat more legumes

. Canned lentils (1/4 cup serve) or canned chickpeas (1/4 cup serve) are both great low FODMAP fibre sources2. These canned legumes are lower in FODMAPs, as the fructans and GOS in the legumes leach into the water content in the can, lowering the FODMAP content of the legumes

 (2)

. You do need to drain and rinse these legumes well before using. Then try adding them to your soups, stews, salads, casseroles or curries.
Don't peel your vegetables! Vegetable skins are high in fibre and full of nutrients, so avoid peeling your carrots, potatoes, parsnips, eggplant, cucumber or zucchini (courgette). Throughout your day try to consume at least five serves of vegetables in different meals and snacks. Why not try some veggie sticks with low FODMAP hummus? Or try making a lunch of baked potato stuffed with low FODMAP bacon, a small serve of corn (low FODMAP at 43g or less), mustard sauce, with a green garden salad on the side.
Enjoy two serves of fruit per day. Fruit can be a great source of fibre (4, 5). Try exploring these low FODMAP options: kumquats, breadfruit, ripe guava, blueberries, raspberries, passionfruit, oranges, firm common banana (no brown spots) or kiwifruit as snacks or add them into your meals (2, 5). Check out the Monash Low FODMAP app for safe serving size information. Also, remember to space your fruit out throughout the day and to limit yourself to one serve of fruit at a time.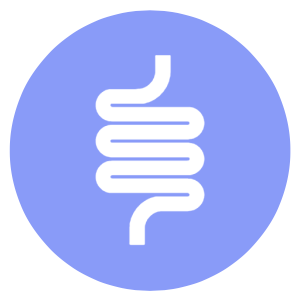 Are you ready to take control of your gut symptoms?
No thanks, my gut is perfect.
Helpful Tips When Increasing Fibre:
Increase fibre slowly to avoid gas, bloating, and diarrhea (

4)

.
Spread your fibre-containing foods throughout your day by including them in a variety of meals and snacks (4).
Stay hydrated and drink plenty of fluids

(4)

.
When buying processed food products, choose low FODMAP options that are higher in fibre

(4)

. For example, gluten free brown bread instead of gluten free white bread. Look for high fibre foods that have four or more grams of fibre per serve.
Final Thoughts
It is easy to get enough fibre on the low FODMAP diet once you know how to choose high fibre foods. For more information on fibre and the low FODMAP diet please check out my article on: Getting Enough Fibre On The Low FODMAP Diet.
Other Useful Articles:
12 Tips For Managing Constipation