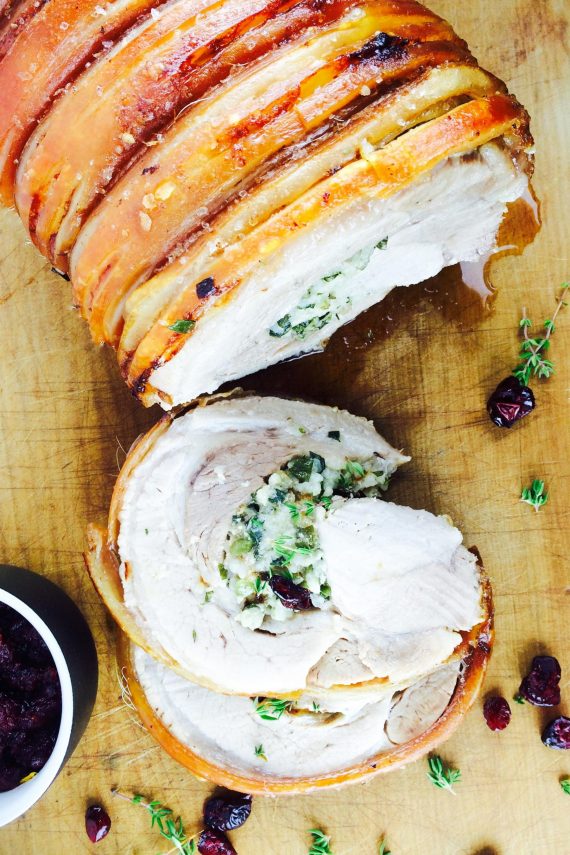 Ingredients
Imperial Units

|

Metric Units
SERVES 10
Pork Loin Roast with Herb Stuffing
200
medium grain white rice (risotto rice) (Arborio rice)*
500
low FODMAP chicken stock*
120
leek (green tips only)*
10
green onions/scallions (green tips only)*
* See the FODMAP Tips, Dairy Tips and Gluten Free Tips for the ingredient notes above the method.
Equipment
large saucepan
roasting tray
tin foil
Low FODMAP Pork Loin Roast with Herb Rice Stuffing
This delicious pork roast recipe makes enough to feed a small army and is well worth the effort. The pork is juicy, crackling is crunchy and the rice stuffing is packed full of herby goodness. I serve this with my favourite roast veggies, green beans and a side of homemade cranberry sauce. I highly recommend you ask your local butcher (or the butchers at your local supermarket) if they can roll and tie your pork roast for you. This will make the process less stressful, however you will need to be prepared and take the stuffing with you.
Gluten Free Option
Low FODMAP
Dairy Free
Egg Free
Nut Free
Soy Free
MAKE GLUTEN FREE
SHOW NUTRITION
Nutrition per serve
NON-DAIRY FREE

|

DAIRY FREE

|

GLUTEN FREE
---
Love this recipe? Get your weekly meal plans.
LEARN MORE
Method

|

FODMAP tips

|

Gluten Free tips

|

Dairy Free tips
---
Method
Make the risotto. Roughly chop the green leek tips. Make the chicken stock with boiling water if using stock cubes. Heat a large saucepan over medium heat. Fry the leek tips in the olive oil and garlic infused oil for two minutes. Add the Arborio rice, stir through the mixture for about 1 minute.
Next add 125mls (1/2 cup) of chicken stock at a time, stir every now and then until the liquid has absorbed into the rice. Carry on adding and stirring in the stock, a splash at a time. Turn down the heat to medium low if needed (if the rice is cooking too fast and starting to stick to the bottom of the pan). Once the rice has absorbed two cups of stock, check and see if the rice is cooked (should take about 20 minutes). If it isn't, add more stock and continue cooking for another few minutes. You want the rice to be cooked and sticky but not too wet. While the risotto cooks, finely chop the parsley and green onions/scallions  (green tips only).
Remove the rice from the heat and stir through the parsley, green onions/scallions  (green tips only), dried oregano, thyme, and pumpkin seeds. Transfer to a plastic container or bowl and allow to cool.
Stuff and tie your pork roast. If possible take the stuffing to the butcher and get them to stuff and tie the pork loin roast for you. Ask them to score the skin and fat for you as well.
If you can't do that watch these videos. They will teach you how to stuff and tie the roast. Before you stuff the roast you do need to score the skin with a sharp knife about 1cm / ½ inch deep and about 1cm / ½ inch apart. Find out how to cut a pork loin roast here (watch until 2 minutes 30 seconds).
How to tie up the pork roast here.
Cook your pork. Preheat the oven to 220ºC (430ºF) fan bake function. Rub the pork skin with olive oil and season generously with salt. Place in a roasting tray and transfer into the oven once hot. Roast for 30 minutes. Remove from oven and baste with the pork juices (drizzle the pork juices over the roast) and lightly season again with salt.
Turn down the oven heat to 200ºC (390ºF) and roast the pork for about another 1 hour and 30 minutes. Baste the pork every 30 minutes. If your crackling is cooking too fast or looks like it might burn then cover it with tinfoil. Your roast might take slightly longer to cook depending on the exact size. Remove the pork from the oven when the crackling is golden and the juices run clear (insert a sharp knife into the roast).
Rest for 10 minutes before carving. Serve with your favourite sides of vegetables and homemade cranberry sauce.
Buying Tips
Garlic infused oil is found in the oil section of your local supermarket. It should be clear with no floating bits of garlic. You can also make garlic infused oil at home by frying garlic cloves in cooking oil, until they are golden and fragrant (then remove the garlic before you continue cooking your meal). This is a low FODMAP way to capture the garlic flavour as the fructans can't leach into the oil.
Make sure you buy a leek that has long green tips (this is the low FODMAP part), as you can't use the white/light green leek bulb (this part is high FODMAP).
Risotto rice is a medium grain white rice like Arborio rice. This rice will go creamier than standard long grain white rice.
Buy a bunch of green onions/scallions with long green tips. You can use the green tips of the green onions/scallions (which are low FODMAP) and not the white stem when cooking.
Choose a stock that does not include onion or garlic. We prefer to use Massel Chicken Stock Cube 7's (in the yellow & blue packet). This product is low FODMAP, gluten free and vegan (despite it's name) and each packet makes 7 cups of stock. This product can be brought online around the world and is available from some supermarkets.
Gluten Free Tips
Herbs and spices are naturally gluten free, however they can become contaminated during manufacturing processes. If you are highly sensitive to gluten, check the dried herbs and spices do not contain a warning for trace gluten. If you are just on the low FODMAP diet you do not need to worry about this.
If you are highly sensitive to gluten, check all packaged products, processed meat (like bacon), nuts, seeds and dried fruit do not contain a warning for trace gluten. If you are just on the low FODMAP diet you do not need to worry about this.
Dairy Free Tips