I know you are busy and might be struggling to find the right strategies to get to your happy gut place. So let me give you five quick ways to reduce your gut symptoms – without too much effort!
5 quick ways to reduce gut symptoms:
1. Chew your food well.
It's true what they say about digestion starting in your mouth. Many of us are guilty of eating in a rush and gulping down our food. No matter how busy you are, give your food a few extra chews to help improve your digestion. When you chew your food, it increases your saliva, which includes an enzyme that helps break down carbohydrates and makes digestion easier. Chewing your food more also stops you from gulping excess air that can contribute to bloating. To naturally slow down your eating, try taking a few extra breaths between each mouthful or putting your utensils down between each bite.
2. Sit up straight.
Do you spend hours hunched over a keyboard or slouching on the couch? These behaviours can contribute to an unhappy gut as you are squishing your digestive organs and not giving them space to move and expand. Instead, try sitting up straight and leaning slightly back to take some pressure off your stomach. This can help to reduce reflux and regurgitation into your throat. It also lets your stomach have room to squirm, pummel and mix your food and digestive juices (which is its' key job when breaking down food). Sitting up straight, or even better, going for a walk, also allows gas to travel more easily through your intestines and helps reduce trapped gas.
3. Eat regular meals.
I know you're busy – (or a bit scared of eating, or a bit distracted), but eating regular meals can reduce gut symptoms in most people. Regular meals spaced throughout the day give your gut the best chance to absorb nutrients and break down foods without becoming overloaded.
If you struggle with regular meals, then even a handful of low FODMAP nuts (like ten almonds or ten walnut halves) or a low FODMAP milky hot chocolate, a serve of cheese, or a few rice crackers can count here. Give your stomach something to work on rather than making growling noises and don't wait until you feel so empty that you want to scoff down anything in sight.
Sometimes people feel scared about eating because it triggers something not nice, like an unpleasant trip to the bathroom. If this sounds like you, then try a few plain rice crackers every 15-20 minutes. Some low-fat 'plain' carbohydrates are often enough to settle your stomach, which lets you move onto 'real food' – aka something more balanced like this delicious low FODMAP minestrone. Choose plain flavours and avoid garlic and onion until you know whether you can tolerate these.
You can also try setting an alert on your phone for every four hours, just until you get into the habit of eating regular meals.
4. Don't forget the fluid.
Not drinking enough can be a common issue for people with gut issues, especially if they suffer from constipation. A fun fact for you is that our bodies ARE 70% water, and this water is moving around our bodies every day without us even knowing about it. It helps flush out toxins, stabilize our blood pressure, and help keep our stools soft, so getting enough each day is important.
If you struggle with fluid intake, then try sipping during the day.  Our top tip is to get a drink bottle and mark times on it at regular intervals – this gives you easy drink targets to hit at different times through the day. Of course, you don't just have to drink water; weak tea, peppermint or green tea, or flavoured water all counts too. 
Remember that some drinks contain gut irritants that can trigger symptoms. For example, you might want to avoid or reduce your coffee or caffeinated beverages, strong tea, certain herbal teas, kombucha, soft drinks/fizzy drinks, smoothies with large amounts of fruit or high FODMAP fruit and carbonated beverages. For a happy gut start with low FODMAP options like low FODMAP cranberry drink, choose a low FODMAP tea, or try a low FODMAP smoothie.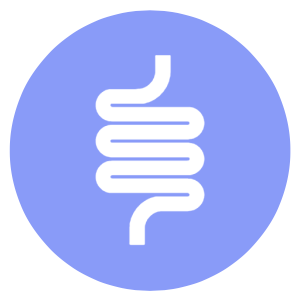 Are you ready to take control of your gut symptoms?
No thanks, my gut is perfect.
5. Revisit your coffee intake.
Check your daily coffee – for some people caffeine stimulates the gut and more than one coffee can cause loose bowel motions. For others, that daily coffee is essential to keep things moving through. If you are a 3+ coffee-a-day kind of person, then really think about whether this is contributing to nausea or loose bowel motions. Can you slowly reduce how strong your coffee is, or how many you have or switch some of them to decaf – ideally over four weeks? If you go cold turkey you're likely to experience headaches and feel slow or tired.
Also, remember that if your coffee contains milk, choose a low FODMAP option like lactose free milk or almond milk. Many types of milk used in coffees like soy milk (unless made from soy protein), coconut milk or oat milk will be high FODMAP at the amount used in a standard-sized coffee.
Final Thoughts
These five quick ways to reduce gut symptoms don't need any special ingredients, prep time or storage needs! Give them a go over the next couple of weeks and see how you feel.
Image credit: 9dream studio/Shutterstock.com