If you're a label reading ninja then you might have noticed that many toothpaste and mouthwash brands can contain high FODMAP polyols like sorbitol. We get so many questions about this issue that we thought it was time to have a chat. Before you panic and throw your toothpaste into the bin, let's look at if the FODMAPs in toothpaste and mouthwash are actually a problem.
What FODMAPs appear in toothpaste and mouthwash?
Toothpaste and mouthwash are normally sugar-free to help protect our teeth. This means manufacturers often use polyols to sweeten their oral hygiene products. Polyols are the 'P' in the FODMAP acronym and are sugar alcohols. These won't make you drunk but can trigger gut symptoms in some people. When reading ingredient labels lookout for sorbitol, mannitol, maltitol, isomalt, xylitol and lactitol.
How do FODMAPs trigger symptoms?
Here's a quick 101 lesson on how FODMAPs can trigger gut symptoms. When we eat a high FODMAP food it passes through our mouth, down our throat and into our stomach where the food is broken down by our stomach acid. Next, the food molecules pass into our small intestines and some of the food molecules are absorbed through the intestinal walls. FODMAPs are not absorbed in the small intestine and it's here that they start to draw in water. Next, the FODMAPs pass into the large intestine where they are fermented by our gut bacteria creating gas which can lead to bloating, distension, altered bowel movements and other gut symptoms. High FODMAP foods feed our gut bacteria which is a good thing, however in sensitive people they can trigger gut symptoms.
So, does that mean you need to avoid FODMAPs in toothpaste & mouthwash?
My question for you is – are you drinking your mouthwash or eating your toothpaste? I'm hoping you're not otherwise we might have a bigger issue! Essentially FODMAPs only cause issues when you eat them and they pass through your digestive tract to your large intestine.
The take-home message here is to spit out your toothpaste or mouthwash. If you do this, then you aren't eating the FODMAPs in your toothpaste or mouthwash and they shouldn't upset your gut. Even if you swallow a little bit of residue, the amount of FODMAPs is still likely to be well within low FODMAP limits.
So stay calm everyone, brush your teeth and FODMAP on!
I think I'm reacting to my toothpaste/mouthwash – what should I do?
If you still think you're reacting to your toothpaste or mouthwash, then it's really important you chat to a dietitian. There are other food chemical compounds in toothpaste that can trigger symptoms in some people.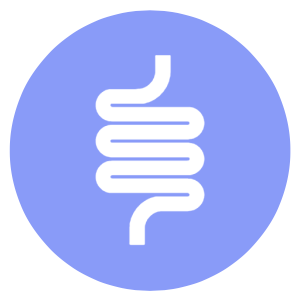 Are you ready to take control of your gut symptoms?
No thanks, my gut is perfect.
According to accredited practising dietitian, Joanna Baker, toothpaste is particularly high in Salicylates. These aren't FODMAPs but are a type of food chemical that can cause gut upset (amongst other symptoms) in people who are sensitive to them for a different reason.
If you think you're having issues with your toothpaste, then your dietitian is the best person to help you figure out what is going on.
Accredited Practicing Dietitian, Joanna Baker is an expert in both FODMAPS and food chemicals and can provide you with an online consult.
Final Thoughts
Don't panic if you find FODMAPs in your toothpaste or mouthwash! The FODMAPs in the products are unlikely to cause you any issues unless you actually eat them. If you think you're having issues with your oral hygiene products then have a chat to a dietitian.