If you've been wondering whether bananas are okay to munch on if you're following a low FODMAP diet, you've come to the right place. The type of banana and how ripe it is determines the FODMAP levels. In this article we're going to explore the question are bananas low FODMAP and help you understand which ones you can enjoy.
First things first – what are FODMAPs?
FODMAPs stand for Fermentable Oligosaccharides, Disaccharides, Monosaccharides, and Polyols, which are a group of carbohydrates that some individuals may have difficulty digesting. They can lead to digestive discomfort, gas, bloating, and altered bowel movements for some people with Irritable Bowel Syndrome.  These people may need to reduce their FODMAP intake.
Now, let's get to the juicy part – are bananas low FODMAP?
The great news is that bananas are generally considered low FODMAP.  This makes them a suitable and delicious choice for many people following a low FODMAP diet. But, as with most low FODMAP foods, there's a little more to the story.
Bananas come in different types and stages of ripeness, which can affect their FODMAP content. 
Different Varieties of Banana
Two varieties of banana have been tested for FODMAPs by Monash University, the lead research centre for the low FODMAP diet.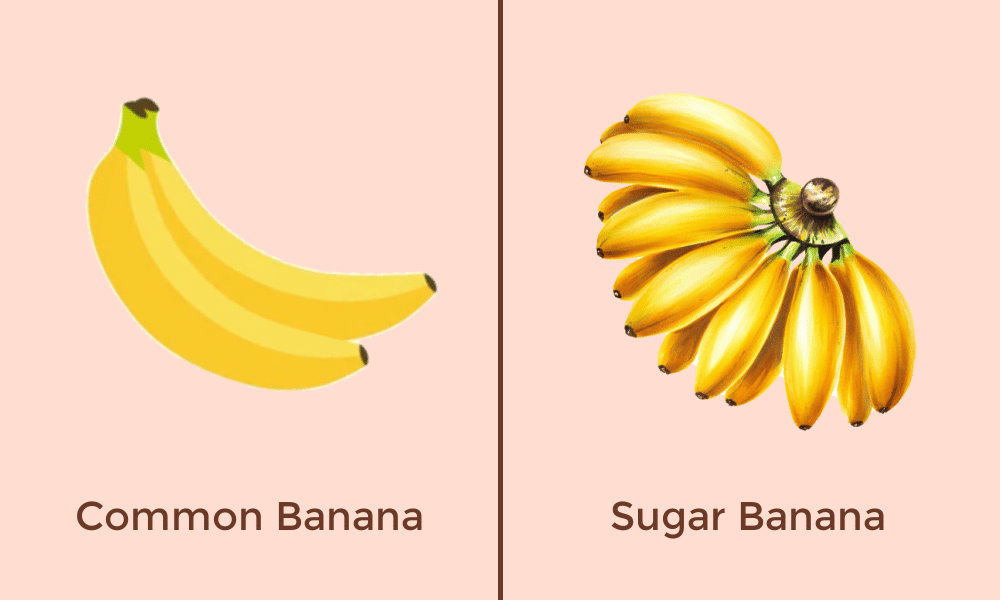 Common banana, also known as Cavendish banana, is the banana variety that most people are familiar with. It has a yellow skin when ripe, a slightly sweet flavour, and is often used in various culinary applications, from snacking to baking.
Sugar bananas are the other banana variety that has been tested by Monash University. These are also known as the finger bananas or ladyfinger bananas and are a smaller and sweeter variety. Sugar bananas are distinguishable by their petite size, about half the length of a common banana.
Does ripeness affect the low FODMAP serving size for banana?
The ripeness level of the banana can definitely impact the low FODMAP serving size. According to the latest testing from Monash University, sugar bananas are low FODMAP in large servings and you don't need to worry about the ripeness level.
However, when it comes to common bananas the ripeness level matters. Here's a breakdown: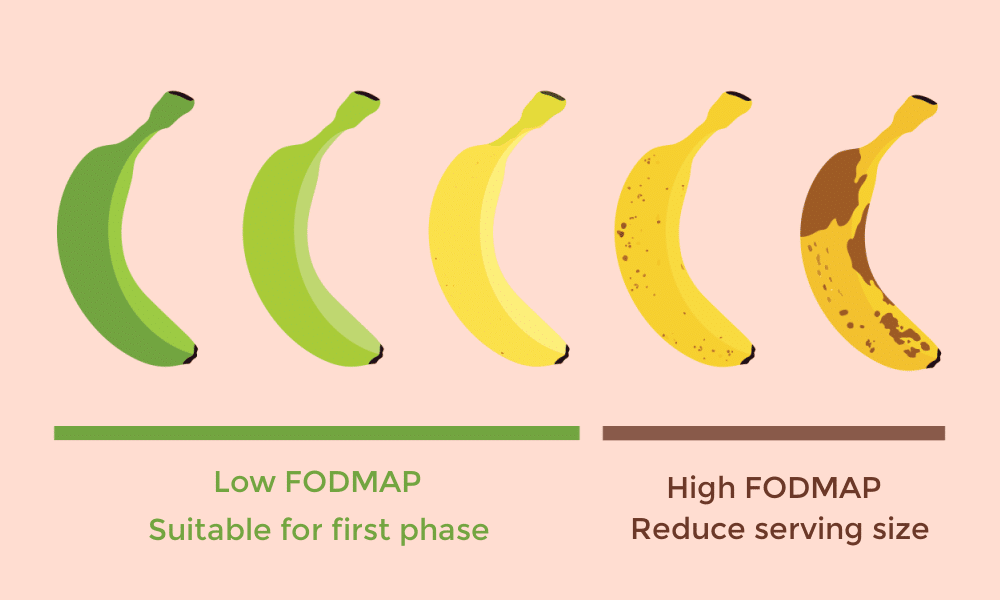 Green (unripe) common bananas are low in FODMAPs.

 

Firm yellow (just ripe) common bananas are also low FODMAP and you can enjoy one medium banana per serving (check Monash University FODMAP Diet App for more information). These bananas are yellow but don't have brown spots yet. As the bananas continue to ripen and develop brown spots, their FODMAP content increases.
Spotted (overripe) common bananas are higher in FODMAPs. If you're sensitive to fructans, it's best to avoid these or consume them in smaller quantities. Check the Monash University FODMAP Diet App for more info.
Tips To Slow Down the Ripening of Banana
As ripeness is a major factor when it comes to the FODMAP content of bananas, it's useful to know how to slow down the banana ripening process so you can store your bananas for longer. Try these tips at home:
Store bananas away from other fruits like tomatoes, apples, and avocados.
Hang the bananas to prevent bruising.
Separate the bananas and wrap the top of each banana in plastic wrap so the stem is covered.
Freeze the bananas before they become overripe. Make sure you peel them first, then cut them into chunks. This method is perfect for smoothies.
Tips For Enjoying Bananas on a Low FODMAP Diet
Here are some friendly tips for enjoying bananas on a low FODMAP diet:
If you're just beginning your low FODMAP journey, consider choosing yellow bananas without brown spots or bananas that are slightly green to minimize your FODMAP intake.
Monitor portion size – for just ripe or green bananas keep your serving to 1 medium common banana. For ripe bananas, consider consuming smaller portions to reduce your FODMAP intake while still enjoying their natural sweetness.
Experiment and listen to your body: Every individual's tolerance to FODMAPs can vary. Pay attention to how your body reacts to bananas and adjust your intake accordingly.
Pair with low FODMAP foods: Enjoy your bananas with other low FODMAP snacks or ingredients, like lactose-free yogurt, blueberries, or peanut butter, to create delicious and tummy-friendly combinations.
Try one of our low FODMAP banana recipes: banana bread, banana and chocolate chip muffins, mini banana pancakes, banana butterscotch pudding, or birthday banana cake.
Final Thoughts
In conclusion, bananas can absolutely be part of a low FODMAP diet, and they offer a tasty and nutritious snack option. Just be mindful of the ripeness and portion size to keep your tummy happy. Remember, it's all about finding the right balance that works for you.
Image credit: Viktorija Reuta/Shutterstock.com; Navenzeless/Shutterstock.com;