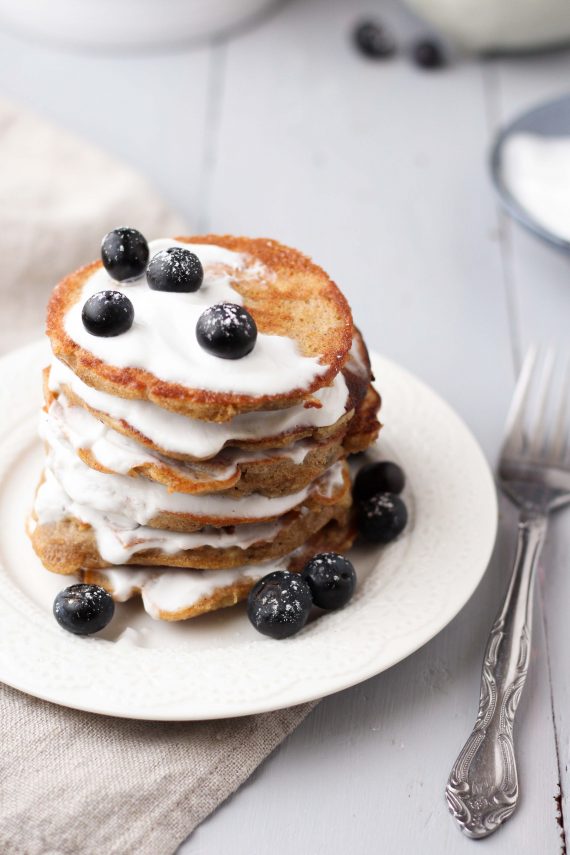 Ingredients
Imperial Units

|

Metric Units
Servings:
(4 mini pancakes per serve)
Mini Banana Pancakes
160
banana (firm - no brown spots)*
2
gluten free all purpose flour*
0.125
salt (a good pinch)
3
dairy free spread (olive oil spread or butter) (for cooking)*
Toppings
10
blueberries (fresh or frozen)
6
lactose free yoghurt (or coconut yoghurt)*
1
confectioners sugar (powdered sugar)*
* See the FODMAP Tips, Dairy Tips and Gluten Free Tips for the ingredient notes above the method.
Equipment
large frypan
large mixing bowl
Low FODMAP Mini Banana Pancakes
These low FODMAP mini banana pancakes make a deliciously filling breakfast! They aren't as light and fluffy as regular pancakes, instead I would describe them like mini slices of banana bread in pancake form. They are tasty by themselves, or try topping them with coconut yoghurt and blueberries.
Gluten Free Option
Low FODMAP
Dairy Free
Nut Free
Soy Free
MAKE GLUTEN FREE
SHOW NUTRITION
Nutrition per serve
NON-DAIRY FREE

|

DAIRY FREE

|

GLUTEN FREE
---
Love this recipe? Get your weekly meal plans.
LEARN MORE
Method

|

FODMAP tips

|

Gluten Free tips

|

Dairy Free tips
---
Method
In a large bowl peel and mash the bananas until smooth, then whisk through the eggs. Add the baking powder, salt, gluten free flour, cinnamon, nutmeg and brown sugar. Mix until well combined.
Heat a large frypan over medium heat. Add a tablespoon of dairy free spread or butter. Scoop the batter into the pan. Each pancake needs about 3 tablespoons of batter. Allow the batter to cook, until you see small bubbles forming on top. Peak underneath the pancake and if it's golden brown gently flip it. Cook each pancake until both sides are golden brown. Add more dairy free spread as needed. If at any stage your pan becomes too hot turn it down to medium low.
Serve the pancakes with layers of low FODMAP yoghurt and blueberries. Dust with powdered sugar/icing sugar if desired.
Buying Tips
Check the coconut yoghurt/lactose free yoghurt for inulin (chicory root) and high FODMAP sweeteners like honey, agave syrup, fructose, fruit juice, or high fructose corn syrup. Also check that your yoghurt does not contain high FODMAP fruit.
When choosing bananas make sure you select common bananas and not sugar bananas. Then use the bananas when they are firm (green to just yellow) and then become high FODMAP when they are ripe (have brown spots).
Buy a gluten free plain flour or gluten free all purpose flour. The one I used contains these ingredients: maize starch, rice flour, tapioca starch, rice bran, & guar gum. Avoid flour blends that contain soy flour, chickpea/besan/gram/garbanzo bean flour, lentil flour, coconut flour, amaranth flour, or lupin flour.
Gluten Free Tips
Most icing sugars (powdered sugar) are gluten free, however some do contain wheat starch. This means you should check that your icing/powdered sugar is gluten free.
Herbs and spices are naturally gluten free, however they can become contaminated during manufacturing processes. If you are highly sensitive to gluten, check the dried herbs and spices do not contain a warning for trace gluten. If you are just on the low FODMAP diet you do not need to worry about this.
Dairy Free Tips
Use a dairy free spread or olive oil spread instead of butter. Butter is considered low FODMAP.