Struggling to go to the toilet on a daily basis is draining and can be downright painful. Constipation is a serious issue for many people living with Irritable Bowel Syndrome (IBS), however, there are plenty of strategies to help ease your toileting troubles. I had the pleasure of talking to Patsy Catsos (USA based registered dietitian) about constipation, the low FODMAP diet and other strategies to relieve symptoms. Patsy Catsos specialises in helping patients who suffer from IBS or other gastrointestinal issues. She is also an expert in the low FODMAP diet and you can find her low FODMAP resources here.
Please note that with any medical condition it is important to seek advice from your team of medical professionals. A registered dietitian and doctor will be able to create a tailored management plan to help relieve your constipation. The information provided in this article does not replace medical advice.
Is the low FODMAP diet as effective for constipation related IBS, as it is for diarrhoea related IBS?
As a dietitian, Patsy has helped thousands of people with IBS by teaching them how to manage their symptoms using the low FODMAP diet. According to her experience, Patsy believes that "the low FODMAP diet is quite helpful for both extremes. However, the response to diet sometimes is not as complete in the patients who have constipation. They typically experience a lot less bloating, distension, and abdominal discomfort even if their bowel pattern isn't 100%". This means that patients who suffer from constipation often need the low FODMAP diet and some other management strategies to gain good symptom relief. After starting the low FODMAP diet, it is important that you wait before implementing new constipation management strategies. If you try multiple strategies together, it will be hard to tell if it is the diet or something else that is working.
12 Tips To Help Manage Constipation:
Improve overall diet. Before starting on a low FODMAP diet, try to resolve your constipation through improving your overall diet. This includes checking that you are drinking enough water, eating regular meals, and consuming enough fibre, or have tried increasing your fibre intake. Sometimes these strategies are enough to resolve the constipation without implementing a restrictive diet. If you have completed these steps, then talk to a dietitian about the low FODMAP diet.
Check medications and supplements for side effects. Some medications and supplements (like painkillers or calcium and iron supplements) can be constipating. Your dietitian and doctor can help you check your medications and supplements, and then create a management plan to reduce their side effects.
Increase fibre intake. If your low FODMAP diet isn't providing complete relief, try consuming more good low FODMAP sources of fiber. Patsy Catsos has a 'food first' policy, where she believes in using whole foods over fibre supplements if possible. She recommends that patients increase their consumption of high fibre low FODMAP foods like canned chickpeas and lentils, as well as chia seeds. Chia seeds are one of Patsy's favourite high fibre foods as their gel-forming capacity makes them effective at forming stools that are easier to pass. Just remember that the low FODMAP serve for chia seeds is two tablespoons (1). When introducing high fibre foods (like chia seeds) into your diet, remember to start with a small portion and slowly increase your serve to give your body time to adjust. If high fibre whole foods are not effective, then Patsy suggests looking into a psyllium husk fibre supplement.

Regular exercise.

Light daily exercise, like a gentle walk, can help reduce constipation. Exercise helps stimulate the natural contraction of intestinal muscles, which can help efficiently move stools through your digestive system (2).
Consume prebiotic foods and consider a probiotic supplement. Up to 60% of the bulk of our stools consists of biomass from bacteria (3). Patsy suggests that gut bacteria can influence bowel movements and that prebiotics and probiotics can help. Prebiotics help feed our healthy gut bacteria, which means you need to consume moderately-low FODMAP prebiotic foods (like canned lentils, broccoli, almonds, and unripe bananas), resistant starch and high fibre foods as tolerated. The low FODMAP diet restricts the intake of many high FODMAP prebiotic foods, which is why the strict low FODMAP diet is not a lifetime diet (Varney, 2016).Probiotics are defined as "live microorganisms that, when administered in adequate amounts, confer a health benefit on the host" (5). Patsy suggests probiotics are helpful because they introduce beneficial bacteria into our digestive systems, which can add useful bulk and consistency to stools, among their other many benefits. When choosing a probiotic supplement, you want to select a brand that is evidence based and proven to be useful in reducing IBS symptoms. VSL#3 and Align are two such brands, according to the consensus opinion at the 2015 Yale-Harvard Workshop on Probiotic Recommendations (6).
Consider a magnesium supplement.  According to Patsy, many people lack magnesium in their diets, especially if they are limiting their nut and seed consumption. Magnesium is known to have a laxative effect and can help with constipation (9). Consult your doctor or dietitian for help choosing an appropriate form and dose of magnesium.
Learn about toileting posture. Proper toileting posture can help relieve and prevent constipation. When you sit on the toilet with your feet flat on the ground your colon is slightly curved, which makes passing a stool harder. Changing the position of your legs can help straighten the colon making it easier to pass a stool quickly and completely. Here are some toileting tips from the Bowel & Bladder Foundation:

Lean forward when you are sitting on the toilet and rest your arms on your thighs.
Make sure your knees are bent higher than your hips. You can do this by placing a footstool, telephone books or something sturdy underneath your feet. Make sure your feet are resting on something sturdy.
Breath deeply, relax and push gently.

Get an evaluation by a pelvic floor specialist. Not all causes of constipation are dietary related. Sometimes people have dyssynergic defecation, which is where the muscles and nerves in the pelvic floor don't work together effectively, making it hard to have a proper bowel movement (8). A physical therapist can evaluate you for dyssynergic defecation. A treatment plan can then be developed using biofeedback and exercises to help teach you how to have an effective bowel movement (8).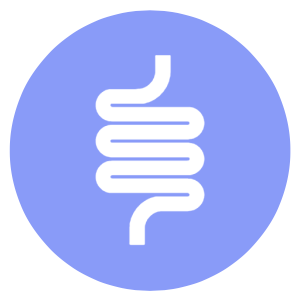 Are you ready to take control of your gut symptoms?
No thanks, my gut is perfect.
Make time for your toileting routine. Not taking enough time for your toileting routine can make constipation worse. According to Patsy, "People tend to be stressed and rushed to get out the door in the morning," which is when many people would normally have a movement. If it is important for you to be in a comfortable place to have a good bowel movement, allow some extra time for your toileting routine.
Don't under-estimate the effect stress has on your constipation. Stress can interfere with our bowel movements. Consider what happens to your bowel movements when you travel. Patsy suggests that our bodies might interpret the different travel routine as a form of stress, and that sometimes you just have more trouble with constipation when you are out of your element. Taking time to relax and de-stress on a daily basis could help reduce your constipation issues. Also make an effort to get your usual amount of fluids, dietary fibre and exercise when travelling.
Consider medical hypnotherapy. Medical hypnotherapy has been proven to be effective at treating IBS symptoms in some patients (10). Hypnotherapy sessions for IBS involve progressive relaxation, and then suggestions of soothing imagery and sensations focused on the individual's symptoms (10). Patsy believes that her constipation-predominant patients can benefit a lot from hypnotherapy when combined with other management treatments.
Talk to your doctor about medication. If dietary and lifestyle changes do not effectively relieve your constipation issues, then you should talk to your doctor about a stool softener or laxative to help you stay regular.
Final Thoughts
The low FODMAP diet can be effective at reducing IBS and constipation related symptoms, however, you may find you need some additional management strategies for long term constipation relief. A knowledgeable dietitian can help you create a tailored constipation management plan that suits your body.