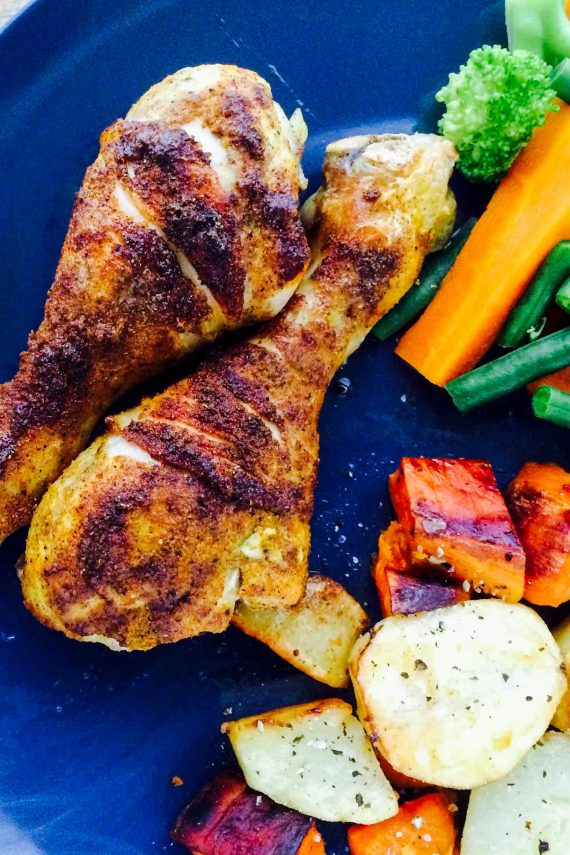 Ingredients
Imperial Units

|

Metric Units
Servings:
Roast Veggies
240
Japanese pumpkin (Kabocha squash or Buttercup squash) OR parsnip
1
neutral oil (rice bran, canola, sunflower)
Spicy Chicken Drumsticks
0.5
yellow mustard powder*
0.5
black pepper (ground)*
Veggies
180
broccoli (cut into florets)*
240
carrot (peeled & cut into sticks)
120
green beans (cut into bite sized pieces)
* See the FODMAP Tips, Dairy Tips and Gluten Free Tips for the ingredient notes above the method.
Equipment
medium saucepan
roasting tray
Spicy Chicken Drumsticks with Roast Veggies
These low FODMAP spicy chicken drumsticks have great flavour without tasting too hot! The dish is also great with seasonal low FODMAP veggies if you want to mix it up.
FODMAP notes: Broccoli is considered low FODMAP at  ½ cup to 1 cup serves depending on which part of the broccoli you are eating (Monash, 2017). The amount of broccoli in this recipe is low FODMAP per serve.
Gluten Free Option
Low FODMAP
Dairy Free
Egg Free
Soy Free
MAKE GLUTEN FREE
SHOW NUTRITION
Nutrition per serve
NON-DAIRY FREE

|

DAIRY FREE

|

GLUTEN FREE
---
Love this recipe? Get your weekly meal plans.
FREE TRIAL
Method

|

FODMAP tips

|

Gluten Free tips

|

Dairy Free tips
---
Method
Preheat the oven to 180ºC  (350ºF) on bake function. Peel and cut the potato and pumpkin (or parsnip) into pieces before placing in a roasting dish. Drizzle in neutral oil and toss so the veggies are well coated. Season with salt and pepper. Then prep the chicken drumsticks.
In a small bowl mix together the maple syrup and garlic infused olive oil. In another bowl mix together the dried spices (ground coriander, turmeric, yellow mustard powder, paprika, cumin, ground cloves, and black pepper). Oil the bottom of a roasting dish and place the chicken drumsticks in it. Drizzle the maple syrup and olive oil over the chicken and rub it in. Then sprinkle the top of the chicken drumsticks with the spice mixture until they are well coated. You may have some spice mixture left over and that's ok.
Then bake the chicken drumsticks and roast veggies and for about 45 minutes, until the veggies are crispy and the chicken is cooked through. Toss the veggies once or twice while cooking.
Prep the carrots, broccoli and green beans by cutting them into small pieces. Ten minutes before serving dinner put a medium sized pot of water on to boil. Then blanche the veggies for 2 to 3 minutes until they are brightly coloured and tender.
Serve the chicken drumsticks with the roast potatoes and veggies.
Buying Tips
Garlic infused oil is found in the oil section of your local supermarket. It should be clear with no floating bits of garlic. You can also make garlic infused oil at home by frying garlic cloves in cooking oil, until they are golden and fragrant (then remove the garlic before you continue cooking your meal). This is a low FODMAP way to capture the garlic flavour as the fructans can't leach into the oil.
Make sure you use pure maple syrup (low FODMAP) not maple flavoured syrup (potentially high FODMAP).
Broccoli is low FODMAP in 1 cup serves according to Monash University. Just avoid larger serves as these can become high FODMAP.
Gluten Free Tips
Herbs and spices are naturally gluten free, however they can become contaminated during manufacturing processes. If you are highly sensitive to gluten, check the dried herbs and spices do not contain a warning for trace gluten. If you are just on the low FODMAP diet you do not need to worry about this.
Dairy Free Tips