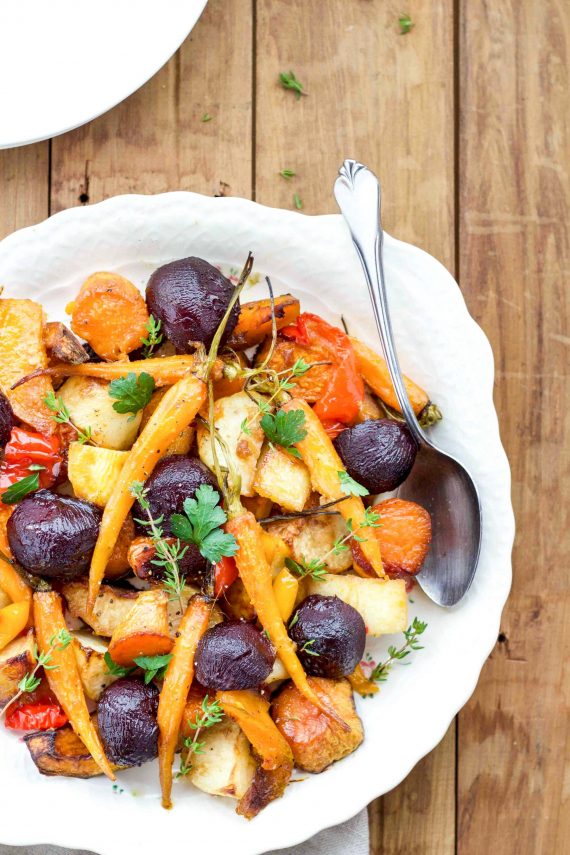 Ingredients
Imperial Units

|

Metric Units
Servings:
Roast Vegetables
340
carrot (we used 1 bunch of baby carrots)
350
Japanese pumpkin (Kabocha squash or Buttercup squash) OR parsnip
330
canned beetroot (weigh after draining)*
Ginger Maple Glaze
* See the FODMAP Tips, Dairy Tips and Gluten Free Tips for the ingredient notes above the method.
Equipment
Gorgeous Low FODMAP Roast Vegetables
There is nothing better than sweet sticky melt in your mouth roast vegetables. My mum's secret weapon in the kitchen was her ginger maple glaze for roast veggies and she has been kind enough to share it with us today. You will never have to endure boring low FODMAP vegetables again!
FODMAP notes: According to Monash University fresh beetroot is high FODMAP in 41g serves. The good news is canned beetroot is low FODMAP and can be enjoyed in 60g serves. Small serves of sweet potato are low FODMAP. Make sure you divide the recipe into the recommended amount of serves to stay within low FODMAP limits.
Gluten Free Option
Low FODMAP
Dairy Free
Egg Free
Nut Free
Soy Free
MAKE GLUTEN FREE
SHOW NUTRITION
Nutrition per serve
NON-DAIRY FREE

|

DAIRY FREE

|

GLUTEN FREE
---
Love this recipe? Get your weekly meal plans.
LEARN MORE
Method

|

FODMAP tips

|

Gluten Free tips

|

Dairy Free tips
---
Method
Preheat the oven to 190ºC (375ºF) bake function. Line a roasting tray with baking paper.
Scrub the carrots (halve if they are large), deseed and slice the red bell peppers into chunks, remove the skin and chop the pumpkin into chunks, peel and cut the sweet potato and potato into chunks. Drain the canned beetroot, weigh and then cut in half.
Place the vegetables in the roasting tray in a single layer and toss with a small amount of olive oil. Season with salt and pepper. Then place in the oven.
Make the marinade by mixing together the olive oil, crushed ginger and maple syrup. Baste the roast veggies with the ginger glaze two to three times while cooking (turn the veggie halfway through cooking). Remove the veggies from the oven after about 45 to 50 minutes, when they are golden brown, crispy and delicious.
Serve hot and garnish with fresh herbs if desired.
Buying Tips
Check the crushed ginger does not contain garlic. Crushed ginger is grated ginger that has been preserved in a jar. You can swap it for fresh ginger if you prefer.
Make sure you use pure maple syrup (low FODMAP) not maple flavoured syrup (potentially high FODMAP).
We recommend using canned beetroot in recipes as it is lower in FODMAPs. Canned beetroot is low FODMAP in 60g serves, whereas fresh beetroot is higher in FODMAPs and the serving size must be limited to 20g.
Sweet potato is low FODMAP in 70g serves and becomes high FODMAP in larger serves. Our recipes only use a low FODMAP portion of sweet potato. However if you are concerned you can normally swap the sweet potato for regular potato, carrot or parsnip.
Gluten Free Tips
Dairy Free Tips