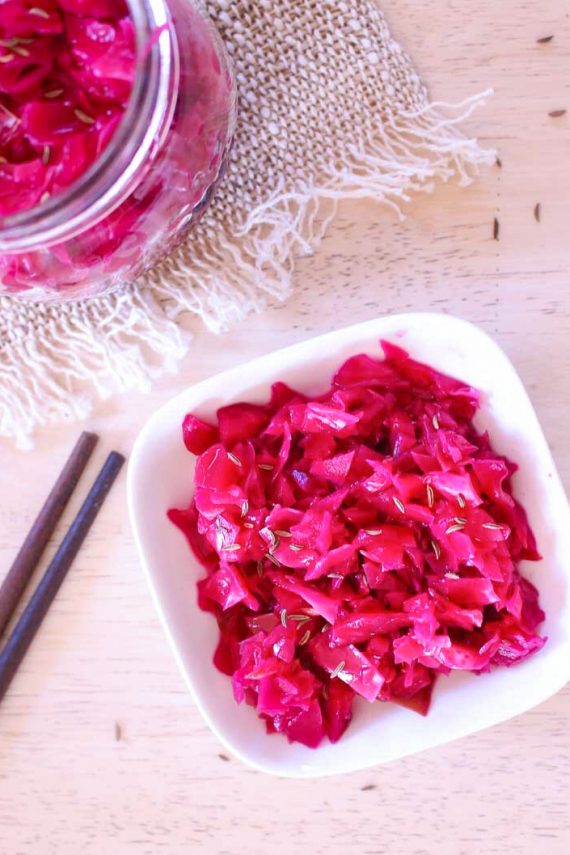 Ingredients
Imperial Units

|

Metric Units
Servings:
(2 tbsp serves, recipe makes about a 1 Litre Jar)
Red Cabbage Sauerkraut
1.5
caraway seeds (optional)*
* See the FODMAP Tips, Dairy Tips and Gluten Free Tips for the ingredient notes above the method.
Equipment
1 litre mason jar (preserving jar)
Low FODMAP Red Cabbage Sauerkraut
Red cabbage sauerkraut is fantastic for our gut as it is full of probiotics and soluble fibre, and is high in vitamins C & K. Traditional white cabbage sauerkraut is high FODMAP for mannitol, but a 1/2 cup serve of red cabbage sauerkraut is low FODMAP. Just make sure you test your tolerance levels to a small 1 tablespoon serve to start with. Enjoy!
Gluten Free Option
Low FODMAP
Dairy Free
Egg Free
Nut Free
Soy Free
MAKE GLUTEN FREE
SHOW NUTRITION
Nutrition per serve
NON-DAIRY FREE

|

DAIRY FREE

|

GLUTEN FREE
---
Love this recipe? Get your weekly meal plans.
LEARN MORE
Method

|

FODMAP tips

|

Gluten Free tips

|

Dairy Free tips
---
Method
Remove the outer leaves of the red cabbage. Remove the dense core of the cabbage and chop the cabbage into 1 cm (0.4 inch) strips. Then roughly dice.
In a large bowl toss the cabbage with the salt and allow it to sweat for 20 to 30 minutes. Mix through the caraway seeds.
Transfer the cabbage and any liquid into a clean 1 litre jar. Press down really hard with your fists, or use an implement, and pack each layer as tightly as you can. Hopefully you will notice some liquid starting to pool at the bottom of the jar. Leave for 30 minutes and then compress the cabbage. Do this twice. Hopefully enough liquid will leach out of the cabbage to at least half cover it. Then top the jar up with filtered water (no chlorine) until the cabbage is covered by at least 2.5cm (1 inch) of water.
Cover with a fermentation lid. You can't use a normal lid as the pressure in the jar may increase and cause your jar to explode! If you don't have a fermenting lid, 3/4 fill a snaplock bag with water (check it doesn't leak) and place on top of the jar. It should settle into the jar and seal it. Cover your jar with a tea towel and place somewhere dark that has an even temperature (like in a cupboard). If you get really stuck, you can cover the lid of your jar with clean cloth (make sure you tie it securely), which will keep the dust and bugs out.
Allow it to ferment for 10 days to 3 weeks. If you are in a colder climate or it's winter then you might need to let it ferment for a bit longer.
Taste the sauerkraut every few days. Once it gets a nice tangy flavor, place it in the refrigerator.  It should keep in the refrigerator for up to two months.
Test your tolerance to a 1 tablespoon serve then work your way up to a larger serving size. The largest serve you can enjoy on the low FODMAP diet is 1/2 a cup. Enjoy!
Buying Tips
When buying cabbage make sure you choose common cabbage or red/purple cabbage  (these are low FODMAP) not savoy cabbage which can be high FODMAP.
Gluten Free Tips
Herbs and spices are naturally gluten free, however they can become contaminated during manufacturing processes. If you are highly sensitive to gluten, check the dried herbs and spices do not contain a warning for trace gluten. If you are just on the low FODMAP diet you do not need to worry about this.
Dairy Free Tips