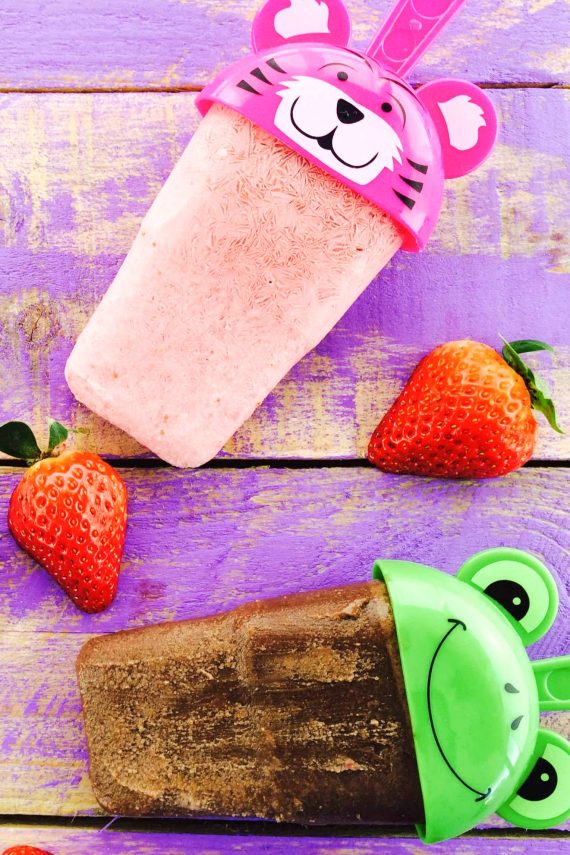 Ingredients
Imperial Units

|

Metric Units
Servings:
(up to 2 popsicles per adult serve)
Strawberry Popsicles
140
strawberries (fresh or frozen)
62.5
lactose free yoghurt (or coconut yoghurt)*
2
pure maple syrup (optional)*
Chocolate Banana Popsicles
70
banana (firm - no brown spots) (fresh or frozen)*
Strawberry & Chocolate Popsicles
* See the FODMAP Tips, Dairy Tips and Gluten Free Tips for the ingredient notes above the method.
Equipment
Low FODMAP Strawberry & Chocolate Banana Popsicle
I love popsicles because they remind me of my childhood. My mum used to make batches of popsicles and leave them in the freezer as an afternoon treat! These low FODMAP strawberry and chocolate banana popsicles are easy to make and super yummy.  To make these popsicles you will need 6 (85ml) popsicle holders.
FODMAP Note: Common bananas when they are firm (unripe - green or just yellow) are low FODMAP in 100g serves, however they become high FODMAP for fructans when ripe (yellow with brown spots).
Gluten Free Option
Low FODMAP
Dairy Free
Egg Free
Nut Free
Soy Free
MAKE GLUTEN FREE
SHOW NUTRITION
Nutrition per serve
NON-DAIRY FREE

|

DAIRY FREE

|

GLUTEN FREE
---
Love this recipe? Get your weekly meal plans.
FREE TRIAL
Method

|

FODMAP tips

|

Gluten Free tips

|

Dairy Free tips
---
Method
To make the strawberry popsicles, roughly chop the strawberries. Place the low FODMAP milk, coconut yoghurt (or lactose free yoghurt), strawberries, vanilla essence and maple syrup (if using) into the blender. Blend until smooth. Pour into 3 popsicle holders.
To make the chocolate banana popsicles, thinly slice the banana. Place the low FODMAP milk, cocoa powder, vanilla essence, and maple syrup into the blender. Blend until smooth, before pouring into 3 popsicle holders.
Place the lids/sticks into the popsicle holders. Freeze upright in the freezer for about 4 hours until firm. If you can't get the popsicles out of the moulds, submerge the bottoms of the moulds into hot water for a few seconds until the popsicles loosen.
If you are feeding these to small children, who are on the low FODMAP diet, limit their serving size to 1 popsicle at a time. Adults can enjoy 2 popsicles at a time!
Buying Tips
Make sure you use pure maple syrup (low FODMAP) not maple flavoured syrup (potentially high FODMAP).
Check the coconut yoghurt/lactose free yoghurt for inulin (chicory root) and high FODMAP sweeteners like honey, agave syrup, fructose, fruit juice, or high fructose corn syrup. Also check that your yoghurt does not contain high FODMAP fruit.
When choosing bananas make sure you select common bananas and not sugar bananas. Then use the bananas when they are firm (green to just yellow) and then become high FODMAP when they are ripe (have brown spots).
Gluten Free Tips
Dairy Free Tips