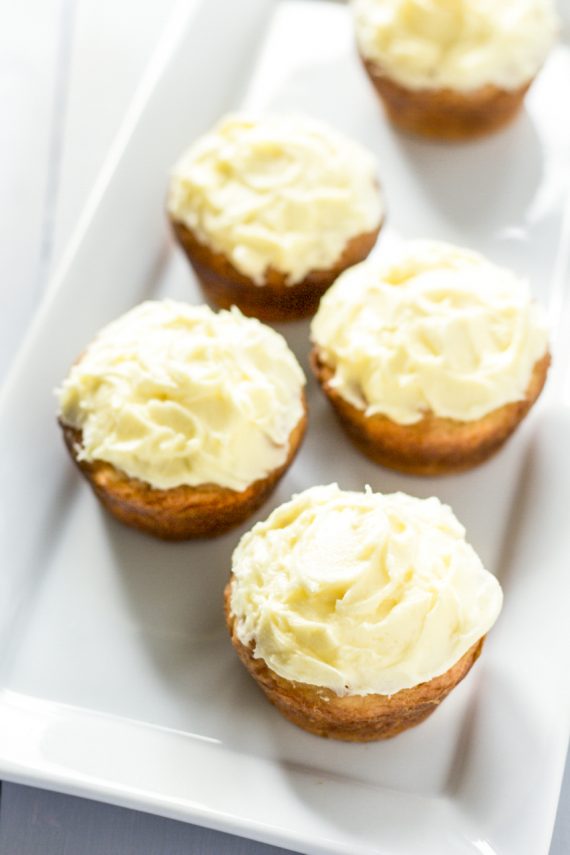 Ingredients
Imperial Units

|

Metric Units
SERVES 12 (1 per serve)
Lemon Coconut Cupcakes
210
gluten free all purpose flour*
0.5
guar gum (or xanthan gum)*
115
dairy free spread (olive oil spread or butter) (at room temperature)*
Lemon Butter Icing
100
dairy free spread (olive oil spread or butter)*
195
confectioners sugar (powdered sugar)*
* See the FODMAP Tips, Dairy Tips and Gluten Free Tips for the ingredient notes above the method.
Equipment
large mixing bowl
standard muffin tray (12 portion)
bamboo skewer
Low FODMAP Lemon Coconut Cupcakes
We are celebrating A Little Bit Yummy reaching 12,000 followers on Facebook with cupcakes! Because really who doesn't love cupcakes? These are one of my best creations yet! So get your bake on and whip up a batch of low FODMAP lemon coconut cupcakes today.
Note on serving size: This cupcakes are completely low FODMAP, however they do contain quite a lot of sugar. We recommend you limit yourself to 1 cupcake per serve (we know it's hard to do!) so you don't overload your system. Enjoy your treat!
Gluten Free Option
Low FODMAP
Dairy Free
Nut Free
Soy Free
MAKE GLUTEN FREE
SHOW NUTRITION
Nutrition per serve
NON-DAIRY FREE

|

DAIRY FREE

|

GLUTEN FREE
---
Love this recipe? Get your weekly meal plans.
FREE TRIAL
Method

|

FODMAP tips

|

Gluten Free tips

|

Dairy Free tips
---
Method
Preheat the oven to 180ºC (355ºF) bake function. Grease a standard 12-muffin tin and set aside.
Combine the dry ingredients (flour, guar gum/xanthan gum, baking powder, salt and lemon zest) in a small bowl. Set aside.
In a large bowl mix together the dairy free spread (olive oil spread or butter) and sugar until well combined. Then whisk through the eggs and vanilla, once smooth add the lemon juice and blend. Next alternate adding the dry ingredients and the coconut yoghurt into the wet mixture, beginning and ending with the dry ingredients, mix until just combined.
Spoon the mixture evenly into the muffin cups, until each one is 2/3 full. Place in the centre of the oven and bake for about 25 minutes, until the tops are golden and a skewer inserted into the middle comes out clean. Allow to cool.
These cupcakes are lovely as they are or you can ice them. When you make the icing, make sure the dairy free spread (olive oil spread or butter) is at room temperature, then combine with the confectioners sugar (powdered sugar) and lemon juice until smooth. Ice the cupcakes using a knife.
Enjoy one cupcake per serve. These cupcakes are best the day they are made, otherwise keep in an airtight container somewhere cool (like in the pantry not in the fridge) and for up to 3 days. If you are eating the cupcakes the next day, we recommend heating them in the microwave for 5 to 10 seconds (this will refresh them and make them light and fluffy again, although the icing will go a little bit melty).
Buying Tips
Guar gum or xanthan gum help gluten free baking to stick together and rise. They are often found in the gluten free section of the supermarket or in a health food store.
Buy a gluten free plain flour or gluten free all purpose flour. The one I used contains these ingredients: maize starch, rice flour, tapioca starch, rice bran, & guar gum. Avoid flour blends that contain soy flour, chickpea/besan/gram/garbanzo bean flour, lentil flour, coconut flour, amaranth flour, or lupin flour.
Make your lemon juice and lemon zest from fresh lemon.
Check the coconut yoghurt  for inulin (chicory root) and high FODMAP sweeteners like honey, agave syrup, fructose, fructose glucose syrup, fruit juice, or high fructose corn syrup. Also check that your yoghurt does not contain high FODMAP fruit.
Gluten Free Tips
Most icing sugars (powdered sugar) are gluten free, however some do contain wheat starch. This means you should check that your icing/powdered sugar is gluten free.
Dairy Free Tips
Use a dairy free spread or olive oil spread instead of butter. Butter is considered low FODMAP.