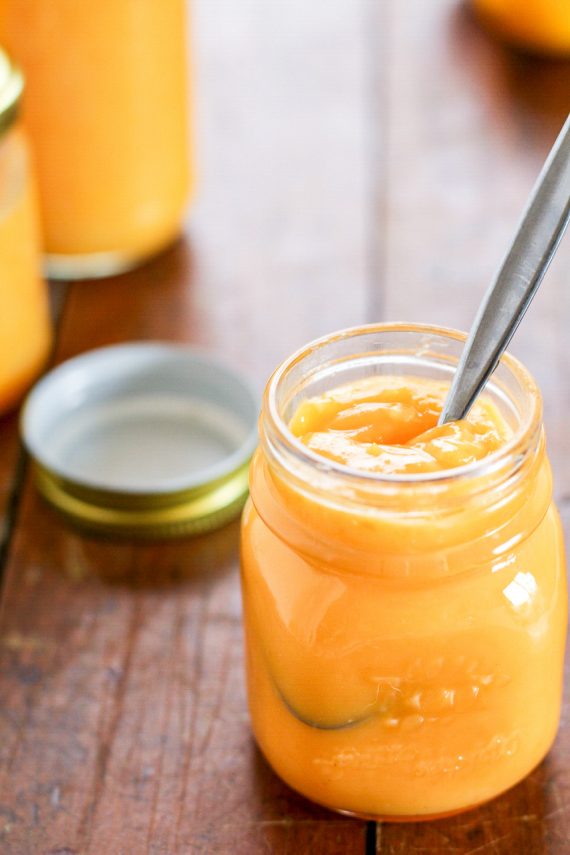 Ingredients
Imperial Units

|

Metric Units
SERVES 23 (tbsp per serve, recipe makes 1 & 1/2 cups)
Lemon Curd
4
large egg (2 whole eggs, 2 egg yolks)
80
dairy free spread (olive oil spread or butter)*
83.3
lemon juice (freshly squeezed)*
* See the FODMAP Tips, Dairy Tips and Gluten Free Tips for the ingredient notes above the method.
Equipment
medium saucepan
microplane (for zesting)
Low FODMAP Lemon Curd
Sweet, smooth and just a little bit tart – what is not to love about this low FODMAP lemon curd! I completely understand why my mum loves lemon curd so much and how a whole jar can disappear in an afternoon.  This lemon curd is perfect on gluten free toast, as a filling for a dessert pie, or served on top of low FODMAP ice cream. I normally get about 16 serves (about 1 & 1/2 tablespoons per serve) from this recipe if I am having it on toast or low FODMAP icecream.

Gluten Free Option
Low FODMAP
Dairy Free
Soy Free
MAKE GLUTEN FREE
SHOW NUTRITION
Nutrition per serve
NON-DAIRY FREE

|

DAIRY FREE

|

GLUTEN FREE
---
Love this recipe? Get your weekly meal plans.
FREE TRIAL
Method

|

FODMAP tips

|

Gluten Free tips

|

Dairy Free tips
---
Method
Zest two of the lemons. I used a microplane to make sure the zest is nice and fine. You want to only zest the top yellow layer and not the bitter white layer underneath. Then juice the three lemons.
Place the whole eggs, egg yolks, and white sugar in a small saucepan. Whisk until well combined and smooth. Place over low heat.
Add the dairy free spread (olive oil spread or butter), lemon juice and lemon zest to the saucepan. Cook on low until the dairy free spread has completely melted, stirring continuously.
Turn the heat up to medium. Continue to cook and stir until the mixture thickens (this should take 5 to 7 minutes). Once you start to see tiny little bubbles rising to the surface you will know it's done.
If the lemon zest hasn't disappeared into the curd then you will need to sieve it immediately. Then place the lemon curd in a sterilised jar. Place in the fridge. The curd will continue to thicken as it cools.
The curd will last up to two weeks in the fridge. The lemon curd is delicious on gluten free toast, as a filling for a dessert pie, or used as topping on low FODMAP ice cream.
Buying Tips
Make your lemon juice and lemon zest from fresh lemon.
Gluten Free Tips
Dairy Free Tips
Use a dairy free spread or olive oil spread instead of butter. Butter is considered low FODMAP.