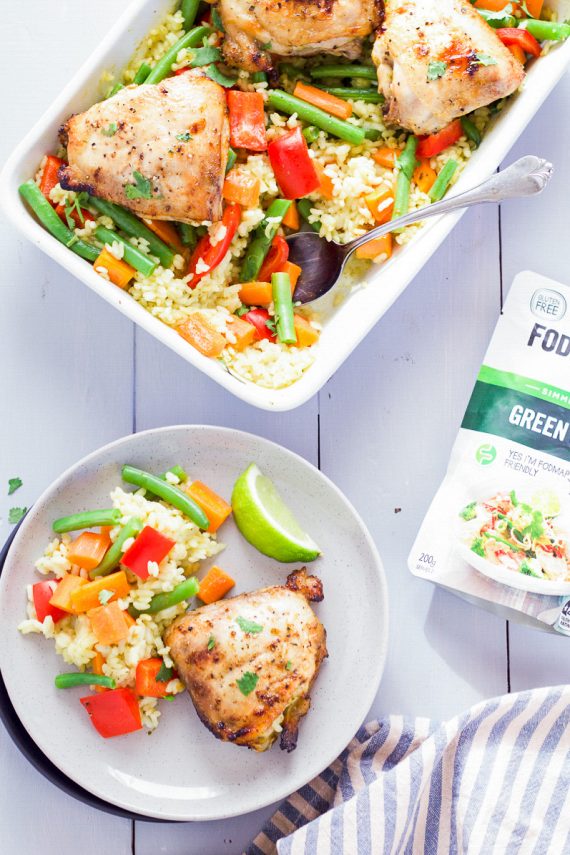 Ingredients
Imperial Units

|

Metric Units
Servings:
Crispy Chicken
10
green onions/scallions (green tips only, finely chopped)*
1
large limes (zest & juice)
1
neutral oil (rice bran, canola, sunflower)
4
chicken thigh (bone in with skin)
Green Curry Casserole
212
medium grain white rice (risotto rice)*
240
carrot (peeled & diced)
200
FODMAPPED Green Curry Simmer Sauce
250
FODMAPPED Slow Cooked Chicken Stock
180
green beans (chopped into bite sized pieces)
1
red bell peppers (deseeded & cut into chunks)
To Serve:
* See the FODMAP Tips, Dairy Tips and Gluten Free Tips for the ingredient notes above the method.
Equipment
roasting tray
blender/stick blender
large deep oven dish
wire cooling rack
Low FODMAP Crispy Chicken with Green Curry Casserole
Green curry casserole might sound a bit odd but it is delicious and the perfect way to enjoy FODMAPPED Green Curry simmer sauce this winter. It creates beautifully fragrant rice that goes really well with fresh low FODMAP vegetables. I love pairing the casserole with crispy baked chicken thighs to create a tasty dinner. Try it out today!
This post is proudly sponsored by FODMAPPED For You.
Gluten Free Option
Low FODMAP
Dairy Free
Egg Free
Nut Free
Soy Free
MAKE GLUTEN FREE
SHOW NUTRITION
Nutrition per serve
NON-DAIRY FREE

|

DAIRY FREE

|

GLUTEN FREE
---
Love this recipe? Get your weekly meal plans.
FREE TRIAL
Method

|

FODMAP tips

|

Gluten Free tips

|

Dairy Free tips
---
Method
Preheat the oven to 200ºC (390ºF) fan bake. Make the marinade by blending together the green tips of the green onions/scallions , lime zest and juice, sugar, garlic infused oil and the neutral oil. Pat the chicken thighs dry using a paper towel and place in a large bowl. Pour over the marinade and season generously with salt and pepper. Then rub the marinade into the chicken.
Line a roasting tray with tinfoil and place a cooling rack into the tray (don't worry if you don't have one - but you might find your chicken takes slightly longer to cook and you will need to line your tray with baking paper instead). Place the chicken on the rack skin down and top with any left over marinade. Place in the oven and cook for 20 minutes.
Cut the carrot into cubes, place in a small bowl, add a splash of water and cover. Pop into the microwave and precook for 2 minutes on high, until just soft. 
Grease a large baking dish, add the pre-cooked carrot, risotto rice, FODMAPPED green curry simmer sauce, chicken stock, and water. Stir well and cover tightly with tin foil. 
Flip the chicken after 20 minutes and cook for another 25 to 30 minutes until golden brown and cooked through. Place the green curry casserole into the oven and cook for 18 minutes.
Next chop the green beans and red bell peppers into bite sized pieces.
Check the risotto after 18 minutes, stir well (there should be a little bit of liquid left but not much). If most of the liquid has absorbed, mix through the green beans and red bell peppers and cook for about another 8 minutes.
Serve the crispy chicken with the green curry casserole. Sprinkle with fresh cilantro and a squeeze of lime juice. Enjoy!
Buying Tips
Garlic infused oil is found in the oil section of your local supermarket. It should be clear with no floating bits of garlic. You can also make garlic infused oil at home by frying garlic cloves in cooking oil, until they are golden and fragrant (then remove the garlic before you continue cooking your meal). This is a low FODMAP way to capture the garlic flavour as the fructans can't leach into the oil.
Risotto rice is a medium grain white rice like Arborio rice. This rice will go creamier than standard long grain white rice.
Buy a bunch of green onions/scallions with long green tips. You can use the green tips of the green onions/scallions (which are low FODMAP) and not the white stem when cooking.
Gluten Free Tips
Dairy Free Tips