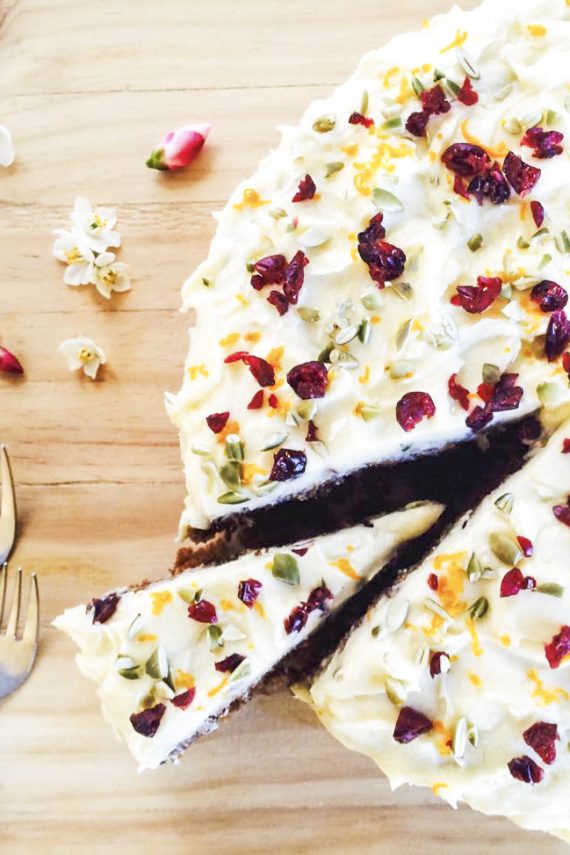 Ingredients
Imperial Units

|

Metric Units
SERVES 16
Carrot Cake
1
chia seeds (or 2 tsp of guar gum or xanthan gum)
250
neutral oil (rice bran, canola, sunflower)
280
gluten free all purpose flour*
1
freshly squeezed orange juice*
Orange Lemon Icing
100
dairy free spread (olive oil spread or butter)*
195
confectioners sugar (powdered sugar)*
* See the FODMAP Tips, Dairy Tips and Gluten Free Tips for the ingredient notes above the method.
Equipment
food processor
cake tin (25cm or 10 inch)
Low FODMAP Carrot Cake with Orange Lemon Icing
A dear friend of mine graduated from university and I made him this gorgeous carrot cake to celebrate! Instead of using cream cheese for the orange lemon icing I made a beautiful butter icing instead. As I am completely dairy intolerant I used a dairy free spread, but if you are just on the low FODMAP diet you can use normal butter. This cake does contain quite a bit of sugar so make sure you only have one serve at a time.

Gluten Free Option
Low FODMAP
Dairy Free
Nut Free
Soy Free
MAKE GLUTEN FREE
SHOW NUTRITION
Nutrition per serve
NON-DAIRY FREE

|

DAIRY FREE

|

GLUTEN FREE
---
Love this recipe? Get your weekly meal plans.
LEARN MORE
Method

|

FODMAP tips

|

Gluten Free tips

|

Dairy Free tips
---
Method
Preheat the oven to 160ºC (320ºF) on bake function. Grease and line a 25cm (10inch) round tin with baking paper.
Grate the carrots. If you have a food processor you can use that to grate them. Place to one side for later.
In a cup place 1 teaspoon of chia seeds and 2 teaspoons of boiling water, then mix until soft (this will help the cake hold together). In a large bowl or using a food processor, mix together the oil, sugar, chia seed mixture (if using guar gum or xanthan gum add it now), vanilla essence, and eggs until well combined and smooth.
Add the gluten free all purpose flour, grated carrot, salt, ground cinnamon, ginger and nutmeg to the large bowl. Mix to combine the wet and dry ingredients.
Zest the orange and place the zest to one side for the icing. In a cup dissolve 2 teaspoons of baking soda in 1 tablespoon of freshly squeezed orange juice. Then mix through the cake batter.
Spread the cake batter into the prepared tin. Place in the middle of oven and bake for 55 to 60 minutes, until the top is spongy. Check the cake is fully cooked by inserting a skewer into the center - if it comes out clean it is cooked. Remove from the oven once cooked and allow to cool.
While the cake cooks, toast the pumpkin seeds in a nonstick pan over medium low heat.Then roughly chop the toasted pumpkin seeds and dried cranberries.
Once the cake is cooled make the icing. Soften the dairy free spread (olive oil spread or butter) slightly but do NOT melt it! I do this by placing the dairy free spread in the microwave on high for about 10 seconds. In a large bowl mix together the confectioners sugar (powdered sugar), lemon juice, and dairy free spread until it is smooth and spreadable. If you have issues juicing the lemon pop it in the microwave for 15 seconds on high. If the icing is too thick then add more lemon juice.
Use a knife to spread the icing on the cake, then sprinkle with the orange zest, pumpkin seeds, and dried cranberries you prepared earlier. Cut the cake into at least 16 serves.
Buying Tips
Check that the dried cranberries are sweetened with sugar and not apple juice.
Buy a gluten free plain flour or gluten free all purpose flour. The one I used contains these ingredients: maize starch, rice flour, tapioca starch, rice bran, & guar gum. Avoid flour blends that contain soy flour, chickpea/besan/gram/garbanzo bean flour, lentil flour, coconut flour, amaranth flour, or lupin flour.
Make your lemon juice and lemon zest from fresh lemon.
 Make your orange juice and orange zest from fresh oranges.
Gluten Free Tips
Most icing sugars (powdered sugar) are gluten free, however some do contain wheat starch. This means you should check that your icing/powdered sugar is gluten free.
Herbs and spices are naturally gluten free, however they can become contaminated during manufacturing processes. If you are highly sensitive to gluten, check the dried herbs and spices do not contain a warning for trace gluten. If you are just on the low FODMAP diet you do not need to worry about this.
If you are highly sensitive to gluten, check all packaged products, processed meat (like bacon), nuts, seeds and dried fruit do not contain a warning for trace gluten. If you are just on the low FODMAP diet you do not need to worry about this.
Dairy Free Tips
Use a dairy free spread or olive oil spread instead of butter. Butter is considered low FODMAP.