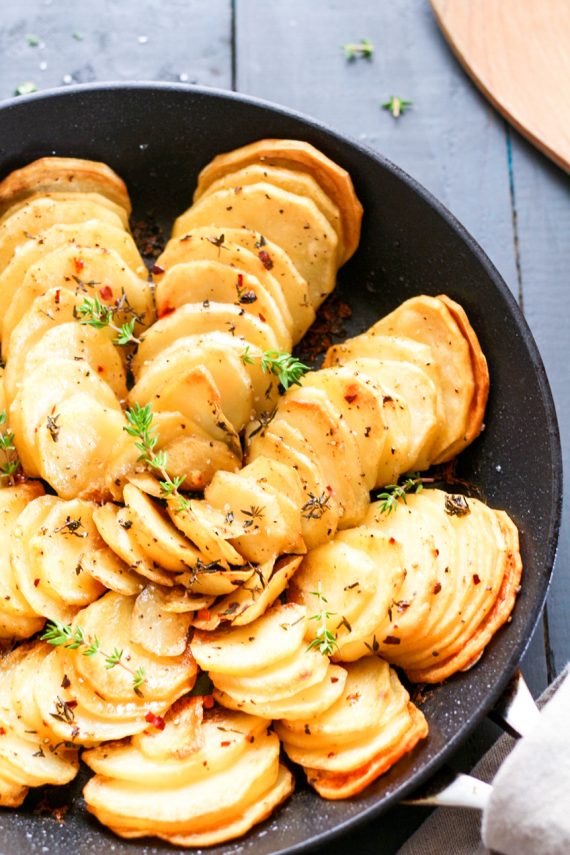 Ingredients
Imperial Units

|

Metric Units
Servings:
Crispy Roasted Potatoes
800
potato (roasting potatoes are best)
4
dairy free spread (olive oil spread or butter)*
1.5
fresh thyme (or rosemary leaves)
0.25
sea salt (few grinds)
0.125
dried chilli flakes (optional)*
* See the FODMAP Tips, Dairy Tips and Gluten Free Tips for the ingredient notes above the method.
Equipment
Low FODMAP Crispy Roasted Potatoes
These delicious low FODMAP crispy potatoes make the perfect side for breakfast or dinner. They are low FODMAP and super easy to make. Just place the sliced potatoes in a fry pan, drizzle with dairy free spread, season with your favourite toppings and roast!
FODMAP Note: According to registered dietitian Kate Scarlata, potatoes are very low in FODMAPs (Scarlata, 2015). This means you should be able to have a larger serving size of potato without experiencing issues.
Gluten Free Option
Low FODMAP
Dairy Free
Egg Free
Nut Free
Soy Free
MAKE GLUTEN FREE
SHOW NUTRITION
Nutrition per serve
NON-DAIRY FREE

|

DAIRY FREE

|

GLUTEN FREE
---
Love this recipe? Get your weekly meal plans.
FREE TRIAL
Method

|

FODMAP tips

|

Gluten Free tips

|

Dairy Free tips
---
Method
Preheat the oven to 190ºC (375ºF) bake function.
Wash and dry the potatoes as needed. Then thinly slice the potatoes into 0.30cm (1/8 inch) thick slices.
Melt the dairy free spread (olive oil spread or butter). Brush the bottom of a 25cm (10 inch) oven proof frypan with 1 tablespoon of the spread. Stack the potato pieces in the frypan in an upright position (not flat on the bottom - see feature photo).
Brush with the remaining spread and sprinkle with the fresh thyme (or rosemary), sea salt and black pepper, and chilli flakes (optional).
Place in the oven and bake for 1 hour. Remove once the potato is tender and edges are golden and crispy. Allow to cool for 10 minutes before serving.
Buying Tips
Check your dried chilli flakes do not contain onion or garlic powder.
Gluten Free Tips
Herbs and spices are naturally gluten free, however they can become contaminated during manufacturing processes. If you are highly sensitive to gluten, check the dried herbs and spices do not contain a warning for trace gluten. If you are just on the low FODMAP diet you do not need to worry about this.
Dairy Free Tips
Use a dairy free spread or olive oil spread instead of butter. Butter is considered low FODMAP.