If you're wondering what are FODMAPs? Then you're not the only one! FODMAP is simply a term created by researchers at Monash University, to represent a group of fermentable sugars (short chain carbohydrates) known to cause unpleasant gut issues (1 2).
What are FODMAPs?
The FODMAP acronym stands for:
Fermentable: The process through which gut bacteria break down undigested carbohydrate to produce gases (hydrogen, methane and carbon dioxide)  (3).
Oligo-saccharides: There are two main types of oligo-saccharides. The first type is fructo-oligosaccharides (FOS or fructans) found in foods like wheat, rye, onions and garlic (1 4). The second type is galacto-oligosaccharides (GOS) found in legumes and pulses (3 4). Ever wondered where the saying 'beans means farts' came from? A fun fact is that humans aren't actually designed to be able to break down oligosaccharides and this is why they can make everyone windy (3 4).
Disaccharides: The only disaccharide that classified as a FODMAP is lactose. Lactose contains two sugars that need to be separated by an enzyme called lactase (3 4). If you don't have enough lactase enzymes, your body won't be able to separate the sugar units and you will malabsorb lactose (3 4). Lactose is found in milk, soft cheese, yoghurt, and ice cream (3). Don't worry though you can still enjoy some dairy products while on the low FODMAP diet.
Mono-saccharides: Fructose is a mono-saccharide. Research shows that approximately 30 to 40% of healthy individuals and people with Irritable Bowel Syndrome malabsorb excess fructose (3 4). The good news is that glucose can help your body absorb fructose. Glucose acts as a 'porter' that co-transports the fructose across the intestinal cells and into your body (4).  When you consume more fructose than glucose your body isn't able to effectively process the fructose and you may malabsorb it, which can trigger symptoms (3 4). Foods with equal glucose to fructose ratios can be easily absorbed and can remain in your diet.  You may need to avoid high FODMAP foods that contain excess fructose which include honey, apples, and high fructose corn syrup (3).
And Polyols: Polyols are sugar alcohols that are found naturally in some fruit and vegetables as well as used as artificial sweeteners (3). These sugar alcohols won't make you drunk but they are incompletely absorbed across the small intestine, which is why they can cause gastrointestinal symptoms (3). Polyols include mannitol, sorbitol, maltitol, isomalt, and xylitol (3).
---
Why is the low FODMAP diet important?
Living with constant gastrointestinal issues can be challenging and it can severely impact a person's quality of life and ability to work. The low FODMAP diet can be a game changer as research indicates that the diet could help up to 75% of Irritable Bowel Syndrome sufferers gain good symptoms control (5 6). If you think you might have IBS please consult your doctor before starting the low FODMAP diet.
Just keep in mind that the low FODMAP diet is a medical diet and a specialised area of nutrition, which means it is important for you to seek help from a registered dietitian if possible (3 4). The dietitian will make sure that your diet remains balanced and nutritionally adequate, as well as help you re-challenge and reintroduce FODMAP foods after a 2 to 6 week restriction phase.
---
How do FODMAPs trigger symptoms?
We've just learnt that FODMAPs are a large group of dietary sugars (short chain carbohydrates) that can send us rushing to the toilet. The trouble begins when our small intestine fails to absorb these carbohydrates (8 2). The presence of FODMAPs causes water to be dragged into the small intestines which can lead to diarrhoea (8 2).
The malabsorbed sugars then travel on to our large intestine where they become 'fast food' for our gut bacteria (8 2). The bacteria use the FODMAPs to create energy (8). However, as the gut bacteria feast they rapidly ferment these short chain carbohydrates (8 2). This produces large quantities of gas (hydrogen, methane, and carbon dioxide) (8 2). These gases are why FODMAPs cause flatulence and can lead to constipation (1).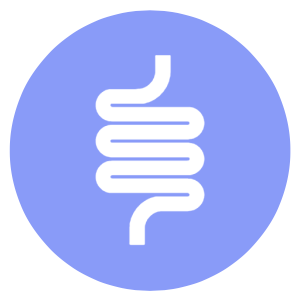 Are you ready to take control of your gut symptoms?
No thanks, my gut is perfect.
This combination of both gas production and water retention also causes our intestines to expand, making us bloated (8). This bloating distends our intestinal walls causing our highly sensitive nerves to send abdominal pain signals to our brains (8).
To combat these symptoms the low FODMAP works by reducing the overall FODMAPs consumed to a level our bodies can tolerate, which helps to reduce diarrhoea, flatulence, bloating & distention, abdominal pain and constipation (8 2).
---
Examples of FODMAP foods
To gain good symptom control you need to understand the difference between low FODMAP foods and high FODMAP foods so you can reduce the amount of FODMAPs in your diet. Below is a small example of foods that fall into each category. For an extensive and up-to-date list of high and low FODMAP foods please get the Monash Low FODMAP smartphone app.
Table of FODMAP Foods
| | | |
| --- | --- | --- |
| Food Category | High FODMAP Foods | Low FODMAP Alternatives |
| Vegetables | Asparagus, artichokes, onions(all), leek bulb, garlic, legumes/pulses, sugar snap peas, onion and garlic salts, beetroot, Savoy cabbage, celery, sweet corn | Alfalfa, bean sprouts, green beans, bok choy, carrot, chives, fresh herbs, choy sum, cucumber, lettuce, canned tomato, zucchini |
| Fruits | Apples, pears, mango, nashi pears, watermelon, nectarines, peaches, plums, banana (ripe) | Banana (unripe), kiwifruit, orange, mandarin, rhubarb. |
| Milk and Dairy | Cow's milk, yoghurt, soft cheese, cream, custard, ice cream | Lactose-free milk, lactose-free yoghurts, hard cheese |
| Protein Sources | Most legumes/pulses | Meats, fish, chicken, firm tofu (in water), tempeh |
| Breads and Cereal | Rye, wheat-containing breads, wheat-based cereals with dried fruit, wheat pasta | Gluten-free bread and sourdough spelt bread, rice bubbles, oats, gluten-free pasta, rice, quinoa |
| Biscuits (cookies and snacks) | Rye crackers, wheat-based biscuits | Gluten-free biscuits, rice cakes, corn thins |
| Nuts and Seeds | Cashews, pistachios | Almonds (<10 nuts), pumpkin seeds |
(Table Sourced from: 7)
---
Next steps before you start
Before you start the low FODMAP diet there are a few things you need to do: