Valentine's Day is almost here and like us you might still be planning your romantic date, hang out session with the girls (or boys), or carving out some special 'me' time. So why not have a quiet night in with some good old classic rom-coms and yummy low FODMAP movie snacks? 
Romantic movies can make you laugh out loud, sob like a baby, give you warm fuzzies and squeal with delight when the boy finally gets the girl. What other way could you possibly want to spend Valentines Day than curled up on the couch enjoying the company of hunks like Ryan Gosling, Channing Tatum or Hugh Grant? AND what kind of movie night would it be without some delicious low FODMAP movie snacks! To get you feeling inspired and prepared here are some of my favourite movie snack ideas for this Valentine's Day.
Low FODMAP Movie Snacks
Dark Chocolate + Peanut Butter Energy Bites
Delicious snack balls + chocolate = heaven! We've got you covered with these yummy dark chocolate and peanut butter energy bites. They are a breeze to make…and there isn't a date in sight (besides the one you may potentially be celebrating with of course).
Lemon Coconut Cupcakes
Who doesn't love a good cupcake, especially on Valentine's Day! These low FODMAP fluffy coconut cupcakes with dreamy lemon icing are sure to please your friends or your date, so whip up a batch now!
Traditional Hummus Antipasto Platter
Create the perfect antipasto platter for you and your date to snack on! Put together a platter with low FODMAP cheese, veggie sticks, grapes, chopped low FODMAP fruits, rice crackers and our traditional low FODMAP hummus for dipping!
PS: You can also pop some high FODMAP fruit, like cherries, on the platter for your friends/date to enjoy. 
Frozen Banana Bites
Frozen banana bites make a tasty and healthy low FODMAP treat. You can cover them in your choice of nut or seed butter, or dip them in dark chocolate and your choice of toppings. Head here for inspo.
Chocolate and Coconut Popcorn
Melted dark chocolate + coconut flakes + popcorn = best popcorn EVER. We love the look of this recipe from @SaltyCanary… just remember to divide it into 6 serves.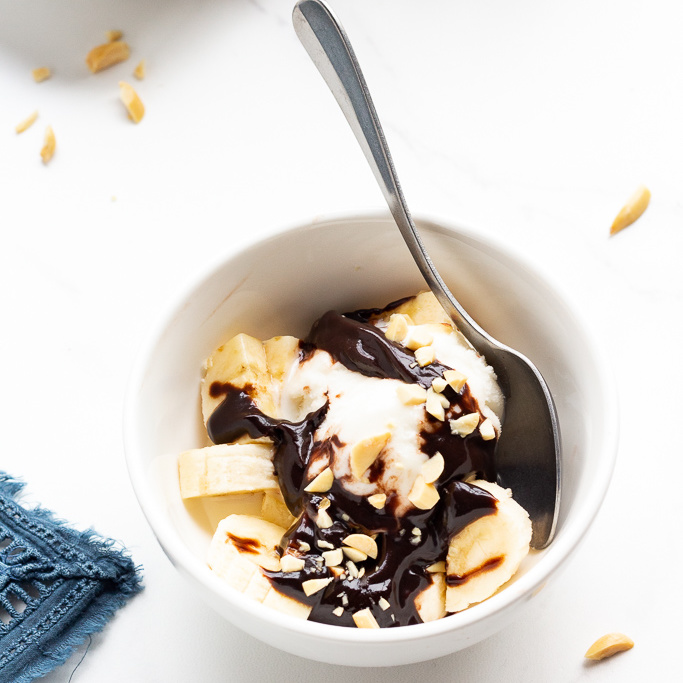 Low FODMAP Banana Split
It wouldn't be movie night without ice cream! Our classic low FODMAP banana split is sure to hit the spot… just make sure you make your dark chocolate fudge sauce in advance.
Makes: 1 serve
Ingredients: 80 g firm banana (no brown spots), 1/2 cup low FODMAP ice cream, 1 1/2 tbsp dark chocolate fudge sauce, 1 tbsp peanuts or pumpkin seeds (chopped)
Method: Slice the banana. Place the banana and ice cream in a bowl. Top with chocolate fudge sauce and chopped peanuts or pumpkin seeds.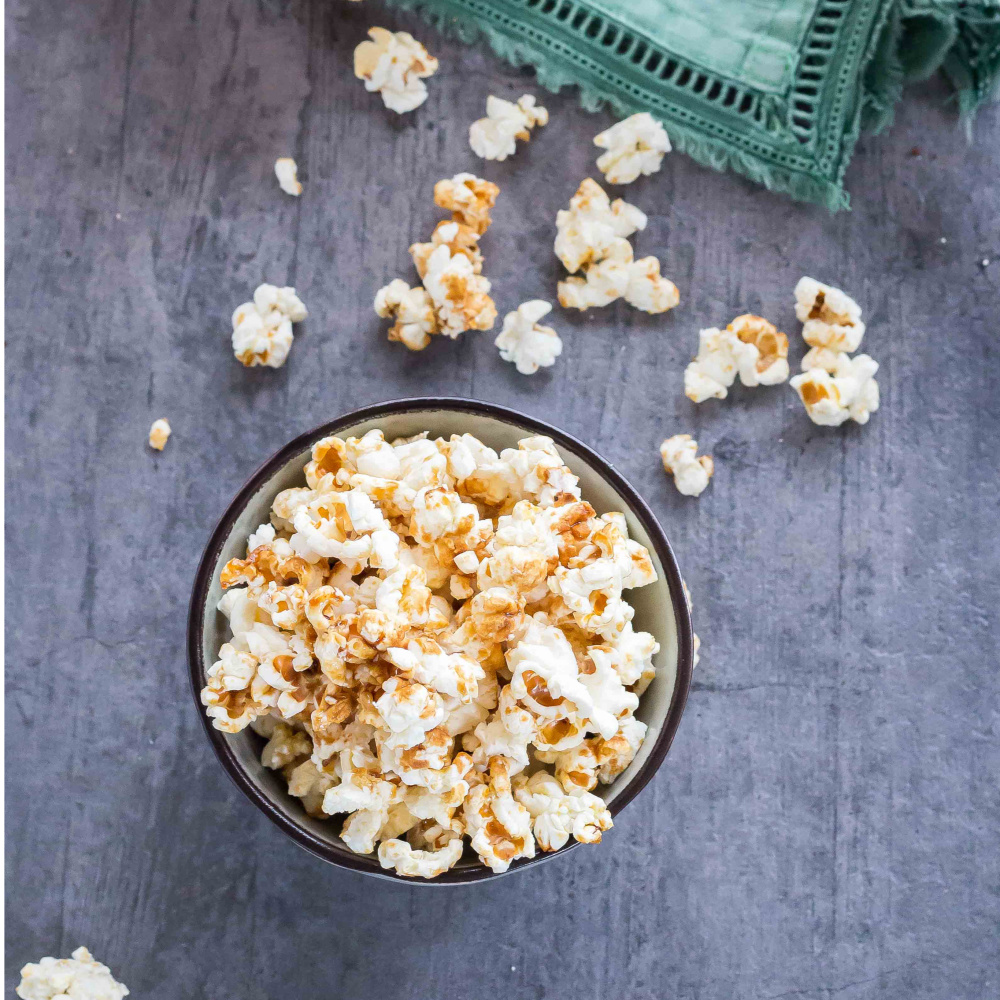 Caramelised Maple Popcorn

 

It wouldn't be movie time without popcorn. A favourite movie time snack in my house! There are so many flavours to choose from but we adore making caramelised maple popcorn.

Serves: 4

Ingredients: 4 tbsp coconut oil, 2 tbsp pure maple syrup, 1 1/2 tbsp brown sugar, 1/2 tsp sea salt, 113 g (1/2 cup) popcorn kernels (un-popped), 1/2 cup almonds or pumpkin seeds (optional, lightly toasted)
Heat the oil over medium-low heat with 3-4 popcorn kernels. Once the kernels begin to sizzle and pop, add the remaining popcorn kernels. Toss to coat with oil. Next, sprinkle over the brown sugar and drizzle with maple syrup. Cover with a lid.
Every few seconds shake the pot back and forth so the kernels don't burn. Once the popping has slowed, remove from the heat, and sprinkle with sea salt.
Mix through the toasted nuts or seeds if using.
These low FODMAP snacks are sure to please your late night movie cravings! And to get you ready for the Valentine's Day spirit keep reading to discover my favourite romantic movies…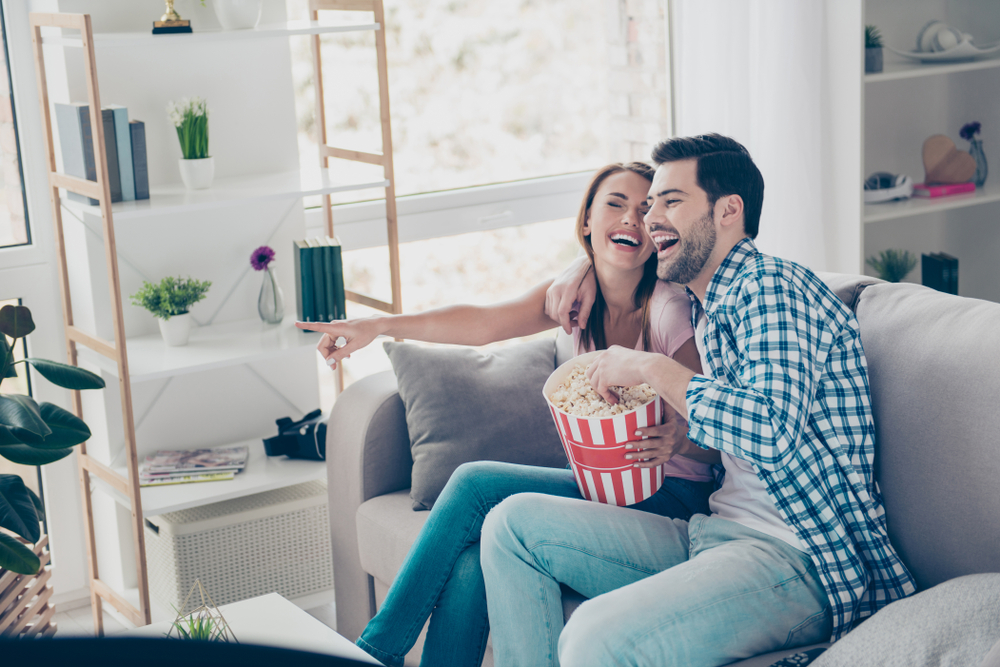 Top 10 Romantic Comedy Movie Picks for this Valentine's Day
The Notebook. Yes this movie will forever be at the top of my list. It's a classic love story brought to life by Ryan Gosling and Rachael Adams that will pull on your heart strings and leave you reaching for the tissue box.
Dirty dancing. Say what you want about this guilty pleasure but can you resist the hunk of a dance instructor Jonny? Baby sure couldn't! Join her on this tale of forbidden love and incredible dance moves.
La La Land. A modern love story of star crossed lovers featuring the dreamy Ryan Gosling and Emma Stone! This fantastical song-and-dance number will leave you rooting for them to be together.

 
Me Before You. One unimaginable accident, one small time girl and some unconventional caretaking lead Louisa Clark and Will Traynor to fall madly in love. But will love be enough to change Will's mind about receiving treatment and inspire him to live?
Bridget Jones Diary. Cringey, laugh-out-loud comedy makes this movie the ultimate romantic comedy. The goofy, awkward publicist Bridget Jones is caught between two men. We all know who she should be with… but can she ever really resist Mr Darcey?
Sixteen Candles. With Samanthas 16th birthday looming she pines for Jake who is an absolute stud, except he's older… some birthday wishes do come true in this young love story. Tune in to find out which ones come true!
Love Actually. Nine intertwined stories examine the complexities of the one emotion that connects us all, love. Plus with Hugh Grant acting, why wouldn't you want to watch it?
The Vow. Starring Channing Tatum and Rachael McAdams… do I need to say more? Of course, you want to see him win back her love again after she's lost her memory.
Valentines Day. A series of interconnected stories show LA residents trying to navigate their way through the highs and lows of love in a single day. This movie showcases the best and worst of first dates, long time commitments, youthful crushes and connections with old flames.
The Best Of Me. The ultimate heart-wrenching love story of two lovers reconnected by a mutual friend. Join them as they reignite the love they've never forgotten after 20 years apart. Have the tissues ready for this one!
Final Thoughts
If these movies don't get your heart pounding, tears jerking and emotions flowing, then I don't know what will! It's time to snuggle up with your significant other, gal pals or your yourself and enjoy a movie! Just add a cosy blanket and some of our tasty low FODMAP snacks and you're ready for the perfect night in.