Across all continents of the world, we can confidently say we love our coffee and as a global society we consume over 10 million tonnes of coffee per year1! So you might be wondering when it comes to Irritable Bowel Syndrome (IBS), do we need to part with our love affair with this humble coffee bean? Is caffeine the issue? In this article, we're going chat about coffee and IBS. Here are the topics we're going to cover:
What is coffee?
Coffee beans are extracted from the coffee cherry/berry plant. Although the most commonly discussed component in coffee is caffeine, the coffee beverage itself is complex. It contains over one thousand compounds3, and how the coffee bean is processed, as well as how your coffee is prepared can influence its impact on the gastrointestinal (GI) system2 and your gut symptoms.
How does coffee affect the body?
Not only can coffee affect your GI system (your gut) but it can also impact on the central nervous system and cardiovascular system2. We know that the nervous system and cardiovascular system are affected by the caffeine in coffee, while the coffee component that affects the gut remains a little more of a mystery. Regardless, we know that IBS gut symptoms are strongly linked to how our brain and gut communicate so it's no wonder that when coffee puts a jitter on our nerves it can also put a jitter in our gut.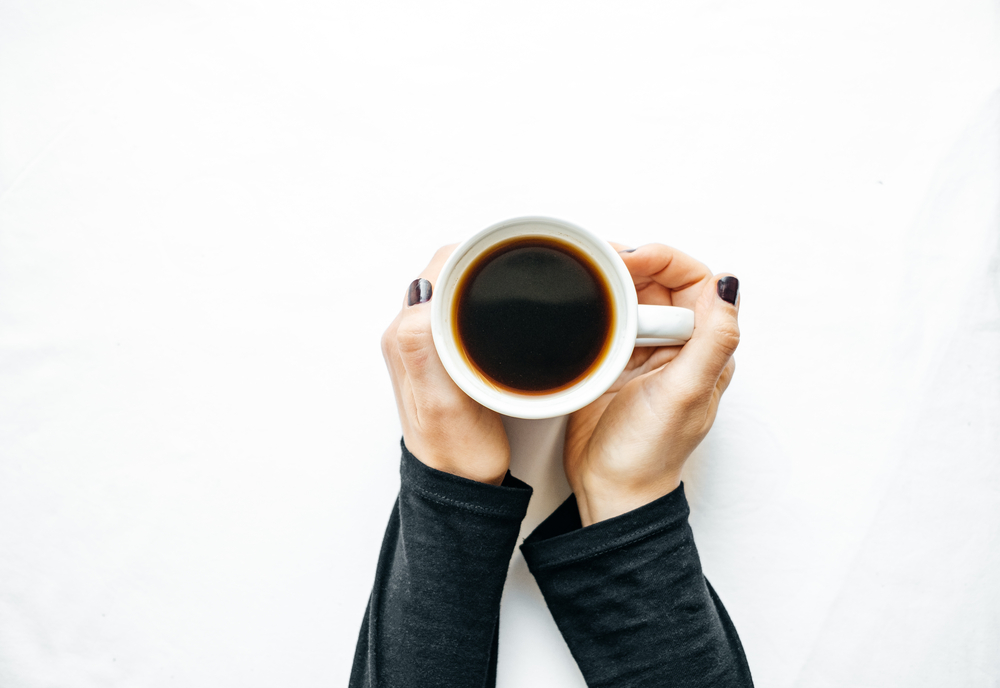 Where does coffee and IBS fit? Can coffee trigger symptoms?
This is the million-dollar question, right? We know you would like to drink your coffee with confidence but understanding how coffee triggers symptoms is a complex piece of science.
We know that as coffee progresses through our large intestine (colon) it speeds up the movement in our bowels (this is called colonic motor function) – this can speed up how quickly food moves through your system or give you that urge that you need 'to go'. Coffee can also stimulate the gut nerves and gut hormone receptors before the coffee even reaches your bowel.
What does this mean? Well for some people drinking a cup of coffee (regular or decaf) can help increase that urge to have a bowel motion within four minutes of drinking the coffee11. Another study looking at caffeinated coffee, decaffeinated coffee and water with the addition of a meal, found that caffeinated coffee stimulated colonic motor activity similar to a meal, and had a 60% stronger effect than water and 23% stronger than decaffeinated coffee9.
This means having a cup of coffee might be useful if you have constipation and need to stimulate a bowel motion, however if you suffer from diarrhoea instead you might feel better with decaf or even skipping the coffee altogether.
Can coffee affect reflux?
If you experience heartburn, reflux, or GERD which often coexists with IBS, then coffee might not be for you. We know that coffee has been reported to make these symptoms worse in a large proportion of people who experience heartburn on a daily basis2. More research is needed to understand if it is the caffeine in the coffee or another component in the coffee like the bitter flavour compounds that are triggering the reflux 3, 4,5,6,7.
How do I know if I need to reduce my coffee intake?
Before doing anything else, have a think about how much coffee you drink.
Are you having more than four espresso shots of coffee per day? This is about 400mg of caffeine and is the amount considered safe for most adults10. Don't forget to count other caffeine-containing beverages or food like energy drinks.
If you are pregnant then reduce your caffeine intake to two espresso shots or 200mg of caffeine16 per day.
Next, keep a food and symptom diary – note down the time of day you are having your coffees and when your gut symptoms start. If you suspect coffee/caffeine is having an impact on your IBS symptoms, then speak to your dietitian. He/she can help you test your sensitivity to coffee/caffeine and check that there aren't other food intolerance factors that are affecting your symptoms.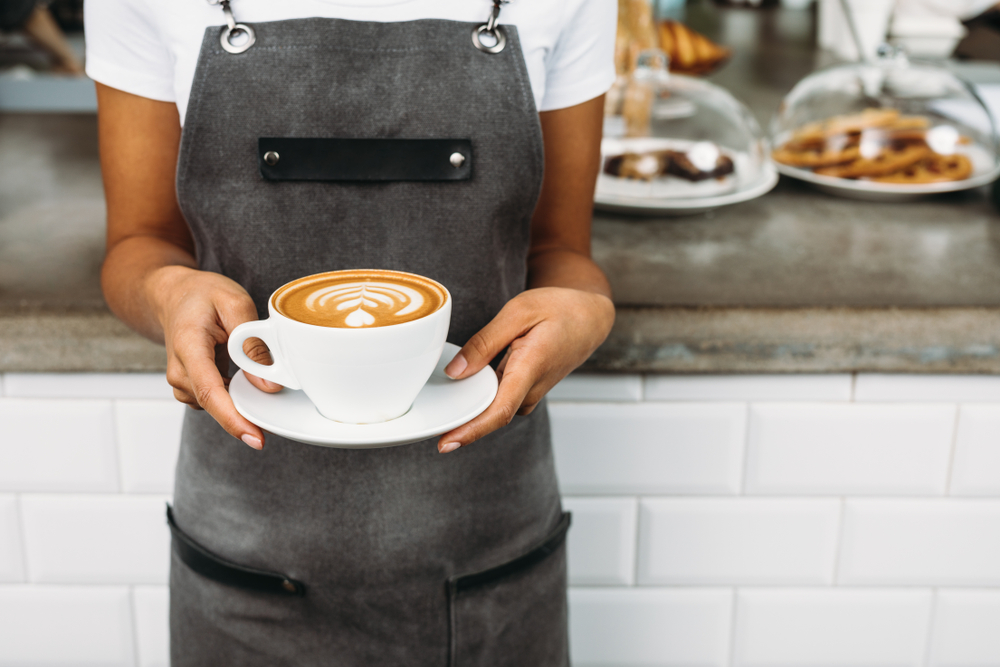 Where does coffee fit on the low FODMAP diet?
Just because you are on the low FODMAP diet that doesn't mean you need to go coffee free. Coffee on its own is considered low FODMAP and the Monash University Low FODMAP App12  shows that a black, regular espresso at both a single shot (30ml) and double shot (60ml) is approved as low FODMAP. 
This means that coffee itself is low FODMAP and if well tolerated, it can be part of your low FODMAP diet. However, it's important to note that other ingredients can bump up the FODMAP content – let's take a look at those now:
Tips For Low FODMAP Coffee at Home 
Choosing your coffee:
Instant coffee – check the ingredient list to ensure that the instant coffee is prepared from 100% coffee beans. Some instant coffees and coffee substitutes may contain chicory root which is a high FODMAP ingredient.
Ground coffee – brewed and espresso – other coffees prepared from 100% ground coffee beans are considered low FODMAP. You can use these however you like, just make sure you choose a low FODMAP milk.
Choosing a low FODMAP milk:
Plant-based milks: almond milk, cashew milk, macadamia milk, quinoa milk, and soy milk made from soy protein can all be enjoyed in 1 cup serves. Other plant based milks can be enjoyed in smaller serving sizes: coconut milk (≤1/2 cup or 125ml or 1 tablespoon coconut milk powder providing there is no inulin in the ingredient list), hemp milk (≤½ cup), rice milk (≤ 200-250ml). Make sure you check the Monash University Low FODMAP App for more information, as there can be a variation in the FODMAP content of the milk based on the brand or the country it is manufactured in.
Cow's milk: you can use lactose-free milk – fresh and UHT. At a pinch, you can also use a small dash of standard cow's milk (3 teaspoons or 15ml) or A2 milk (2 teaspoons or 10ml) as this should be tolerated by most individuals with IBS. So if you're visiting a friend and a low FODMAP option is not available then you should still be able to enjoy a cuppa with a small dash of regular milk!
Tips For Low FODMAP Coffee Out & About
Look for a cafe that offers almond milk or lactose free milk as an option. Try and avoid soy milk – we know this sounds confusing but soy milks offered in cafes are commonly made from whole soy beans because they perform better in coffee. The bad news is that soy milk made from soy beans is high FODMAP. Also, be careful of using oat milk or coconut milk as these milks are often only low FODMAP in small serves.
Consider ordering a short/long black, a macchiato or an Americano on its own (i.e. without milk) or ask for milk on the side so you can add a small dash yourself.
Take lactase enzymes with you and have them when you drink your regular cup of cow's milk based coffee.
Are you okay when you drink coffee at home but react when you have a coffee out and about?
If you do experience symptoms with coffee when out and about compared to your regular cuppa at home, then it's important to think about the different variables that may be at play:
Is the preparation method different? For example, the type of milk or has a flavoured syrup been added?
Are you having a stronger coffee compared to at home (e.g. an espresso double shot)?
Are you having other foods with your coffee that you may not have when at home? These foods could be higher in fat and sugar, which may also trigger symptoms even if they are low FODMAP options.
Final Thoughts
So there you have it. That's our chat about coffee and IBS. Just remember if you are on the low FODMAP diet to manage your symptoms, then make sure you are choosing a low FODMAP coffee option. If you still think coffee is triggering your symptoms, then try decaf or even remove it completely from your diet for a couple of weeks and see if your symptoms improve.
Image credits: Julia Sudnitskaya/Shutterstock.com; Boiarkina Marina/Shutterstock.com; Artem Varnitsin/Shutterstock.com